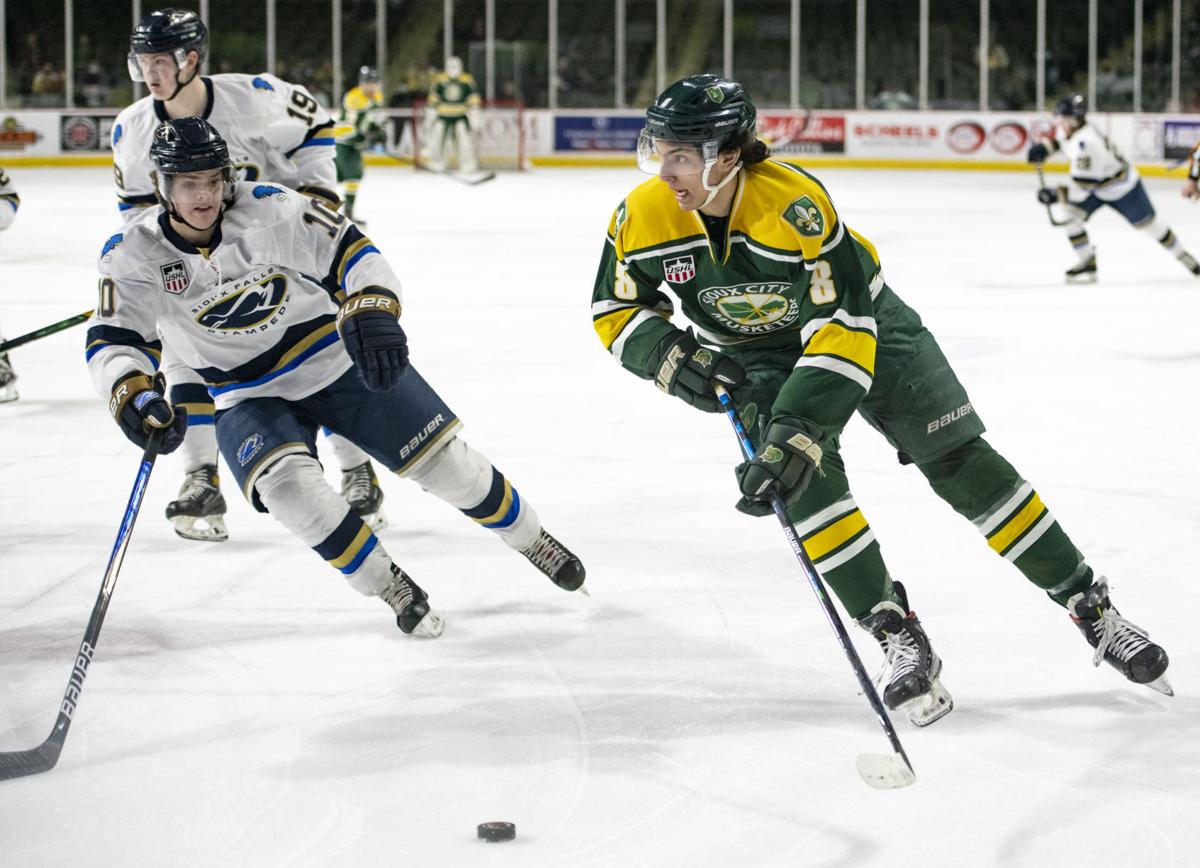 SIOUX CITY — Luke Strand hopes that the three Sioux City Musketeers selected Saturday in the NHL Draft can bust through the proverbial door.
Shai Buium, Daniel Laatsch and Owen McLaughlin were the three former Musketeers who were selected.
Buium was the highest selected of the three. Detroit took the San Diego native 36th overall, which happened in the second round.
The Red Wings made a trade to bump up in the draft and take the former Musketeer. The Red Wings made the trade with Vegas, sending picks 38 and 128 in order to bump up and take Buium.
There were some NHL scouts who came to watch the 6-foot-3, 214-pound defenseman.
Evidently, the Red Wings were one of those teams who visited rinks around the United States Hockey League.
Buium interviewed a couple times with the Red Wings throughout the season, and he liked what he heard.
He also made his pitch on why he should be picked by a franchise like Detroit.
"I told them that I think I can be a good, solid, top defenseman in the NHL," Buium said during Saturday's press conference with the Detroit media. "I went from San Diego, to Shattuck St. Mary's to Sioux City, then I'll be going to Detroit. I'm so excited to be playing in this organization. It's a dream come true getting drafted by the Red Wings."
Before Buium takes the ice for the Red Wings and their minor-league affiliates, he'll spend next season playing at the University of Denver.
Now that Buium has been drafted, Strand said that Buium can bust the door open for his future.
"Shai is a big-time player with a huge ceiling," Strand said. "A part of that is that he's got time to go to Denver and develop. The fact that Detroit moved up and made a trade for Shai is a positive sign."
Penguins pick Laatsch
The Pittsburgh Penguins took 6-5 defenseman Daniel Laatsch in the seventh round with the 213th overall pick.
Laatsch scored 19 points for the Musketeers this past season.
Before Laatsch came to Sioux CIty, he played in the league for the U.S. National Development team.
He scored seven points during the 2019-20 season.
He was rated in the Top 200 by the NHL Central Scouting.
"I'm very happy for Daniel, and this is well-deserved," Strand said. "He's got skill and he has poise. He'll be an impact player at the University of Wisconsin. I think he persevered through time whether in was through injury at the NTDP, he reset and refocused on this season. He made a very big impact here, not only as a player, but as a person."
McLaughlin taken by Flyers
McLaughlin was taken seven spots ahead of Laatsch by Philadelphia, but McLaughlin won't hav to worry about that for a while.
McLaughlin will spend the season in Sioux City, after playing three games for the Musketeers during the 2019-20 campaign.
"Owen will be here full time,' Strand said. "He'll be an offensive threat. As to where he's selected by Philadelphia, you see a lot of potential. He's got a long body. He's very gifted. He's got a bright future."
McLaughlin is in town training with the 40-man roster right now.
In fact, the Musketeers will scrimmage with Sioux Falls later Thursday and Friday. There will be two games played at IBP Ice Center at 4 p.m. and 6:30 p.m. Thursday.