SIOUX CITY — On Friday night, Sioux City Musketeers goalie Akira Schmid skated onto the ice to thunderous applause.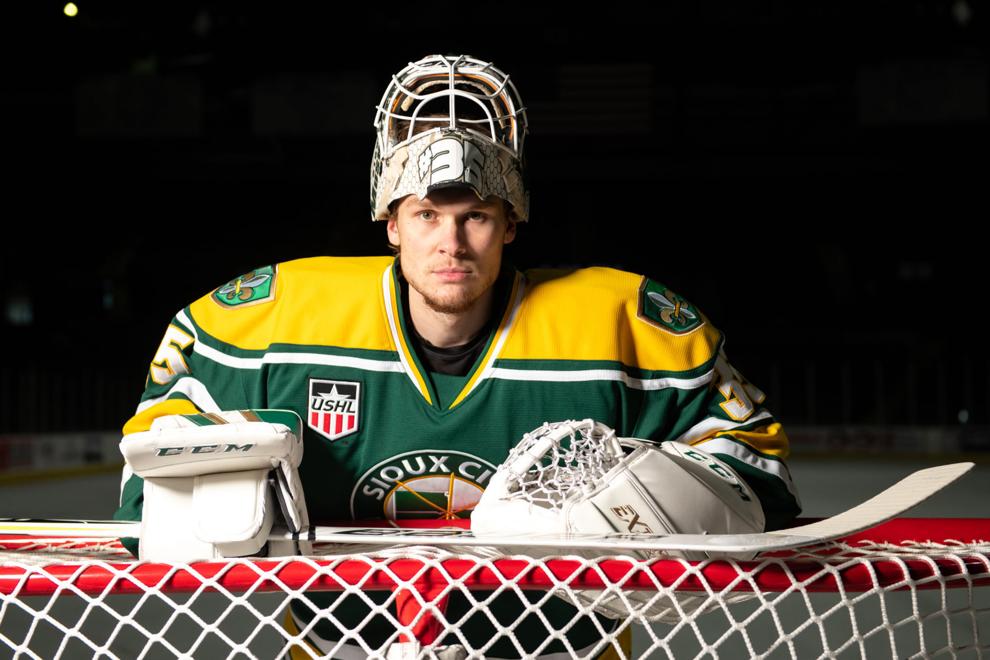 Minutes removed from getting stitches, Schmid re-entered the game for the Musketeers, just one period after he wound up on the bottom of the pile during a scrum near the net, and had to leave the game with the help of Sioux City's trainer. 
When he skated back onto the ice with 15 minutes and 43 seconds left in the game, the home crowd roared its approval. For a goalie, standing ovations don't come all that often, but returning from a cut caused by a skate to the head and neck area seems like a good time to receive a bit of praise.
"I think it's a gut-check of himself," Musketeers head coach Luke Strand said. "We've talked about it, it's warrior time. No one stood taller on that demand than him."
Schmid finished with 30 saves in Sioux City's 4-1 win over Des Moines, an outstanding mark that is perfectly in line with his performances of late. This season, the Switzerland native and 2018 New Jersey Devils fifth-round draft pick has made a case as the best goalie in the USHL. 
After finishing with 23 saves last week in a game against Sioux Falls, and 17 three nights later against Lincoln, Schmid was named the USHL's Goaltender of the Week, the third time in the past five weeks that he has earned the honor. 
For him, the recognition is a nice feeling, but he doesn't let himself linger on it too long. 
"That's all in the past now, so I can't really focus on that too much," Schmid said. "Obviously, it's nice to get recognized sometimes, but you still have to put the work in. It's not getting any easier, so I've got to work hard every day. But it's nice."
While things have been going well for him lately, Schmid is no stranger to overcoming adversity.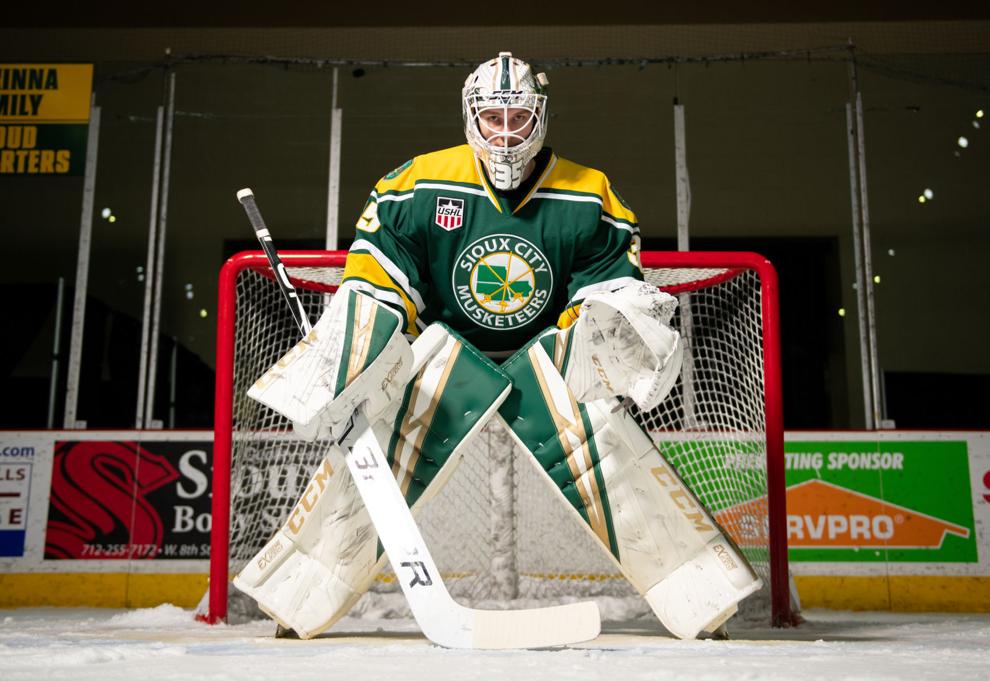 Shortly after he was drafted by the Devils in 2018, Schmid left his home country for North America. His first team, the Lethbridge (Canada) Hurricanes of the WHL, cut him after just a single game, a move that still baffles many in the hockey community. 
After that, he played for two games in Corpus Christi (Texas), before he hooked on with the USHL's Omaha Lancers. In his first season with Omaha, he played in 37 games, and had a save percentage of 92.6. That season, he also played for Team Switzerland in the 2020 World Junior Championships.
"It was obviously kind of a change," Schmid said of leaving Switzerland to play hockey in America. "But the Devils took me to their main camp and helped me a lot, getting used to America in general. Not just hockey, but America as well. The transition was pretty easy for me."
While his first year in Omaha went pretty well, year two proved to be more of a challenge. After sustaining a hip injury, Schmid played only six games for the Lancers as a 19-year old, before being traded to Sioux City partway through the year. After suiting up in six games for the Musketeers, Schmid underwent hip surgery in the offseason. 
"I was struggling pretty much the whole year, and didn't play for more than half the season," Schmid said. "I was like, I just have to get it right now, and get it out of the way. I was nervous about it, and of even still being able to play hockey after it. But it turned out great."
"The idea when we traded for him was that (Schmid) was a goalie we were hoping wouldn't sign with New Jersey," Strand said. "He was a little dinged up last year, so he had double-hip surgery in the offseason. To come back full circle, and putting up this performance right now, it's showing the runway for his future." 
Schmid turns 21 years old next month, which means that this will be his final season in Sioux City. For him, the next step is to turn pro and most likely play next season in Europe, with hopes to eventually get signed by the Devils and make it to the NHL. 
New Jersey still holds rights to Schmid for one more year, and while he would like to sign a contract sooner rather than later, he is keeping his focus where it needs to be with the postseason fast approaching.
"They've still got time to sign me, and obviously the earlier the better," Schmid said. "I'm not too focused on that right now, because we still have to make the playoff push. But it would be awesome, of course."
With four games left in the regular season, and the team in fourth place in the USHL Western Conference, Strand knows that the next couple weeks are going to be intense for his team. But when you have a 6-foot-5 Swiss-made brick wall in front of the net, it can help to ease the mind a little bit. 
"He is a competitor," Strand said. "When you put that experience at this crunch-time of a season, that is where he has always stood tall. No one is doing a better job or a more consistent job than he is right now for us."
The Musketeers will play their next game on Friday at Sioux Falls.