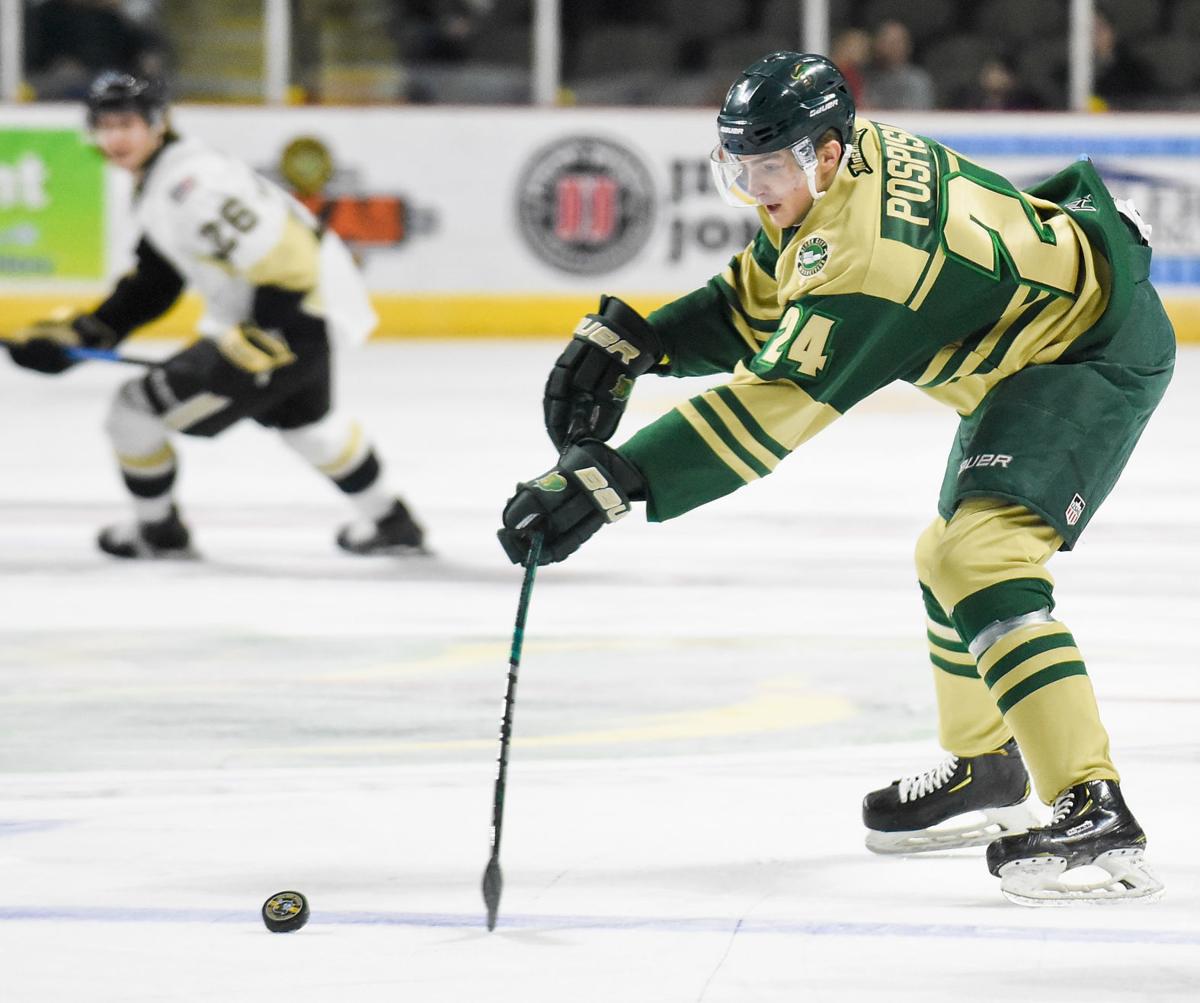 While the Sioux City Musketeers season ended a week ago in the USHL playoffs to Sioux Falls, the loss provided a couple of key opportunities for a couple of Musketeer players.
On Sunday, center Martin Pospisil signed a three-year contract with the Calgary Flames.
After Wednesday's loss to Sioux Falls, Brink came down with the flu. That didn't stop Bobby Brink from flying to Sweden when he was invited to join Team USA's Under-18 men's World Championship team. Brink had an assist in the game on Sunday.
While Sioux City coach Luke Strand is sad to see both players go, he was happy to see both players move on the way they have.
Strand said the Calgary Flames were at a number of Musketeers games throughout the season.
"I'm sure they had some brief negotiations before and when it's all said and done, the amount they watched him play was a strong indicator," Strand said. "It's a big honor for a kid to sign with an NHL club out of the USHL because the next step has typically been college. It's a big thing for Martin to go through."
Pospisil is already in Toronto working with coaches. After a brief trip back to his home in Slovakia, Pospisil will train in Calgary for a majority of the summer.
"When your home is in Slovakia, his biggest goal was to create the best hockey opportunity for him," Pospisil said. "He came over with a plan and then executed the plan and he gets to see the big picture of it. He's a special kid. He will be missed and made a difference in so many ways."
This was Pospisil's second season with the Musketeers. In 2017-18, Pospisil had eight goals and 29 assists in 49 games.
Pospisil took a big step forward this season. Because of an injury, he played in fewer games (44) but finished with 63 points. He doubled his goals from the previous season with 16 and he had 47 assists, the second-most in the USHL.
"His vision, creativity on the ice and his IQ is high. He's bigger, longer and strong so he can protect the puck longer. So teammates have more of a chance to get open and he can find them," Strand said. "His growth has been tremendous. He took it upon himself to get better and took it upon himself to correct things along the way."
Strand added that Pospisil grew off the ice and had help from Kim Cly, his billet/host family.
"Kim gave him an atmosphere to grow in and to be comfortable away from home but also made sure he stayed on track, so give her a ton of credit," Strand said. "He was helping little kids on the kid, going to classrooms and was involved with the elderly. When his family came over, it was great to see him be a big brother."
Brink helped his draft stock with one of the best seasons in the USHL. He was fourth in points with 68 and he had the second most goals in the USHL with 35. He led the league with nine game-winning goals.
Strand thinks Brink, who is committed to the University of Denver, could be a first-round pick in the NHL Draft.
So when Team USA called to see if Brink wanted to join the Under-18 team in Sweden, he could've said no since he's helped his draft stock enough.
But Brink didn't hesitate to say yes and joined the team as soon as he could at the World Championships.
"Bobby goes over there because he's a hockey player and wants to play the game," Strand said. "He's taken it upon himself to get better. He's a worker. He loves getting better and has not taken his foot off the gas the whole time."
Even though Brink arrived at the World Championship just a couple of hours before Sunday's game, he was still able to play and he assisted on a goal to put Team USA up 4-2.
It's that work ethic and love for hockey that could help Brink ascend to the NHL.
"I think he has a really high ceiling," Strand said. "He will have an NHL career because of his instincts to think about the game at the NHL level."
Be the first to know
Get local news delivered to your inbox!