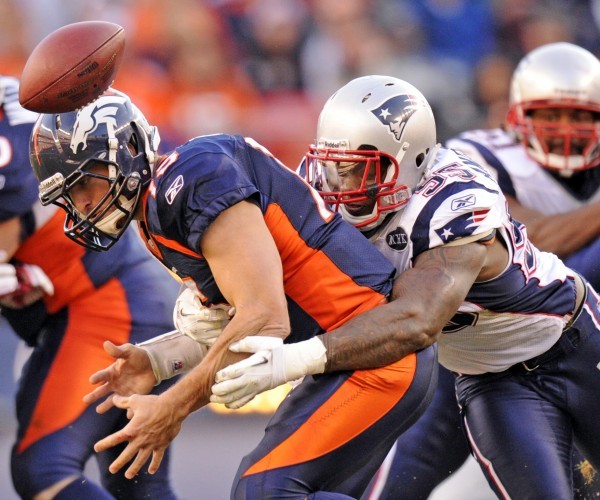 DENVER -- Not this time, Tim Tebow.
Tom Brady and the New England Patriots shut down Tebow's late-game heroics and clinched a playoff berth with a 41-23 victory over the Denver Broncos on Sunday.
The Patriots (11-3) won their sixth straight game and another AFC East title by bouncing back from an early 16-7 deficit and an awful first quarter in which they were outgained on the ground 167 yards to 4.
This time, there was no last-minute magic from Tebow, who had guided the Broncos (8-6) to four straight fourth-quarter comebacks and six straight wins.
Tebow was 11 of 22 for 194 yards and added 93 more on 12 carries. Late in the fourth quarter, he was dropped for a 28-yard sack by Ninkovich, a bad ending to a big week for the second-year pro from Florida.
During the week, Tebow cemented his role as a cultural phenomenon as he was the subject of a skit on "Saturday Night Live," his name was brought up in the GOP debate in Sioux City, Iowa, and two high school students were suspended for organizing several "Tebowing" kneel-downs in tribute to the Broncos QB.
Instead of another slow start followed by a fantastic finish, the Broncos started out fast and then fizzled. They scored on their first three possessions and then were done in by a trio of second-quarter turnovers.
Brady, who was 23 of 34 for 320 yards with two TD passes and a touchdown run, made up for another bad day by the Patriots' defense to beat the Broncos for the just second time in eight career starts. They're the only team with a winning record against the three-time Super Bowl champion.
With its first loss since Oct. 30, the AFC West-leading Broncos face a tougher path to the playoffs, with a trip to Buffalo next week followed by a season finale against Kansas City, which ended Green Bay's 19-game winning streak Sunday behind Kyle Orton, the player Tebow replaced in Denver.
Tebow fell to 7-2 as Denver's starter.
The Broncos' 167 yards rushing in the first quarter - 11 more than their league-leading per-game average - represented the biggest output in any quarter of the Bill Belichick era in New England. They finished with 252.
Tebow slipped a tackle in the backfield by Rob Ninkovich and darted his way for a 9-yard TD on the game's opening drive. Lonnie Paxton's bad snap prevented Matt Prater from kicking the extra point.
Brady needed five snaps to put the Patriots ahead 7-6 with a 33-yard touchdown toss to Chad Ochocinco, the wide receiver's first score since Nov. 21, 2010, for Cincinnati at Buffalo.
The Broncos responded by going 80 yards in four plays. Willis McGahee reeled off a 29-yard run and then retreated to the sideline with what appeared to be a left hamstring injury. Tebow hit Demaryius Thomas for 22 yards before tailback Lance Ball took it in from 32 yards out for his first TD run of his career to make it 13-7.
Denver's next drive stalled at the 8, and coach John Fox decided not to go for it and Prater's field goal made it 16-7.
That's when the Patriots went to the no-huddle and Brady capped an impressive drive with a 1-yard touchdown throw to Aaron Hernandez, who set career highs with nine catches for 129 yards. That made it 16-14.
The Broncos' ball-control offense stumbled after that.
Ball fumbled at his own 19 and Ninkovich recovered, leading to Stephen Gostkowski's 21-yard field goal put the Patriots up for good at 17-16.
Then, defensive end Mark Anderson, subbing for Andre Carter -- who injured his left knee earlier in the game -- forced and recovered a fumble by Tebow at the Broncos 40. Six plays later, Brady took it in himself from a yard out to make it 24-16.
Be the first to know
Get local news delivered to your inbox!