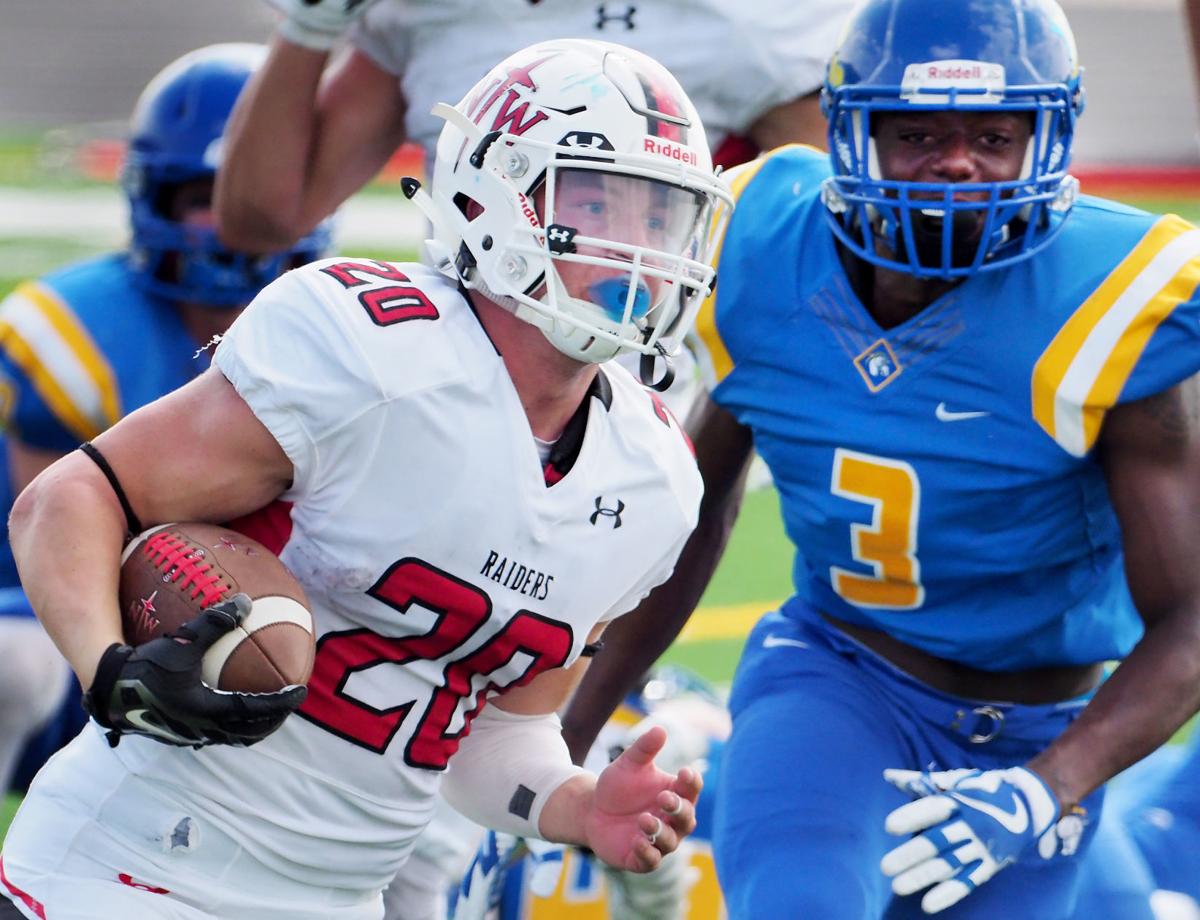 ORANGE CITY, Iowa – After transforming a three-win team in 2016 to a squad that won 10 games and reached the second round of the NAIA Football Championship Series, Matt McCarty is set to begin his third season as Northwestern College coach.
Northwestern finished the 2017 season with a 10-2 record and defeated then unbeaten Langston 55-7 in the first round of the playoffs before losing to eventual national champion St. Francis (Ind.) in the quarterfinals.
With 16 starters (six on offense, four on defense, four special teams) returning, expectations will be high for a team that finished 8-1 in the Great Plains Athletic Conference – second behind perennial champion Morningside – and No. 8 in the final NAIA coaches poll. It was the Red Raiders' highest ranking since the 2014 season.
Here are three questions posed to McCarty about the upcoming season.
QUESTION: After the turnaround season in 2017, expectations will certainly be higher this fall. Is your approach to this season any differently than last year and how do you go about preparing for those higher expectations?
ANSWER: "One of the best things about being at Northwestern is there are always high expectations to build on the great legacy of Red Raider Football. 2017 season was a great season for our program, but our approach will remain the same as coming off the 2016 season. We have high expectations and standards for how we approach each day. Our players deserve a lot of credit for how they have embraced these expectations and staying focused on being our best each day. We have a hungry group that loves to work hard and get better every day. They have bought into hard work and not hype.''
You have free articles remaining.
Q: As we all know, Morningside has set a pretty high bar in the GPAC, but your program is definitely closing the gap. What is the key to taking the next step and possibly dethroning the perennial league champs?
A: "I have the utmost respect for Coach Ryan, his staff and their players. They do an outstanding job. We need to continue to focus on what WE do day in and day out. We have probably talked less than ever about winning the last two seasons and more about the way we do things and our commitment to who we are becoming individually and as a team. A commitment to doing our best in everything we do, having an elite mindset, growing together as a team and being committed to making an impact on those around is what we need to stay focused on."
Q: You have talented players returning at nearly every position. What do you see as your main strengths and weaknesses as you enter the 2018 season? Will one side of the football be more talented than the other?
A: "We were a very young team in 2017. Going 10-2 with over three-fourths of our team being freshmen and sophomores means we do have a lot of key players returning. We are excited to see continued improvement from quarterback Tyson Kooima who had an outstanding freshmen season. Running back Jacob Kalogonis comes off a sophomore season where he finished fourth in the nation in rushing yards and continues to grow as a running back. Sophomores Shane Solberg and Josh Fakkema had outstanding springs at wide receiver and tight end respectively. Up front offensively we return four players with significant playing time.
Defensively we return some key players at each level. Up front we return All-GPAC defensive lineman Nate Bennett and Jed Van't Hof who had four sacks in our two playoff games. At linebacker we return Tanner Machacek and Sean Powell who both great leaders and playmakers for us. In the secondary we return Bryce Van Beek who led the nation in interceptions and both Logan Richard and Darren Graham who started at corner. Garrett Sayler, who returns from injury after playing in our first three games last fall, was one of our best players this spring. We have a lot of great competition at every position. What excites me most is we have a very close knit team that loves each other and loves to compete and work hard."
Northwestern is ranked No. 11 in the College Football America Yearbook NAIA preseason poll. The Red Raiders are one of four teams from the GPAC in the preseason top 30, joining Morningside (1), Dakota Wesleyan (25) and Concordia (30).
Northwestern opens the season with back-to-back road games at Valley City State and Jamestown. The meeting with Jamestown in North Dakota will be the Jimmies' first as a member of the GPAC. The home opener is Sept. 15 against Midland.