MIAMI - When Daniel Suarez was young, he never could have thought about driving in NASCAR. Racing had its fans in his home of Monterrey, Mexic…
Deadspin writers and editors Tom Ley, Kelsey McKinney, Albert Burneko, Patrick Redford, Lauren Thiesen, Chris Thompson, and Laura Wagner all r…
Three things to watch in this week's NASCAR playoff race at Kansas
Who took home the biggest awards of the night?
What a wild, weird NASCAR season this has been for Kevin Harvick. Really, you can't talk about this year without acknowledging what he did las…
This weekend's race at Talladega (Ala.) Superspeedway is usually thought of as the "wild card" race of NASCAR's Cup playoffs' second round. Th…
Rachel Germain remembers distinctly when wolves became a problem for her family. It was winter 2012-2013, she said, "and it's just gotten wors…
Gambling exists in every state, even Hawaii and Utah, where gambling is prohibited by law. But not all gamblers are the same. "Recreational" o…
LEXINGTON, Ky. - You don't have to be a dedicated Thoroughbred racing fan to know it has been a tumultuous and controversial year for the spor…
It's the second year the Miracle League has held an All-Star Celebration and the organization wanted to showcase Sioux City's Miracle League f…
This Hungarian-born sport involves playing with a soccer ball on a surface that resembles a curved table tennis table. 
A third thoroughbred race horse has died during training at California's Del Mar, which opened its summer meet less than two weeks ago. Bowl O…
The Tour de France ended Sunday, with Colombia's Egan Bernal winning the race. At 22, he became the youngest winner in 100 years, and the firs…
The NASCAR regular season is long and grinding, constantly shooting fans and drivers to the farthest corners of the United States. It also - t…
BALTIMORE - Two words have haunted American thoroughbred racing for the past six months: Santa Anita. For the longest time, they simply connot…
LOS ANGELES - Even by the lofty standards of UCLA gymnastics, the team's 2016 freshmen stood out. The group was one of the greatest collection…
On Saturday, across the eastern and most of the midwestern United States, you could not get a bet down on a live horse race from Laurel Park i…
A year ago, Kevin Harvick went to New Hampshire Motor Speedway and won his sixth NASCAR Cup Series race of the season. That was the most he'd …
LOS ANGELES - Visitors to the Lakers' posh training center in El Segundo enter through oversized glass doors and are greeted by large rotating…
HARTFORD, Conn. - It's not an easy time to run a youth baseball league.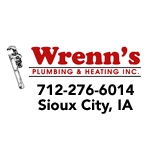 Wrenn's Plumbing & Heating Inc.
Daytona. One of NASCAR's great equalizers ... or at least, that's how it's supposed to be. Twice a year, for the Daytona 500 and Fourth of Jul…
LOS ANGELES - Since 1993, ESPN has handed out the fan-voted ESPY Awards for excellence in athletic performance, becoming the most-watched spor…
The recent departures of Evan Longoria and Gerald McCoy and Nikita Kucherov's recent crowning as the NHL's MVP got the folks in the Tampa Bay …
Everybody, it seems, has the Weather.com app on their cell phone except for NASCAR and NBC officials. How else do you explain starting an alre…
DAYTONA BEACH, Fla. - Justin Haley beat the longest odds in the field to win Sunday's rain-shortened Coke Zero Sugar 400. It took a sure thing…
The Tour de France begins Saturday. Which cyclists have the best chance to win it all? Here are the top 11 riders with the best odds to win on…
LOS ANGELES - The Los Angeles Marathon disqualified 70-year-old runner Frank Meza, saying that video cameras show he left the course for a por…