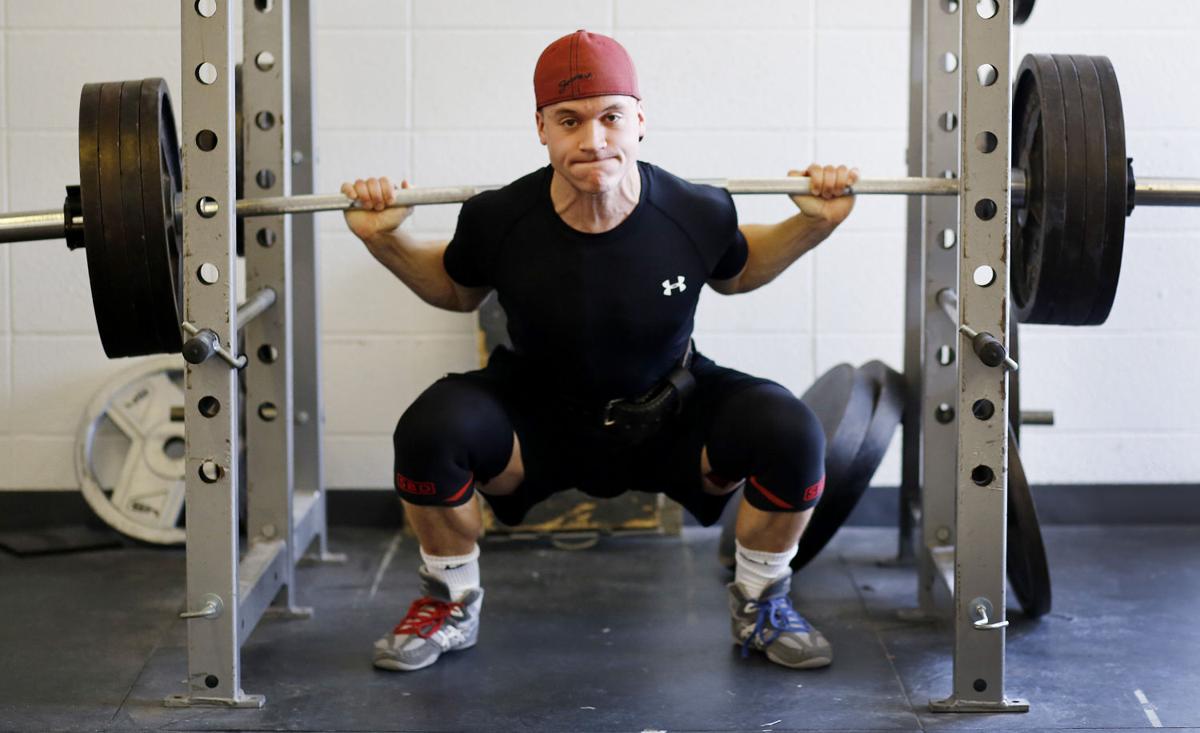 SIOUX CITY | Mason Cabney always watched his brother Brandon lift weights and like many younger siblings wanted to do things just like him.
Cabney is now a successful powerlifter who is blazing his own trail with some rather impressive records as a 17-year-old who just took up the sport a little more than two years ago. Now he is picking up wins and American and world records with impressive regularity at each event he competes at.
A competition in Lincoln in January led to Cabney claiming his first three USA Powerlifting American records at 145 pounds. The American records set in Lincoln came when Cabney lifted 424 pounds in the squat, 413 pounds in the deadlift and the combined of the three – the bench press being the other lift -- was 1,058.
"I was really expecting to do that because I trained the whole time just trying to do that," he said. "I am just glad that I did."
His records came during raw lifts meaning competitors are not allowed to don any special clothing or use any of the other aids that are common in traditional powerlifting competitions.
Cabney, who stands 5-foot-7, returned to Lincoln in April for another competition where he claimed three American marks and one world record at 163 pounds. This time he squatted 473.75, deadlifted 523.5 and totaled 1,240. The world record came in the squat.
"I surprised myself going up a weightclass and doing what I did," he said. "But I was focused and motivated to get better and set new records."
You have free articles remaining.
"When he started he wasn't at it very long and you could see his dedication and discipline and I was pretty amazed," Brandon's mother, Melissa said. "I thought he would try it and it would taper off, but he lives it and breathes it."
Cabney, who will be a senior at East High School this fall, lifts nearly every day of the week for a couple of hours, working on one of the three disciplines in powerlifting each day. It has also made him realize the importance of what he is eating and putting in his body during his training.
"You want to eat pretty healthy coming into these because you want to weigh on the dot as close as you can be to the weight class because the more advantage you will have," he said. "It is a lot of eating clean and drinking a lot of water."
Cabney got started in powerlifting during a high school meet for Sioux City schools just over two years ago when he took fifth place. The result wasn't what he wanted but it lit the competitive fire.
"I just kept saying that I wanted to win this one meet so I kept doing it and I eventually did that," he said.
He would next try a competition in Des Moines this past November where he walked away with the win and a boost of confidence that helped lead to his record-breaking performances in recent months.
"It really motivated me to keep going because the feeling of winning and doing, you can't just do one and stop," Cabney said. "I upped my goals and I wanted to keep winning, get some records and compete at nationals."
Cabney is now eyeing a bigger prize with the national meet in Pennsylvania in October where he will compete in the 16- and 17-year-old, 163-pound weight class. He is hoping to squat 500 pounds, deadlift 570, bench 290 and total 1,320 or above.
"After nationals there is worlds ... and that is what I am hoping to be able to do that," said Cabney, who would have to win at nationals to advance to worlds.