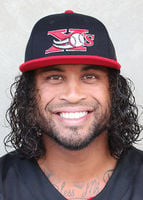 SIOUX CITY -- The Sioux City Explorers announced that the New York Mets have purchased the contract of pitcher Pete Tago.
Tago made 11 regular season and two postseason starts. The former first-round pick was acquired via trade on July 10 from the York Revolution of the Atlantic League for a player to be named later. Tago went 6-3, compiling a 3.16 ERA over 74 innings of work. He struck out 88 batters in that time, walking just 24 with opponents hitting .257 off the right-hander. In his 11 starts, Tago had double-digit strikeouts four times and tossed eight quality starts.
He tossed two complete games during his time with Sioux City but perhaps none of them was bigger than his nine innings of work on the final day of the regular season. The X's needed a win to punch their ticket to the postseason and he delivered a victory to send the team to the playoffs for the fourth time in the last five seasons.
You have free articles remaining.
In the postseason, Tago got the ball for the Explorers twice. In those two starts he threw 10 1/3 innings, striking out 15 with an ERA of 1.74 with opponents batting just a mere .220.
The 27-year old was made a first-round pick by the Colorado Rockies in the 2010 MLB Draft. At 47th overall, he was a compensatory pick for Colorado. He spent four seasons with the Rockies organization. He was used primarily as a starter until his final season, 2014, when he made 43 appearances out of the bullpen.
After being released by the Rockies, he spent two seasons in the minors, primarily in AA with the Chicago White Sox farm system before finishing up his final season in affiliated baseball with the Seattle Mariners AA club.'
After a brief retirement over the 2018 season, Tago made his return to professional baseball In the Atlantic League with York.
With Tago's signing by the Mets organization, the Sioux City Explorers have now had 23 player's contracts acquired by an affiliated organization since the completion of the 2015 season.