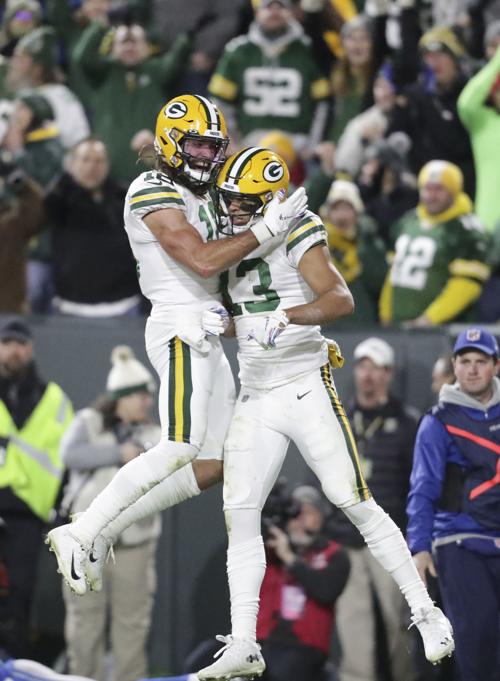 AMES, Iowa — Allen Lazard was built up to be one of the best, if not the best Iowa State players of all time.
He was easily the best receiver in Iowa State history when he graduated two years ago.
He was a locally grown four-star recruit that chose his home-state team over Notre Dame.
He helped lead Iowa State to its first bowl victory since Paul Rhoads' first season at Iowa State and he was supposed to break Iowa State's undrafted player streak.
That's about the only area he failed. Lazard went undrafted and signed with the Jacksonville Jaguars. He was later cut and signed by the Green Bay Packers at the end of the season.
On Monday Night Football, Lazard showed his abilities for the Green Bay Packers against the Detroit Lions. A couple Packers receivers went down with injuries earlier in the game, so Lazard's name was called – Lazard spent the beginning part of the season on Green Bay's practice squad.
He caught four passes for 65 yards and a touchdown. All of his production came in the fourth quarter, including the touchdown to bring the game to within two points for the Packers.
The Packers eventually won 23-22 and Lazard was the Packers leading receiver in the game as well.
"I honestly just believed in myself," Lazard said in the post-game press conference. "I knew what my capabilities were. I know the talent that I have, I know the production that I produced before. It's a different stage, but it's the same to me."
Green Bay quarterback Aaron Rodgers said in the post-game press conference that before a critical third-down play, Lazard went to Rodgers and told Rodgers which play he wanted to run.
You have free articles remaining.
"For a young guy to do that, how can you not have confidence in that?" Rodgers said. "(Coach) Matt (LaFleur) was between one of two plays and I said go with the first one because I'm going to throw it to Allen and we're going to move the sticks. And we did."
Rodgers heaped praise on Lazard throughout his interviews. He told stories about how hard Lazard works and how much he studies the game – Rodgers is the one who lobbied for Lazard to get in the game in the fourth quarter.
It's why Rodgers had so much confidence to keep going to back to the 6-foot-5 target throughout the fourth quarter down by two scores.
"I think Allen's journey is really unique – his journey here and his journey now," Iowa State coach Matt Campbell said. "What I'm most proud of with Allen is Allen was a tremendous player, we all know that. He was tremendous before we got here, and he had the ability to put a great finish to his career while we were here at Iowa State together.
"What I love about Allen is what happened after his career here. Everybody built Allen up to this great stature and then tough times came. That happens in ever athlete's career at some point. For Allen, it happened after he left Iowa State. I know that was a tough situation for Allen – not getting drafted. All of us in our career have to go up the rough side of the mountain at some point and at some time. For Allen, it came as a professional."
Lazard showed just how hard he worked and how much he learned over a three day span during the summer when he was back at Iowa State.
Receiver Tarique Milton said Lazard was the first one to take him under his wing when he first arrived at Iowa State and now Lazard is still passing his knowledge down to Milton and the other receivers.
"He helped us with some new drills and helped us with our break steps to get those crisper," Milton said. "He was giving us knowledge to get our receiving room better."
That's one thing Campbell always liked about Lazard – he was unselfish. Campbell credits him and former quarterback/linebacker Joel Lanning with flipping the script at Iowa State because of how they played and how they led.
"His journey is defining of who he is right now and it's really fun to watch," Campbell said. "What you saw Monday night is what you're going to see more of in the future from him because of how hard he's worked to become the best version of him he can be.
"We're who we are today because of what he and his teammates were able to do for our entire football program. We owe a ton to Allen and that senior class."