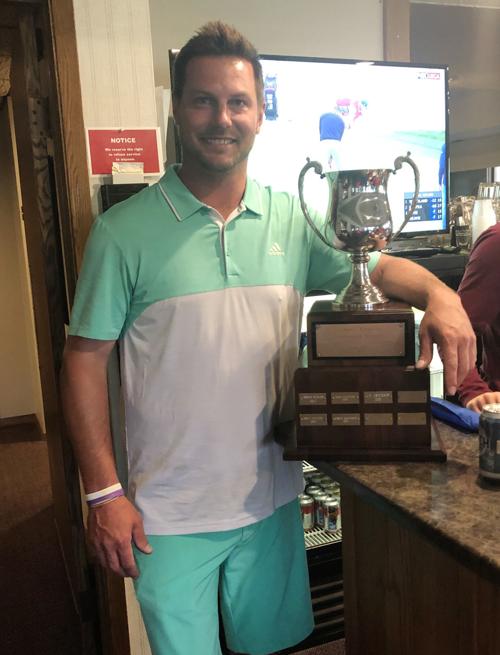 CHEROKEE, Iowa -- Nick Dreckman lost his father four years ago, so his victory in the 85th annual Sioux Valley Amateur Match Play Championship on Father's Day was extra special.
"My dad brought me to this tournament for the first time when I was 14 years old so I think this was my 25th one," Dreckman said. "I think I missed one year when I was living in Arizona but I look forward to this every year.
"Maybe my dad was on my side for Father's Day. I stopped at his gravesite today and said a little prayer and I think he looked over my shoulder."
Dreckman, a talented Le Mars, Iowa, player, had to go to an extra hole to defeat recent Morningside College graduate Cody Holck, 1-up, in a tight championship match.
The two finished deadlocked after 18 holes of regulation and missed their approach shots right of the green on the first playoff hole, No. 1. Holck was the first to putt, just missing a 10-foot par before Dreckman drained a 5-footer for the win.
That unleashed a wave of emotions for Dreckman, who had to knock out two past champions to reach the title match. Moreover, two of his matches went to extra holes, including a 20-hole marathon with Mike Cedar of Cherokee in the first round.
Dreckman defeated three-time champ Bret Taylor of Booneville, Iowa, 3 and 2 in the second round, setting up a semifinal with four-time winner J.D. Anderson of West Des Moines.
That wound up going 19 holes with Dreckman prevailing when Anderson missed a short putt.
"I think I got up one or two early on Cody and he battled back to all square at the turn," Dreckman said. "He got to one up on seven and I about holed out on eight and hit it to a foot-and-a-half and we halved nine and went to extra holes."
Holck, who resides in Grimes, Iowa, and was a four-time All-Great Plains Athletic Conference performer at Morningside, eliminated past champion Matt Pitts of Cherokee in the first round. He defeated Mike Clark of Spencer, Iowa, just before dark on Saturday in the second round.
Holck reached the title match with a 2 and 1 victory over Zach Mathers of Sioux Falls.
Dreckman had reached the championship match once previously, falling to James DeVos here in 2014. He is, however, a six-time Sioux City 'major' champion with three wins each in the Tri-State Masters and Interstate.
"The history and longevity of this tournament is what makes it so special to me," said Dreckman, fondly known as "super" to his closest friends. "The people over here have kind of taken me in as their own and it's absolutely awesome here. It's perfectly run, great people who are so generous so it's easy to come over here and say thank you."
As usual, a large gallery was following the championship match, roughly 100 to 150 spectators lining the fairways and greens with their golf carts.
"I've been holding back emotions from this morning all the way until now," Dreckman said immediately after his win. "I think maybe a cold beverage will take care of that."
Ray Sencenbaugh of Sioux City defeated Ryan Feauto of Carroll, Iowa, 2 and 1 in the first flight title match. Championship and first flight matches were each 18 holes and the remaining flights played nine-hole matches.
Shane Bellefy of Cherokee was the second flight winner, while James Preston of West Des Moines won the third flight. Dana Braunschweig of Grimes claimed the fourth flight, Matt Stauter of Fonda, Iowa, the fifth, Alex VanDeGriend of Sioux Falls the sixth and Paul Hyndman of Cherokee the seventh flight.
Dreckman will have his name added to the Wayne Johnson Memorial Trophy.
Be the first to know
Get local news delivered to your inbox!