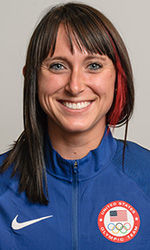 DOHA, Qatar — Shelby Houlihan made history on Saturday at the IAAF World Athletics Championships in the 1,500-meter women's final. 
Houlihan, an East High School graduate, set an American record with a time of 3 minutes, 54.99 seconds for fourth place. 
The previous American record was 3:56.29, which Shannon Rowbury achieved in 2015.
The winner was Netherland's Sifan Hassan at 3:51.95, the sixth fastest time recorded. Hassan took the lead at the 300-meter mark, and never surrendered it from that point forward.
The top nine finishers in the race were all under four minutes. 
You have free articles remaining.
At the 400-meter mark on Saturday, Houlihan was in sixth place and her time at that point was 1:03.96. That was the fastest first-400 meters for Houlihan all weekend. 
On Wednesday, Houlihan ran a 1:11 in the quarterfinal round, and 1:13 in Thursday's semifinal. 
Houlihan fell back a spot as the runners met the 800-meter checkpoint, and her time then was 2:06.66. 
With 300 meters to go, Houlihan found herself back in sixth and had 3:08.26 under her belt. 
She passed Laura Muir of England and Kenya's Winny Chebet to find the fourth-place spot at the finish line. 
The closest Houlihan got to the front at the 200-meter mark where she was in second place behind Gabriela Debues-Stafford. Houlihan passed Debues-Stafford at the end of Wednesday's race. 
There were two other Americans who ran in the race, too. Webster City native Jenny Simpson finished in eighth (3:58.42) and Jenny Hiltz — who is from San Diego, Calif. — was 12th at 4:06.68.