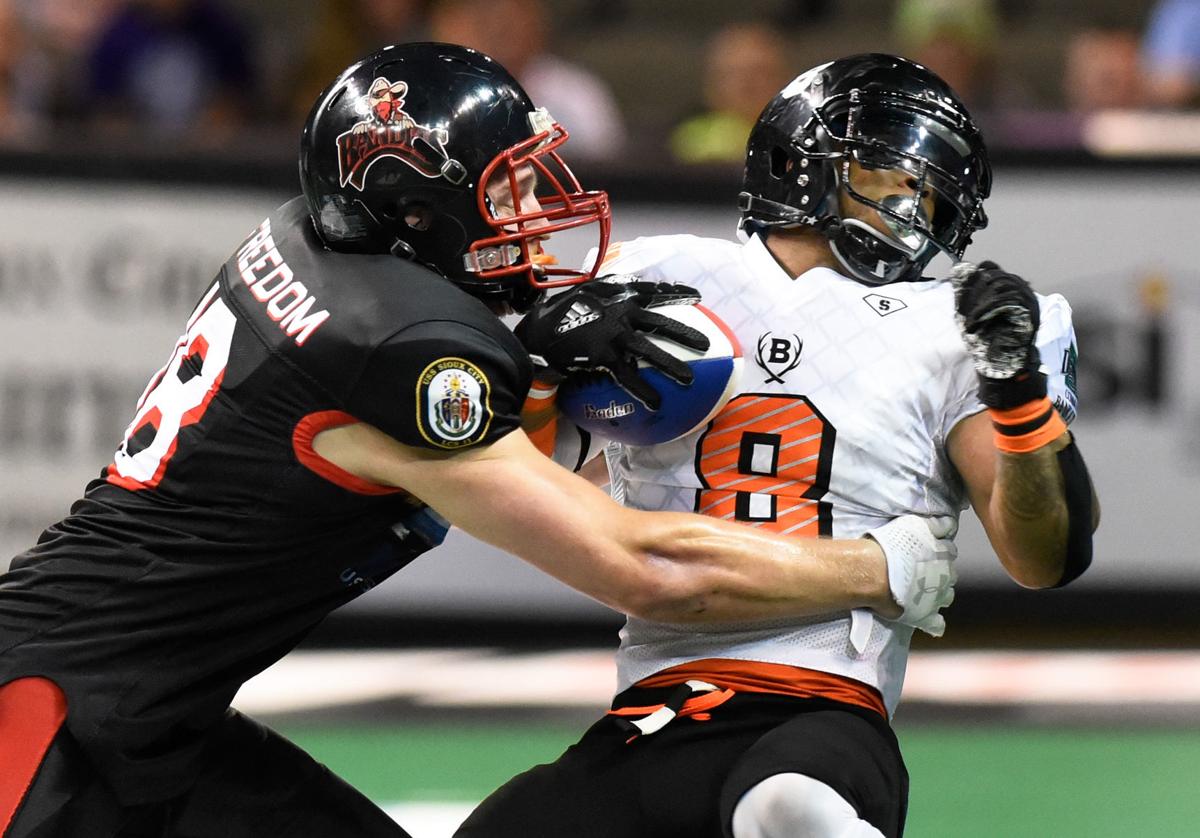 SIOUX CITY -- The Sioux City Bandits are becoming a team to beat in Champions Indoor Football.
Two seasons ago, the Bandits finished as the top team in the CIF North standings. The Omaha Beef ended their season in the playoffs. The Bandits finished the season with a 10-4 record.
The Bandits took their season a step further last season. Once again the Bandits finished as the top team in the CIF North standings and went all the way to the CIF championship game against Duke City. Even though Duke City won the title, the Bandits finished with back-to-back double-digit win seasons as they had an 11-4 record.
Head coach Erv Strohbeen, who is in his eighth season of leading the Bandits, isn't ready to predict double-digit wins for the third-straight season yet but he does like the talent that's been assembled so far.
Camp opened last Friday for the Bandits.
"I am still getting to know a lot of players but on paper, that was the intent (to follow the recent trend). How well they start to gel and how early in the season that happens remains to be seen," Strohbeen said. "I like the athletes that we've brought in. There's a lot of game-planning that goes into it and I never like to predict this early but that's what our job as coaches is. I don't see any red flags right now."
The key to another successful season is tied to both sides of the ball. Last season the Bandits led the league in scoring defense and were the second-best team in scoring offense.
That's the kind of ratio Strohbeen wants to continue this season.
"It's a good ratio to have. The scoring for the defense goes with the scoring for the offense. Sometimes we give up a lot of points but last year the defense held its own," Strohbeen said. "We want to stay up at that mark. We have a lot of work to do but I feel like the pieces are there."
The Bandits only allowed 41.2 points per game in the high-flying offensive league and they scored 54.0 points per game.
Defensively, the Bandits return plenty of key defensive players - defensive backs C.J. Jones and Anttonio Brown, middle linebacker Zac Schleuger and defensive linemen Devin Groenhagen, Ben Pister and Devon Bridges, who missed last season with a knee injury.
"Zac is back and will hold that middle spot and he's a heck of an athlete. C.J. and Anttonio led the lead in interceptions and are a couple of guys that know to play the ball and can lead the rookies, which is key," Strohbeen said. "Devon tore his ACL last year and is back and has something to prove. The year before, he was the defensive player of the year. He's back and hungry and ready to go.
"It's exciting for us to have an experienced defensive line and linebacker crew and that will be one of our strengths. The defense will be a strength early."
The Bandits do have some holes to fill on the offensive side. Running back Darrian Miller signed with the Sioux Falls Storm. He rushed for 855 yards last season and led the league with 35 touchdowns.
Former Nebraska running back Imani Cross did sign with the Bandits but hasn't reported to camp yet. Todd Macon, who played at Liberty, Dorian Cowart (South Dakota School of Mines) and Braden Meints (Simpson College) are battling for the starting spot.
"We've always had the best rushing attack in the league. Darrian was a special back but we feel like our system where if we find a good back, he will have a really good year," Strohbeen said. "We will miss Darrian. But if you look back over my tenure, we've always had the number one or number two back in the league and this year will be no different."
The Bandits also have to replace quarterback Liam Nadler, who passed for 1,946 yards and 42 touchdowns. Cory Murphy (Delaware State) and Antwan Washington (Webber International) are battling for the starting spot.
"Cory has a little bit of indoor experience with Billings. He commands the offense," Strohbeen said. "Antwan, he's a good character guy and he gets in the huddle and guys listen to him and he's having a good start to camp."
Whoever is the quarterback does have Frederick Bruno to throw to. The Wayne State graduate is in his ninth season with the team and he caught 41 passes for 513 yards and 11 touchdowns last season. Andre London, who caught 47 passes for 461 yards and nine touchdowns, took a coaching job but might be able to return after spring practice. Brandon Shepherd, who caught 30 passes for 506 yards and 14 touchdowns, isn't back.
Strohbeen is leaning on Bruno's leadership in the wide receiver room.
"He's a guy that leads by example. He's the first one out there and runs hard in practice. That's a huge relief as a staff to have a guy like that," Strohbeen said. "His actions speak louder than any words he can say. He's the lead guy on how to get things done the right away."
Kicker Greg Conry returns. He scored 165 points last season.
"We are really glad to have him back to hold down that kicking spot," Strohbeen said.
The Bandits have an exhibition game against the Sioux City Stampede at 7:05 p.m. on Saturday and then open the regular season at Liberty on March 30.
All Bandits games are scheduled to be broadcast on PlutoTV this season.
Be the first to know
Get local news delivered to your inbox!