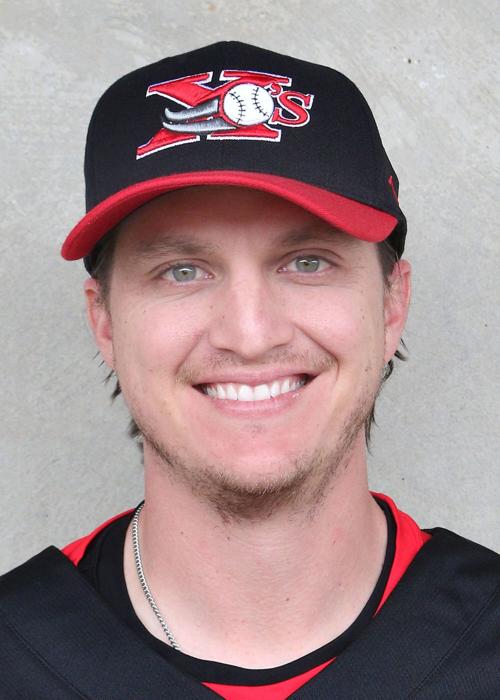 SIOUX CITY – Limited to one run in three consecutive losses, the Sioux City Explorers' bid for a fourth American Association playoff berth in five seasons was definitely leaking oil.
Sunday evening at Lewis and Clark Park, however, the X's rallied for a crucial 6-5 victory over the first-place Cleburne Railroaders, remaining just two games behind the South Division leaders with a second-place 45-34 record.
Nate Samson drove in three runs with a double and a triple as the defending division champions erased a 4-1 deficit, scoring three times in the fifth inning and once each in the sixth and seventh to bring home a much-needed win.
"We definitely had to plug the hole,'' said Samson, the defending league batting champion and a former Association Player of the Year "For sure it was a good win for the boys. We played good baseball. We came back today and handled our business."
Cleburne, 47-32, made things interesting when Angel Reyes belted a two-out homer in the ninth inning, reducing a 6-4 deficit to a single run against Matt Pobereyko. However, the X's closer retired league RBI leader Chase Simpson two pitches later on a line-out to center field, pulling Pobereyko within one save of Brett Reed's franchise-record 24 saves in 2008.
It was a game that saw tensions mount until finally both benches emptied briefly after the game-tying rally in the fifth frame.
"Their bench was chirping a lot, it kind of sparked a fire underneath us a little bit,'' said sixth-year X's Manager Steve Montgomery. "I thought when the benches emptied, I just thought we were going to win the game because of the spark. You could feel the confidence was back.''
Third-place Kansas City, 40-37, remained five games in back of the Explorers after a three-game sweep of hapless Texas gave the T-Bones five wins in a row heading into a three-game home series with Cleburne. The defending league champs, though, are just three games behind the X's in the loss column since they have 23 games remaining, two more than Sioux City.
The Explorers' final 21 games include no less than 10 meetings with Kansas City and another six contests against Cleburne.
"It's going to be a hell of a three weeks, it's going to be a lot of fun,'' said Montgomery. "This is what I was hired to do was to change the culture, to change how the fans and how the players come to the ballpark. We've done that and they come here intent on winning.''
Cleburne scored its first two runs with leadoff walks to its two weakest hitters based on batting averages.
You have free articles remaining.
Veteran righthander Taylor Jordan, a former major leaguer, started the second inning with a free pass to Hunter Clanin, batting only .231. A wild pitch by Jordan moved Clanin to second and Ryan Brett promptly singled him home with the game's first run.
Jose Sermo's leadoff double and a pair of ground balls got that run back in the home half of the inning. Jordan, though, missed on four of five pitches to Logan Trowbridge, a .226 hitter leading off the third. And the former major leaguer was fortunate that turned into just one unearned run after Daniel Robertson's base hit was followed by a double play bouncer that Sermo shockingly dropped for his third error in four games.
Instead of two outs and one man on base, the guests had three men aboard with nobody out. A walk to Simpson then forced home a go-ahead run before the rally was squelched on two ground balls and a strikeout.
The lead grew to 4-1 when the Railroaders scored twice after Robertson, the first batter in the fifth, was hit with a 1-2 pitch. Reyes bombed an RBI double that bounced off the wall in left-center and Zach Nehrir's one-out single chased home Reyes.
Then, for the first time in four games, the Explorers' slumbering offense suddenly sprang to life with a game-tying three-run rally that was nearly a go-ahead four-run uprising.
Adam Sasser started it off with a triple that sailed over centerfielder Nick Rotola's head, scoring two pitches later on Sebastian Zawada's RBI single. One out later, Kyle Wren singled the both Zawada and Wren came around to score on a two-run double by Samson, who took third on a throw to the plate. When Jeremy Hazelbaker sent a one-out fly ball to Clanin in right field, it looked as though Samson could tag up and score a go-ahead run. However, Clanin's bullseye to home plate easily retired Samson to end the inning – an impressive play he duplicated two innings later.
The X's bats kept singing in the sixth with Sermo and Drew Stankiewicz opening it up with back-to-back singles. Then, after two quick pop-outs, Zawada's single to right field sent his team in front, 5-4.
When Clanin let Kyle Wren's leadoff double get past him for an error, it gave the Explorers a man on third to start the seventh inning. Making it count was a triple by Samson that provided that insurance run the hosts would need.
Jordan picked up the win with a quality start, allowing three earned runs in six innings. Tyler Fallwell, Jose Velez, Jr., and Nate Gercken got the Explorers to the ninth inning before Pobereyko retired three of the four batters he faced.
"It was just getting a better pitch to hit,'' said Samson of his team's offensive resurgence. "It was kind of just passing the torch. If one guy goes, another guy wants to go.''
Cleburne starter Jesus Sanchez, who came into the contest with an 8-2 record and a 2.89 ERA that tied him for third in the league, was saddled with the loss after giving up five runs on nine hits in six innings.
After Sioux City visits Sioux Falls for Monday and Tuesday games, the South frontrunners will open another three-game series on Thursday in Cleburne. The X's return home Sunday to start their final regular-season homestand, a nine-gamer before seven road games finish things out.