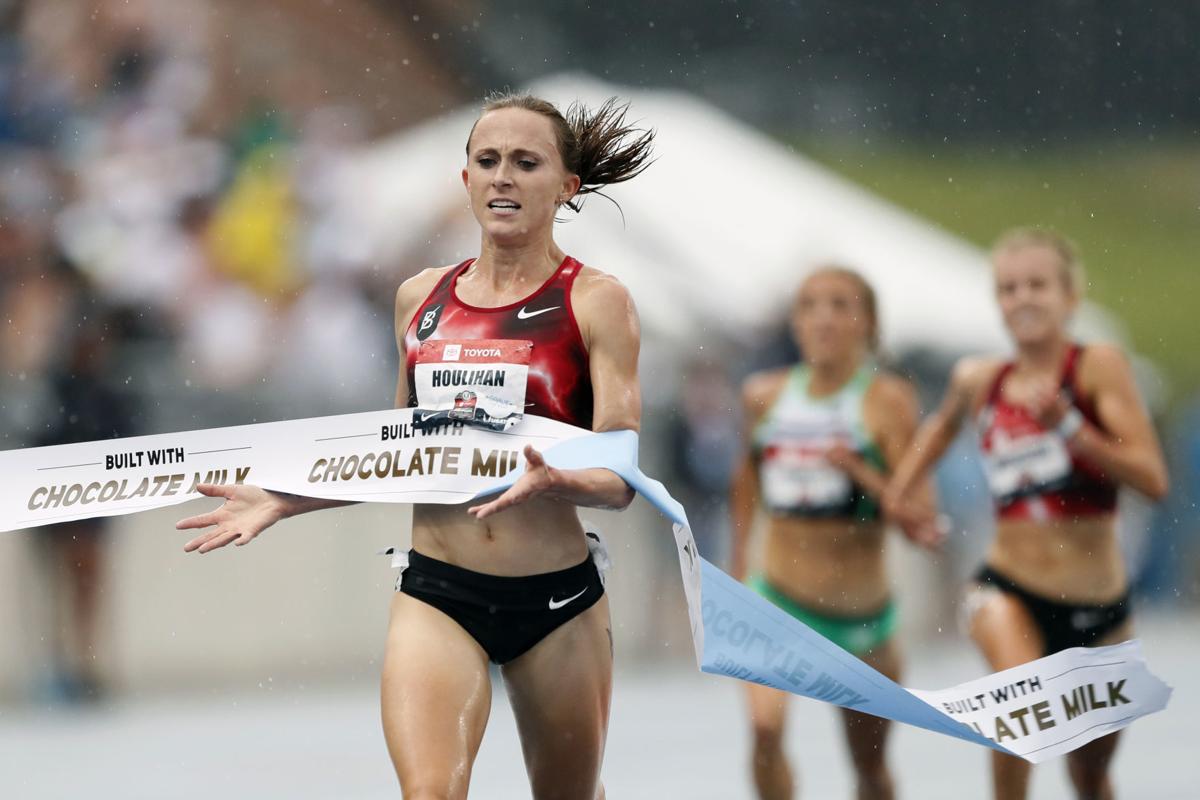 For about the past four years, Shelby Houlihan has been working to improve on her 11th place finish in the 5,000-meter run in her first Olympic appearance at the 2016 Games in Rio de Janeiro.
Over that time, Houlihan, an East High School graduate, has been consistently improving. In 2018, she set the American record in the 5,000 with a time of 14:34.45, cutting 26 seconds off her personal best 34 seconds from her time at the Rio Olympics.
She also set the national best in the 1,500-meter run in October in 3:54.99, good for fourth at the 2019 World Outdoor Championships. Houlihan went on to win the 3,000-meter and 1,500-meter finals at the USATF Indoor National Championships in February, giving her 13 U.S. titles.
Houlihan felt like she was in top form as the U.S. Olympic Trials in June approached.
But she has to put her Olympic dreams on hold for a year. On Tuesday, the International Olympic Committee postponed the 2020 Tokyo Summer Olympics to 2021 because of the coronavirus pandemic.
"I am a little bummed. I came into this year really hungry to do well at the Olympics and I gained some pretty good fitness over the last few months and I was looking to keep it rolling," Houlihan said in a phone interview. "Now I will take a step back and still train like normal. The thing about our group, we attack every year the same way, whether it's an Olympic year, a World Championship year, an open year. We treat it like any other year."
While Houlihan, 27, was looking forward to qualifying for the Olympics for the second time, she said she also understands and supports the decision and is keeping a positive attitude.
With gyms and tracks getting closed around the nation, it became difficult for her and other Olympic hopefuls to train normally. Houlihan and her teammates at an Oregon-based program have been able to train at Nike's track for the past couple of weeks, but Nike is now closing its doors to the facility for the time being, leaving Houlihan and her teammates without a track to train on currently.
"I think (the postponement) is the best call given the circumstances with how tough it is to get into the gym," said Houlihan, who lives in Portland. "I can do my work outside, which is nice, but we are having a hard time getting on tracks. Many people are dealing with the same things and not getting good training in because of the circumstances. Safety is the No. 1 priority.
"I can go out and run which I am grateful for. I luckily have some gym equipment in my living room that I can use but it's not what we would normally use. I am trying to adapt."
Houlihan is grateful she has an Olympic event to train for. At one point, there were talks that the 2020 Olympics could be scrapped completely. But those rumors were short-lived as the IOC and Japan announced the postponement, keeping many Olympic dreams alive for 2021, including Houlihan's.
"(Canceling) would've been so much worse. The Olympics are the peak for our sport," Houlihan said. "When it comes around, that's what you train for. I was gearing for this year, coming off a fourth-place finish at the Worlds and I was hungry to get back and medal. I am grateful there is that opportunity even though it's delayed a little bit."
The fourth-place finish in the 1,500-meter run was Houlihan's best showing at worlds. However, she is far from satisfied with that result. While it was her best finish, she was still one spot off from being on the podium and that's been pushing her the past few months.
It will continue to drive her during her training over the next year.
"I don't want to say it's not good enough but it's not good enough," Houlihan said. "You have to take a step back. I took a lot of huge steps from where I started. I was grateful to make the Olympic team and I'm grateful for the stuff I've been able to do. At the same time, I am not satisfied with fourth. I wanted to medal. There's a bigger goal for me. I just gotta keep putting my head down and train hard and get a little bit of luck."
Houlihan couldn't ask for a better group to train with, too. Houlihan is part of the Bowerman Track Club along with Urbandale, Iowa, native Karissa Schweizer. Elise Cranny, Emily Infeld, Gwen Jorgensen, Kate Grace, Marielle Hall, Shalane Flanagan and Vanessa Fraser also round out the team.
"I don't think I would be where I am without being a part of this team," Houlihan said. "Training with Karissa, we are 5K training partners. She's an awesome athlete. It's made me better. I have to be on my A-game with her and I can never drop, which is making her better and making me better."
Training with Schweizer and the rest of her Bowerman Club teammates is the reason why she has been able to set records. It's also why she feels she can stay in top form for the U.S. Olympic Trials and the Toyko Olympics a year from now.
"As long as I can stay healthy, I can string together years of training and build on that and get stronger and faster and that's why I've been able to get better," Houlihan said. "As long as I keep doing that, stay healthy, not push too hard, there's no reason I can't be even better. It's another year to train if I look at it optimistically."
Concerned about COVID-19?
Sign up now to get the most recent coronavirus headlines and other important local and national news sent to your email inbox daily.