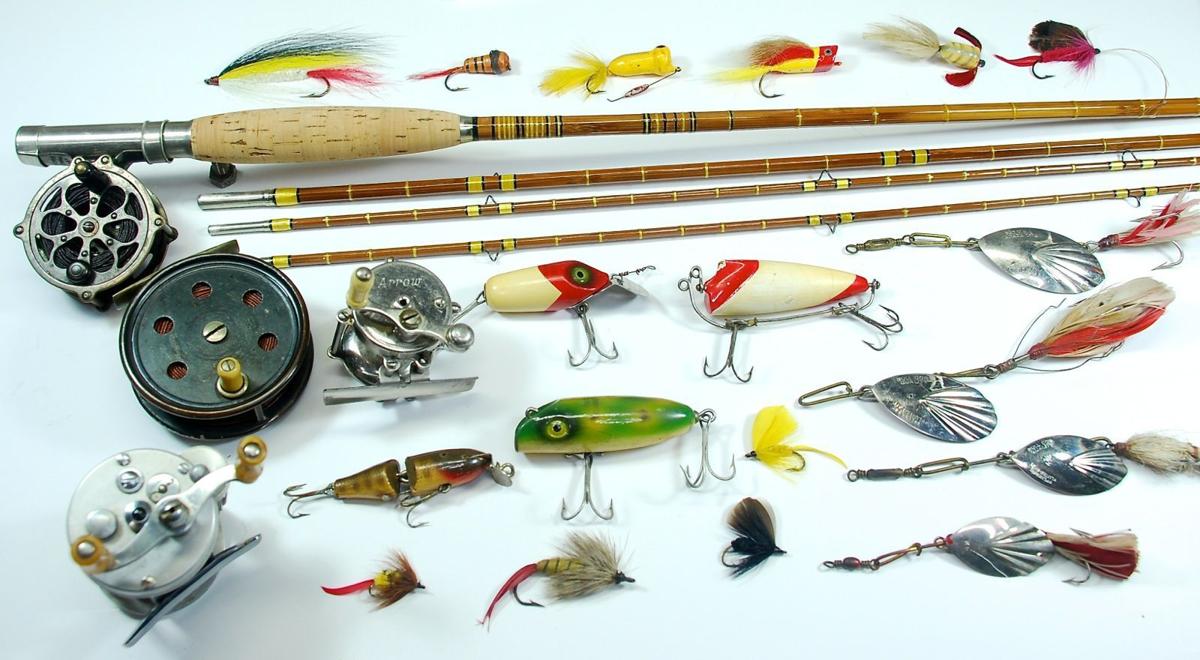 While I've never considered myself a "collector" of old fishing tackle, it sure seems like I have "accumulated" an awful lot of vintage tackle over the years.
I recently came across five large cardboard boxes with "Old fishing tackle" written in felt-tipped pen on the outside of each. Vaguely, I remember boxing this stuff up and putting it away. Must have been in the late 1980s.
In those days just about everybody's grandpa, if he fished, had an old tackle box. Often it was filled with lures and spoons from the 1940s and 1950s. If you frequented rummage sales and auctions some good finds of vintage tackle could be found.
I suppose that has changed today. Most of those old tackle boxes filled with collectible lures are gone.
But, eBay has taken their place.
Just spend a few minutes on this popular auction site. You'll find hundreds of old lures, reels and other collectibles available.
A friend of mine, Jeff Hatton of Paonia, Colo., is probably the greatest example of how you can put together an enviable collection of fishing rods. Jeff is a bamboo rod builder. One of the best in the country. That's how I met him. But he is also a fishing historian. I purchased his book "Rod Crafting, A Full-Color Pictorial & Written History from 1843-1960" long before I met him.
When we met at a rod maker's conclave in Colorado, Jeff invited me to his home to view what is now known as "The Gnome's Traveling Rod Show."
It consists of over 50 linear feet of boxes displaying over 115 wooden and bamboo fishing rods dating from the 1700s.
And get this. Most of those rods were purchased at eBay auctions. He has one, an American ash rod dating back to 1775. He got it for $25.
A little research on the internet will result in many other contacts and resources for a budding lure collector.
The bible of collectors is "Old Fishing Lures & Tackle" by Carl F. Luckey. I have the fifth edition. It was published in 1999. The latest is the eighth edition. You can buy it for $200 plus. Fortunately used editions are available for considerably less.
If you are going to collect, I'd advise getting this book. It's the best out there.
But even this book does not contain every lure. I had a peculiar-looking plastic plug that I could not identify. I went through every single page of the 670 pages in Luckey's book. No luck, you might say.
I had about given up trying to identify it. Somewhere online, I found a page from a 1961 magazine while I was researching another lure. There was a small ad at the bottom of that page with a photo of my lure. That's how I learned it was a Dubl-Pop manufactured (as luck would have it, I guess) by the Lucky Day Bait Co., of Long Lake, Minnesota. As I've always said, I'd rather be lucky than good.
You'll will soon learn that serious collectors are interested primarily in "like new" collectibles. Some lure collectors only consider buying lures that are contained in the original box. Sometimes original boxes are worth more than the lure itself. While fishermen would hang on to their lures, they usually discarded the box.
Just how you go about collecting is up to you. Some focus on only one lure manufacturer such as South Bend or Heddon or Shakespeare. Some only collect wooden lures, although there are many plastic lures that are collectible as well. Some collect only early casting reels. Some only bamboo rods.
My accumulation -- I hesitate to call it a collection -- is eclectic. I've got a little bit of everything. Rods, reels, plugs, spoons, flies, and on and on. None of it is worth much, mostly because much of it is in very used condition.
Some of it, however, has great sentimental value to me. For instance, in one of those boxes I found a small container full of 3/8-ounce hair jigs. Each in a plastic sleeve. They were tied by C.J. "Cap" Kennedy. Cap lived in Arnolds Park, Iowa, and ran the bait shop near the Highway 71 bridge in the 1950s and early 1960s. He tied and sold "Rock-A-Roo" bucktail jigs until he died in the late 1970s.
They were the best jigs out there at the time. I knew Cap and fished with him. I asked him to tie up some jigs for me, not because I wanted to fish with them, but because I felt they were a part of fishing history and needed to be preserved.
And that is what this collecting is. It is preserving part of our history.
My oldest bamboo fly rod is a 9 1/2-foot Heddon made in the 1920s. I had to refinish it because the varnish had melted while it was still in the bag before I got it. Now, it's back to its original beauty, but since it has been refinished it has very little value. My oldest reel is a fly reel dating back to the 1880s. Luckey lists it for $40 to $60. In researching my old lures over the past few days, I did find one made in the 1920s that was listed at $100 to $200.
That's the thrill of collecting. When you open that old tackle box, you never know what you might find.