FARGO, N.D. | South Dakota's offense was in high gear in an 11-4 victory over Omaha in the opening round of the Summit League softball tournament here Wednesday.
The Coyotes (22-30), seeded fourth, advanced to double elimination play and will take on top-seeded IUPUI Thursday at noon.
USD collected 19 hits for the third time this season and scored double digits for the seventh time. Emily Winckler and Jessica Rogers had four hits apiece and Taylor Steinfeldt hit a three-run homer. Seven Coyotes had at least two hits.
Winning pitcher Rachel Cue (12-9) gave up six hits and struck out three. Cue gave up two-run homers to Vickey Kinney in the third and Liz Mancuso in the fifth.
Christy Warnock and Steinfeldt drove in four runs each and Winckler extended her hitting streak to six games. Rogers improved her average to .358, which ranks second in the Summit League.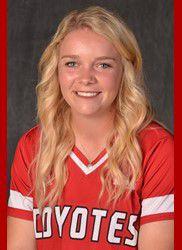 Tags
Be the first to know
Get local news delivered to your inbox!