AMES, Iowa -- Iowa State redshirt freshman wrestler Austin Gomez (133) isn't afraid to call his shot.
Before the Iowa dual, Gomez talked about his plan wrestling then-No. 9 Austin Desanto.
"(My plan is to) score points and score more points," Gomez said before the dual. "Break the guy. Break the guy's will and make him not want to wrestle me. That's the plan. I'm going to go in there and do to him what they want him to do to me. It's going to be a rude awakening for them."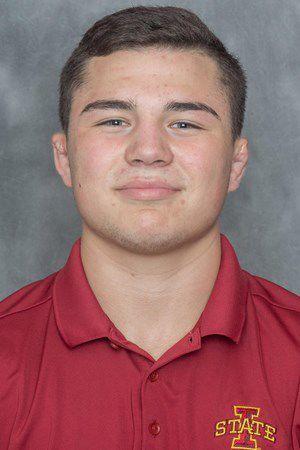 Gomez did essentially that, winning the match 14-9 and being mere inches away from a pin.
Coach Kevin Dresser loves Gomez's mentality.
He likened it to legendary baseball player Babe Ruth pointing with his bat to the spot in the stands where he's going to hit his homerun.
"I think you have to like the, 'I'm going to point it out and then hit it out of left field' mentality of Gomez," Dresser said. "He's going to hit it over the fence in left field. That's what he's about. He's definitely a guy that likes the pressure situations."
Iowa State wrestling has shown a different level of energy, effort and fight to this point of the season. It's still early, but Dresser likes what he's seeing.
The Cyclones are 2-0 in Duals and have done well in the open tournaments they've sent guys to.
Iowa State didn't send its full lineup to the UNI Open over the weekend, electing to keep starters Gomez, Ian Parker (141), Jarret Degen (149), Sam Colbray (184) and Willie Miklus (197) home.
But Iowa State still walked away with four individual champions in Alex Mackall (125), Todd Small (133) true freshmen phenom David Carr (157) – who was wrestling unattached – and Marcus Coleman (174). The Cyclones also had three wrestlers finish 3rdin Ryan Leisure (141), Joel Sapiro (184) and Gannon Gremmel (HWT).
Dresser said a lot of the guys have the mindset he wants to see at this point. But Gomez embodies what the coaching staff wants to see.
"When we drew 141, he said, 'This is exactly what I want. I want to be last, I want it to come down to me,'" Dresser said. "It was obvious he wanted to win that match, but he wanted to win the dual meet, too. To throw a lateral drop with a minute to go in a match shows you that he puts it out there. He's going to try and back it up as much as anybody possibly can."