Bring out your inner zombie on Oct. 20 at the second annual Zombie Walk and Blood Crawl to benefit Sioux City's Disabilities Resource Center.
Don Dew, executive director of the Disabilities Resource Center is hoping the event attracts more people this year, as some of the events will be held indoors in case of inclement weather.
"This is the second year of our Zombie Walk," said Dew. "We have moved it from downtown to the campus of our partner in the event, WITCC, where it will be held from now on. Last year the weather kept people from coming, and we basically broke even on the costs. This year there will be the option of walking in the halls of WITCC, as well as walking outside, so people don't need to worry about inclement weather."
If you don't want to ruin your perfectly good clothes or apply your own zombie makeup, there will be distressed, torn clothing and five zombie makeup artists ready to get you zombified for the walk. This service will be included with the purchase of a ticket.
In addition to the walk, there will be a room screening the original "Night of the Living Dead," the Dog Eat Dog food truck, and a room for people who have gotten overly stimulated and need to chill out before heading back for more zombie fun.
There will also be a costume contest with eight categories: classic zombie (Night of the Living Dead style), horror zombie (blood and guts), male and female celebrity zombies, boy and girl zombies (12 and under), group of zombies and overall zombie. Prizes range from gift certificates to local eateries to tarot card readings.
This event is for the whole family, including your brain-hungry pets and children (12-year-olds and under get in free).
Dew says the money raised from this event will go to help people with a wide range of disabilities.
"We try to make people with disabilities empowered and be able to stay in the community instead of having to go to a facility," said Dew. "We are mandated to do five core services: information and referral, individual and group advocacy, individual and group peer support, transition of people out of facilities or deterring them from going to facilities and making sure disabled people in secondary education know they will be able to transfer into college or work after secondary education and lastly we help with independent living skills. We help people with any disability at any age."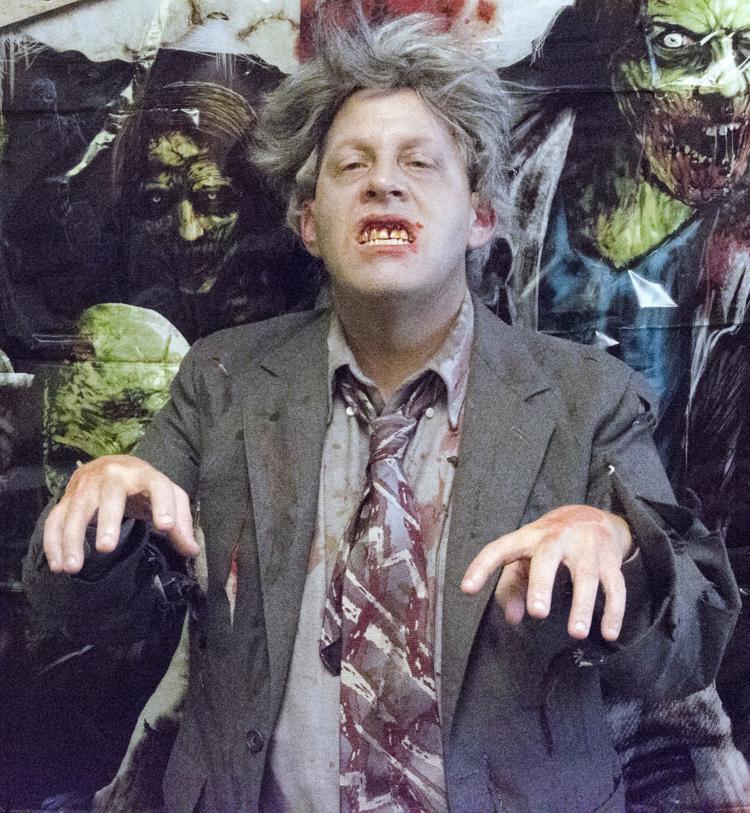 The Blood Crawl portion of the event will be sponsored by L&L Distributing Company, and is geared for the walking dead who are 21 and above. Ten bars will be participating, each with its own signature zombie-themed drink.
Registration starts at 5 p.m. at The Marquee (1225 Fourth St.) and the crawl goes from 6 to 11 p.m. with an after party at The Marquee starting at 11.
While this is a bar crawl, there will be a zombie trolley available so you can get to each bar in bloody good style.
"Downtown Partners has put out a second trolley specific for our event so people don't have to walk between both ends of Fourth Street," said Dew.
Participating bars are the Blue Ribbon Tap, Rox and Rails, Crash! Boom! Bang!, Firehouse Bar, Bodega, Work and Church, The Diving Elk, 1008 Key Club, Doxx Warehouse Bar and The Marquee.
There will be another costume contest held at The Marquee during the after party with the same categories as the Zombie Walk contest, minus the children's category. Prizes for this adults only contest include gift certificates to restaurants, Starbucks coffee, wine and wine holders and a nine-hole Sun Valley golf package.
"Both of these events are intended for fun," said Dew. "It is about the community getting together and being able to walk and find the commonalities among us."