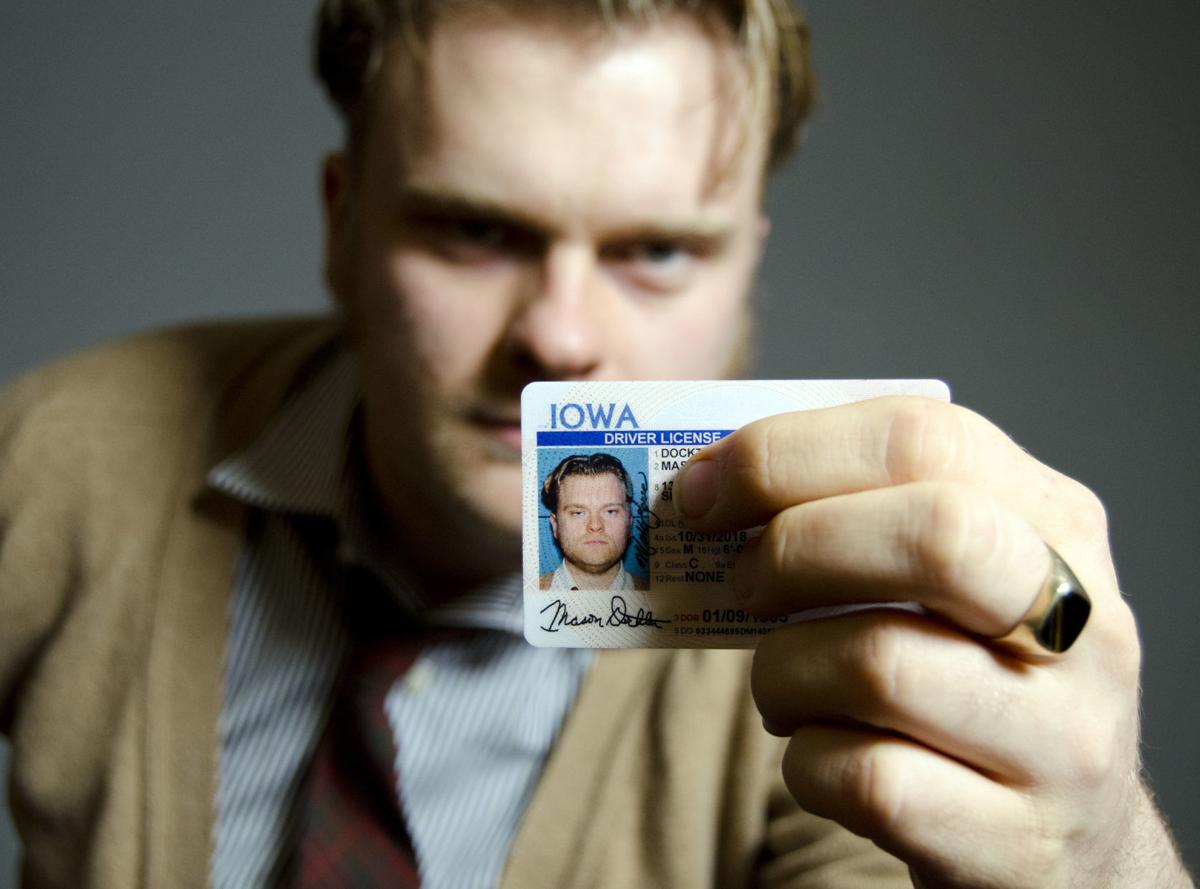 Some months ago, it came to my attention -- never mind how exactly -- that I had to relinquish my beloved South Dakota driver's license in exchange for an Iowa license. 
I had lived in Sioux City without the proper Iowa documentation for more than a year, and I'd always figured the license from my home state was as good as gold -- and why not? Driving rules aren't that much different in rural South Dakota, except that we begin driving around age 11 and seldom encounter another automobile on the road; we also don't do stoplights or turning lanes or seatbelts. 
When I first learned that you're supposed to get a new ID within a month of living in the state, I still figured I was good: the Sioux City metro area sprawls across three states. How could any authority be sure I don't commute from Dakota Dunes? My shabby appearance and my 25-year-old Chrysler might be a giveaway. 
But it came to pass that I admitted to a certain someone that I reside on the west side of Sioux City, not with my parents in Corona, South Dakota. I was told to get an Iowa license post haste. 
So I went to the DMV on Hamilton Boulevard for what I initially figured would be an easy transaction, much like it was in South Dakota. Fill out a paper, pay $10 or $15 at most, and be on my merry way in twenty minutes. 
I was shocked when I sauntered in one Tuesday afternoon and saw the place. It wasn't like the DMV in Grant County, South Dakota -- there were dozens of people there and nothing was moving. The place was packed, yet eerily still. 
This really was like those DMVs depicted on television. 
So I turned about on my heel and walked out, figuring I'd chosen a bad time to go to the driver's license station. 
I returned on Saturday, with my utility bills in hand and my South Dakota license in my wallet. Finding the place no better than it had been on Tuesday, I waited and waited and waited.
Others' numbers ticked by slowly. After an unpleasant hour-plus in the waiting room, my number was called. 
Approaching the license-dispensing woman proud of my due diligence, I presented her with my bills. 
"OK, and we'll also need your original Social Security card," she said, adding something about my passport or birth certificate. I don't have a passport, and by the time she said, "Social Security card," my blood pressure was in such an altered state that I couldn't comprehend the rest. 
I walked away without a word. Whoever had the number immediately behind me was in luck. 
As I left, I phoned my mother, who has always kept my Social Security card at home. With an unpleasant sort of excitement, I told her I needed her to mail it to me. 
"Well, don't lose the card Mase, they're not easy to replace if you lose them!" she warned. 
The Social Security card came in the mail the following week, and on Saturday I went again to the DMV. This time, I got there at around 7:35 in the morning, well before the place opened. I was the second in line.
This time, I was unstoppable. 
Twenty minutes later -- still five minutes before the doors even opened -- there were at least 30 people standing outside in the cold. It was like a terrible Black Friday for driver's licenses. 
Finally we were all let in, and I was at the counter. Again proud of my diligence, I presented my Social Security card and bills. 
"And your birth certificate?" the woman said. 
"Birth certificate?!" I asked, my face by now ashen gray, my eyes not unlike a frightened and irate raccoon. 
"Yes, we'll need your birth certificate, too, or passport." 
Again I turned around and left, saying nothing. 
I won't go into the contemptible policies that burden nice folks with all this required documentation to get a driver's license. It goes without saying, it wasn't always this way -- but at some point, society decided a driver's license is a dangerous thing to bestow upon a person who doesn't keep their birth certificate and Social Security card at arm's length. 
Outraged at these requirements, I phoned my mother again. She mailed my birth certificate. I later spilled coffee on it -- a reminder that these documents belong in safe deposit boxes and should never be shown the light of day. 
One Saturday later, I gave it another try, this time with a whole new idea: I took a number, then left for home and an hour of relaxation. The numbers don't go by that quickly, and I'd probably return just in time for my number to be called. 
By the time I returned to the DMV, my number was long past. I wasn't going to try that trick again. 
Chastened, I returned to the DMV with documents in hand the following week. Like that first time, it was a long wait. 
This time I had a frown on my face, and in my heart, when I got to the counter. I gave the woman my papers and held my tongue, not wanting to be that crank complaining at the DMV. She doesn't make the rules anyway. 
I scowled at the camera when they took my photo, a reminder to myself when I look at the license in years to come all the trouble I went through to get it. I paid around $33 -- three times what I'd expected to pay -- and I had invested 10 times the amount of time I had planned for. 
My driving skill remains poor, as always, but I now have an Iowa license that won't expire until 2026. I'd wager my driving is worse than anybody on the road who doesn't have a license -- people who, for whatever reason, can't furnish their birth certificate or Social Security card or their light and gas bill. 
But because my mother sent my Social Security card and birth certificate, I got my license. I forget at present where I put those documents, so I'm not looking forward to 2026. 
Copyright 2018 The Sioux City Journal. All rights reserved. This material may not be published, broadcast, rewritten or redistributed.