Eric Hovde is a hard working 45-year-old Sioux City artist with monster skills at drawing intense visions and creating elaborate collages; usually using just a pen and paper.
He grew up on a family farm in the area, and his first job was delivering papers for the Sioux City Journal. Hovde and his older brother, Shawn, started a graphic design business when he was just 18. They painted businesses and taco trucks, among other things.
Hovde's art took off after he quit drinking at the age of 20.
He is a father whose daughter cared enough to suggest him to us for an artist spotlight. You can find his art on Instagram @ehovdeart.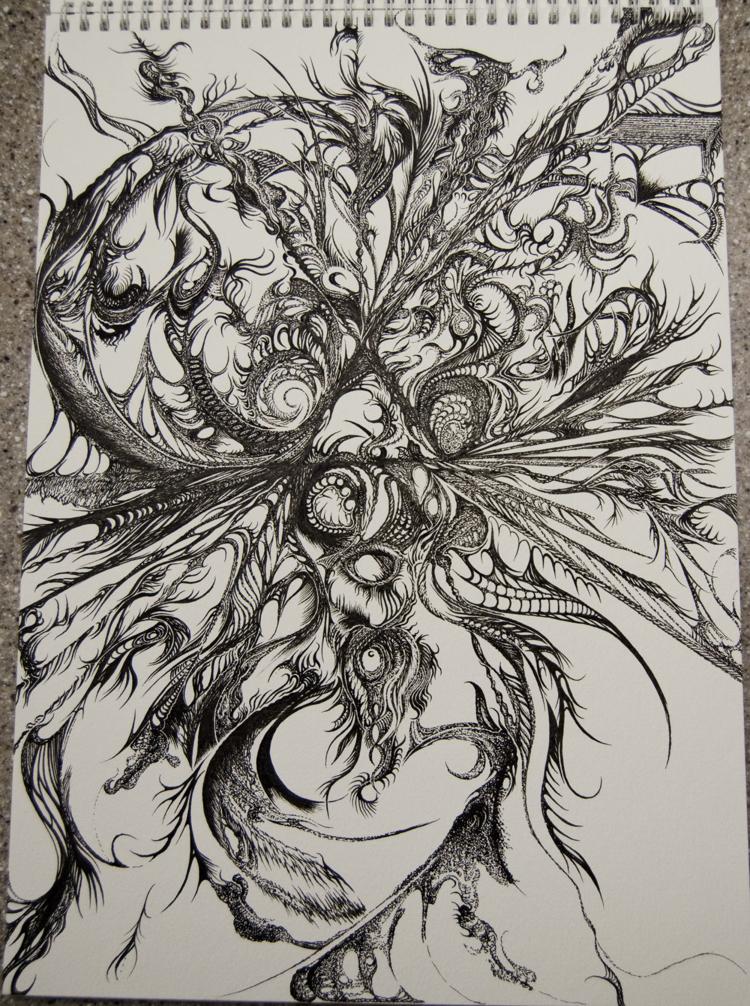 Weekender: When did you start creating art, and how did that come about?
Hovde: "In elementary school it seemed like I'd always be going to these tests. They put me in TAG and I went to Morningside College and learned about dinosaurs. That part was fun. I was way more creative than I was intelligent. I've had to work to be intelligent. Art and creativity actually flows with me. That's where all of this originated."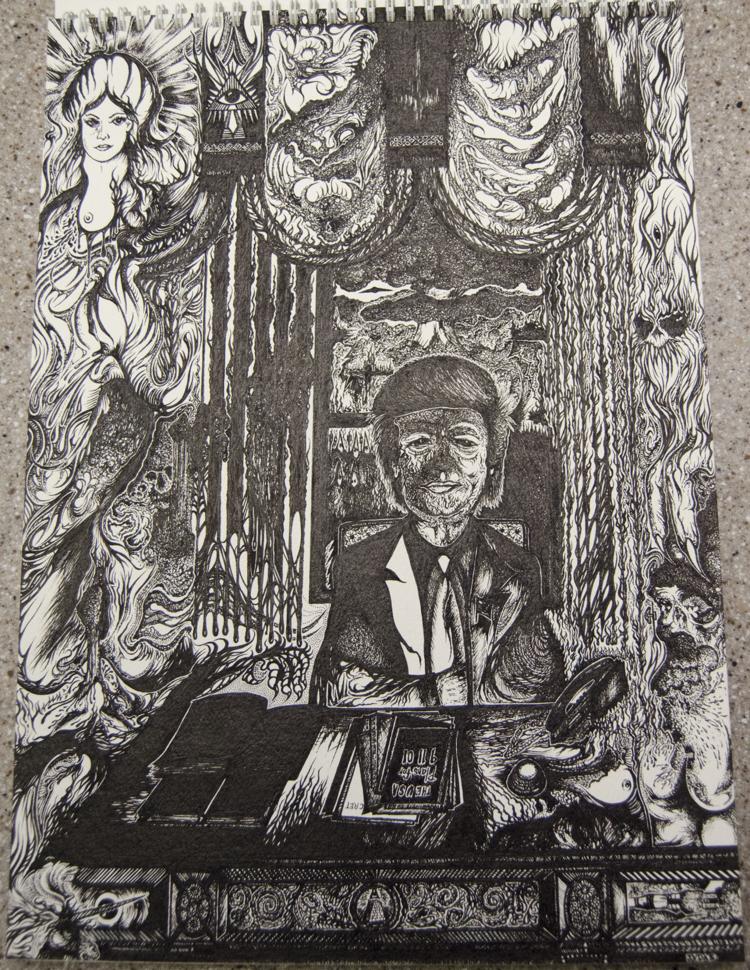 Weekender: Who are some of your artistic influences?
Hovde: "My older brother, Shawn. He's been doing graphic design for companies in Sioux City for the last 20 to 30 years. Then, when I think of a more famous person, I first go to Hieronymous Bosch. It's kind of self-explanatory. Anyone who's seen Bosch's work…I think he was one of the first (artists) where you saw Hell, or the dark side. I knew I wanted to reveal that in my art. A positive and a negative all at one time, swirling and trying to balance themselves."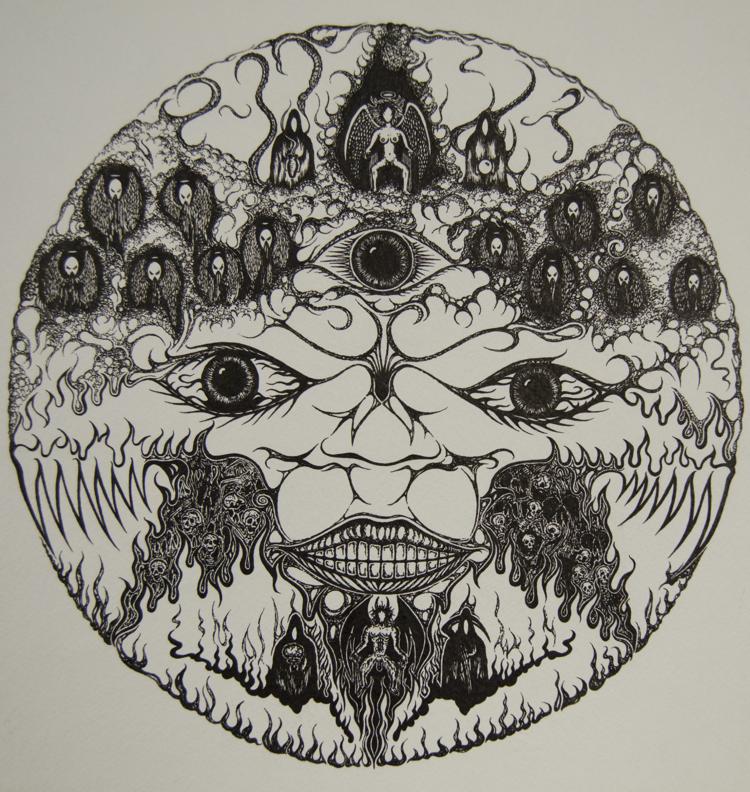 Weekender: What inspires you to create?
Hovde: "It's weird. It's mostly just an idea. Any drawing can start with an idea. Some people would say vision, but that sounds more spiritual. It's just the idea…if I start with that, I can put the rest together like puzzle pieces. Almost every image is a collage. Since virtually every image is a collage, I have to piece together the images in my head and then start to draw and connect them with swirling lines. I don't really know what it is; it's just shapes, contours and flows…and, like, energy; even in the marker. It's an energy that flows out of me."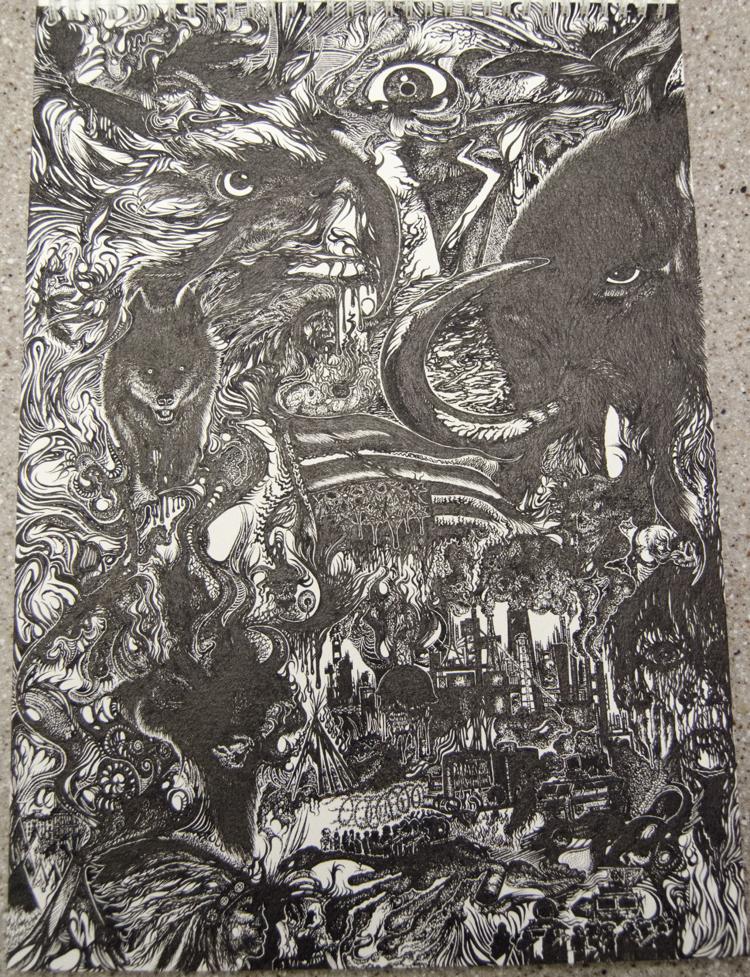 Weekender: What are your preferred mediums?
Hovde: "Ink on watercolor paper. It's a heavy-pound paper. I did one on canvas, but it was really hard. It took over a year because the canvas is textured…I was just rolling up and down hills. It was pretty trippy. Now it's just paper; the heavier, the better. The specific ink I use is only Uni-ball Micro pens. I've used them for 25 years."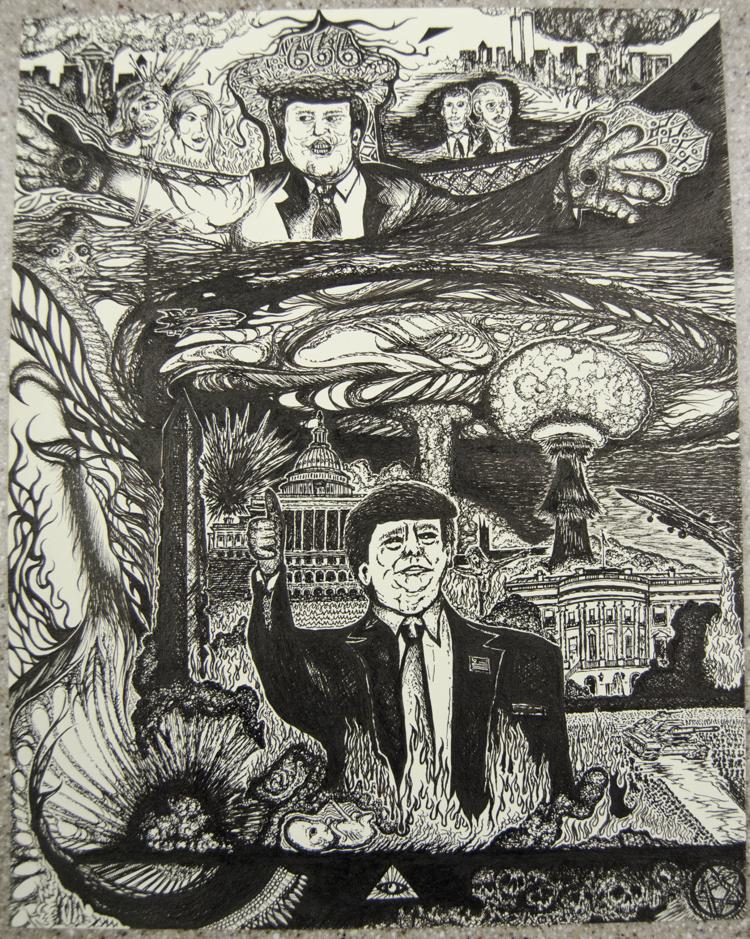 Weekender: What makes you different from other artists?
Hovde: "It seems that other artists start with a sketch as a beginning and evolve it into another medium of art. My intent has always been to keep sketching…beginning to end, this is what the result is. Another thing is simply the raw nature of my art; whatever happens, happens. If you make a mistake, the mistake is meant to be. I don't tell it what to do; it tells me what to do."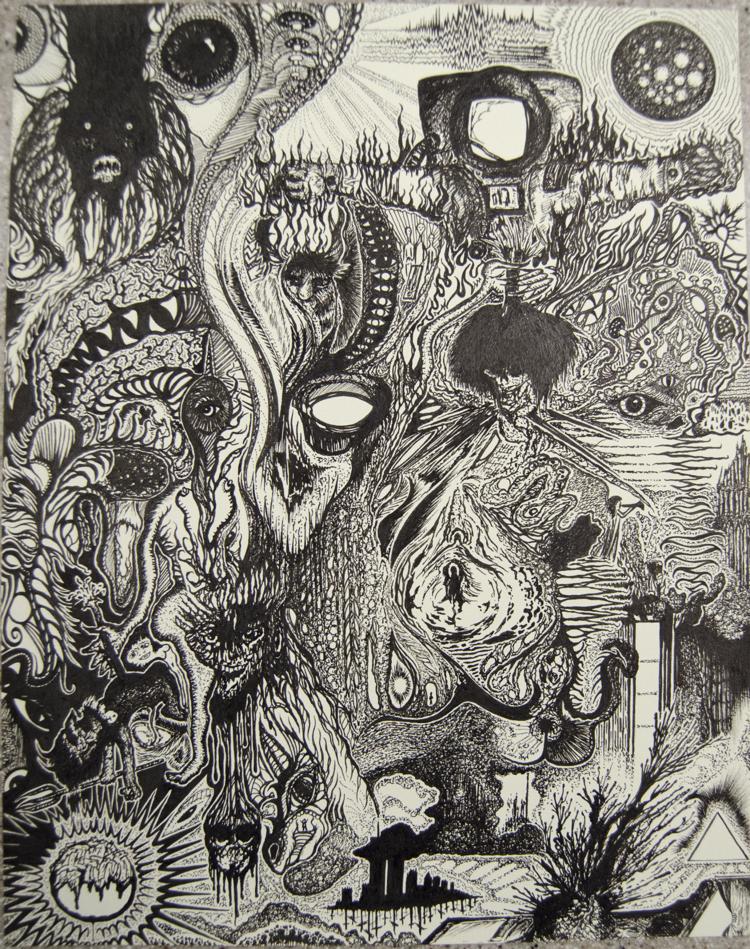 Weekender: What are some of your favorite subjects to draw?
Hovde: "Shapes and symbols. The symbols are not necessarily a triangle or a square; they are just artistic interpretations of something. It might appear to be something to you, but it's just a shape and a symbol."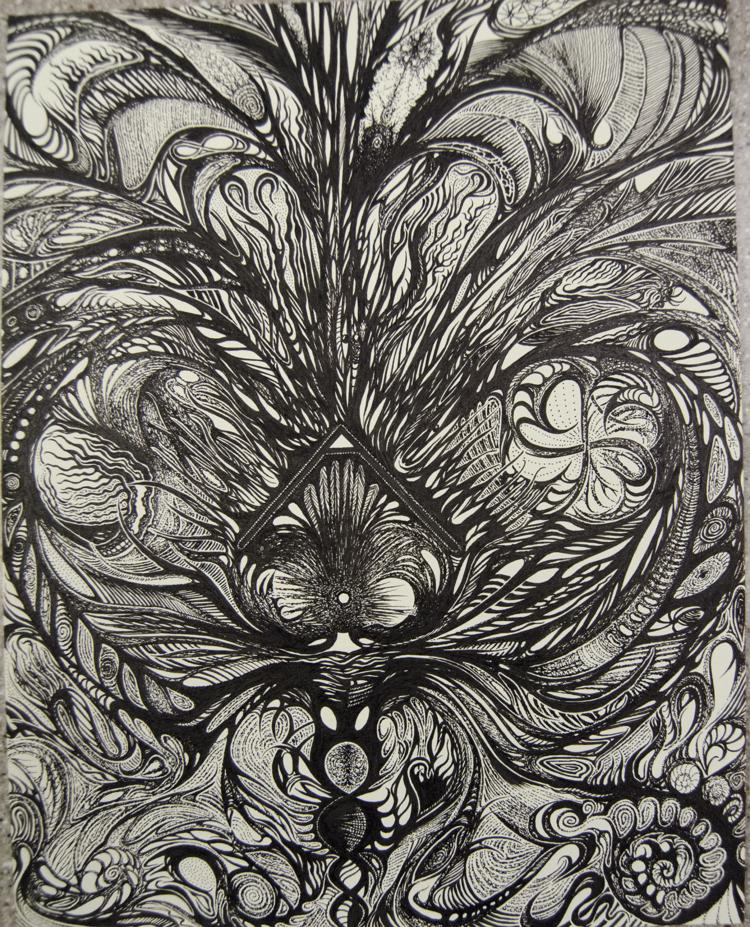 Weekender: What is your creative process?
Hovde: "Sitting down and drawing. Once something clicks when I'm drawing I start to embrace it. I start to know that this piece is going to stand out from thousands of other drawings that I do. Once I embrace the piece, then it's just an obsession and I know I have to finish it; like a song."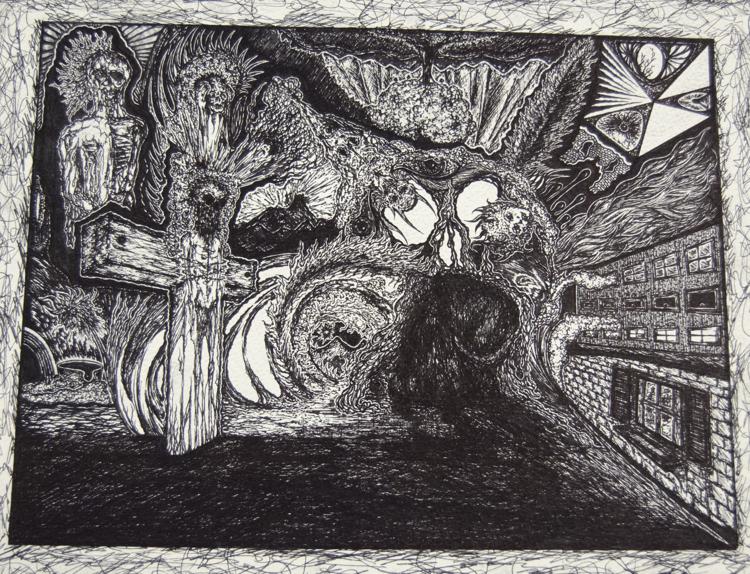 Weekender: What kind of mood do you have to be in to create?
Hovde: "Definitely there is a lot of anger in my art; frustration and anxiety. I think if I'm already in that mood, it's a good time to express myself. Other moods? I definitely laugh at my drawings. I sit there and always find something funny."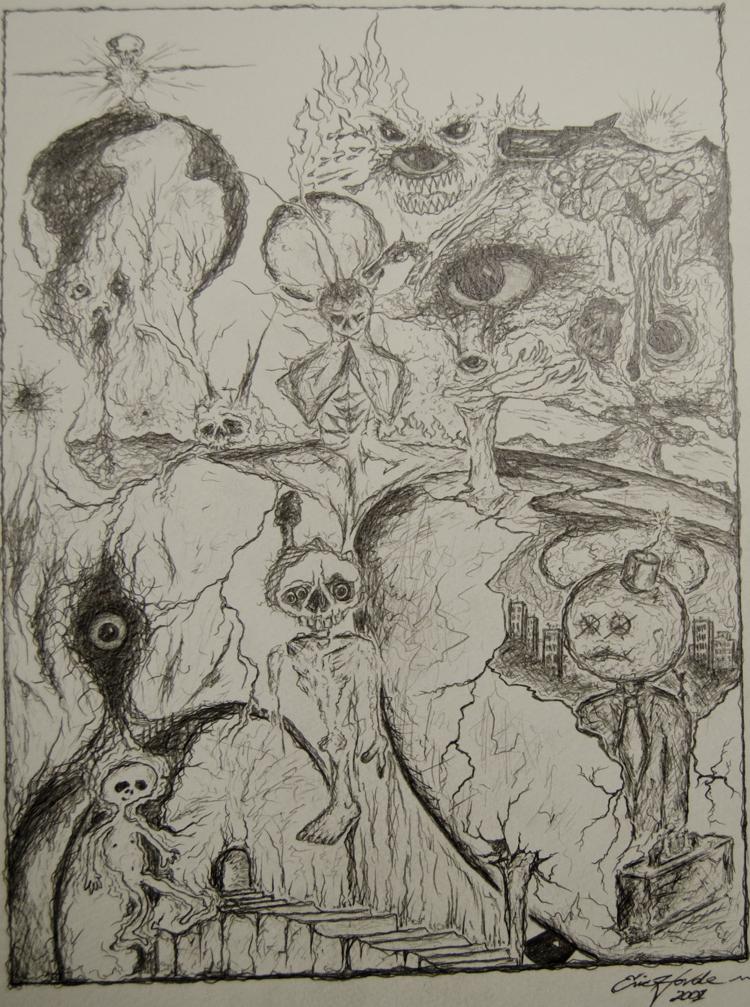 Weekender: Do you ever do gallery shows or sell your art?
Hovde: "Every piece that I have is already spoken for, so I don't own it. I definitely would do a gallery show, because the person who owns it wouldn't say no. I intend on making prints or posters of the originals…if you want it, you buy it. There's no reason to force it down anyone's throat at all."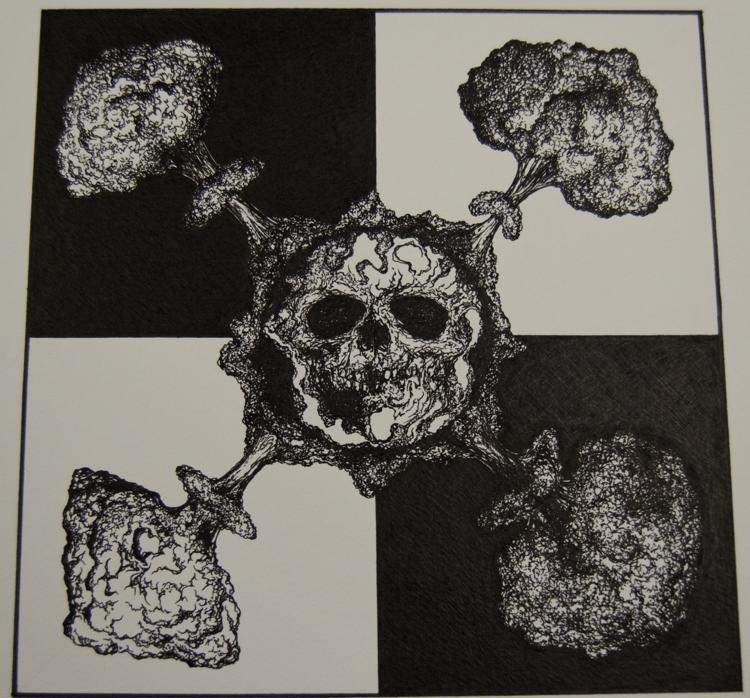 Weekender: Is it hard to let go of your original pieces?
Hovde: "Absolutely…yeah. I couldn't let it go if it wasn't for a specific person that owned it. It has to be where I know it's at until I'm dead. I trust the person who has it. If something happens to me, then I know that person has my piece."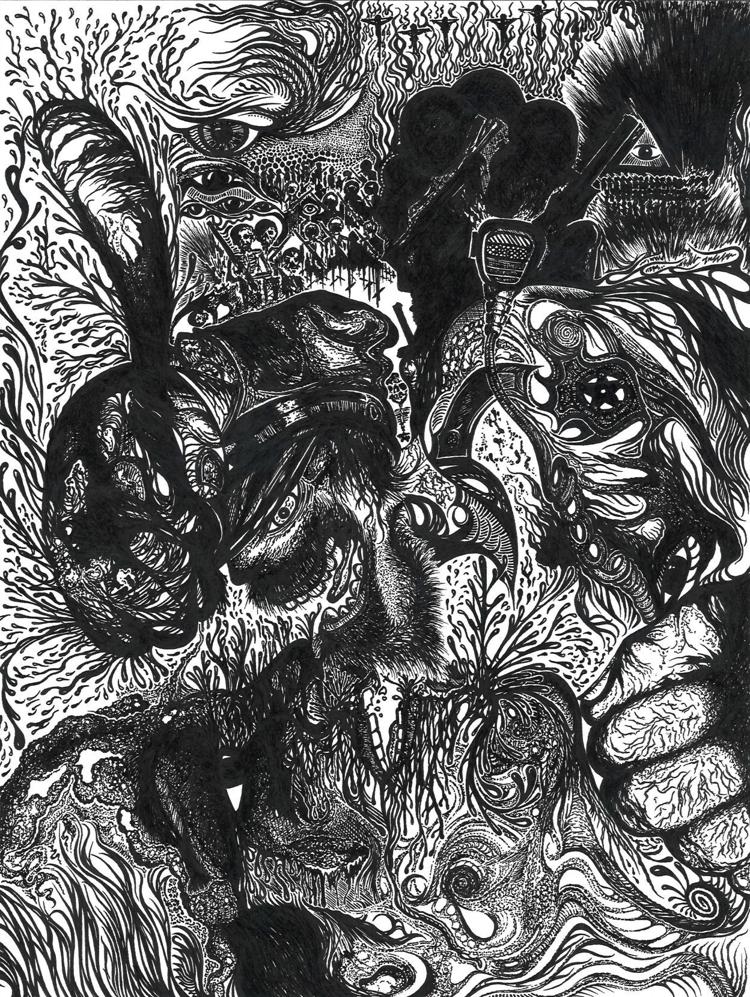 Weekender: Why do you create art? What does it do for you?
Hovde: "It helps me deal with reality. It helps me create a balance between the chaos and calmness of life. As long as I'm drawing I can focus all my frustrations and negativities into the drawing…then it exists. It's a form of self-expression."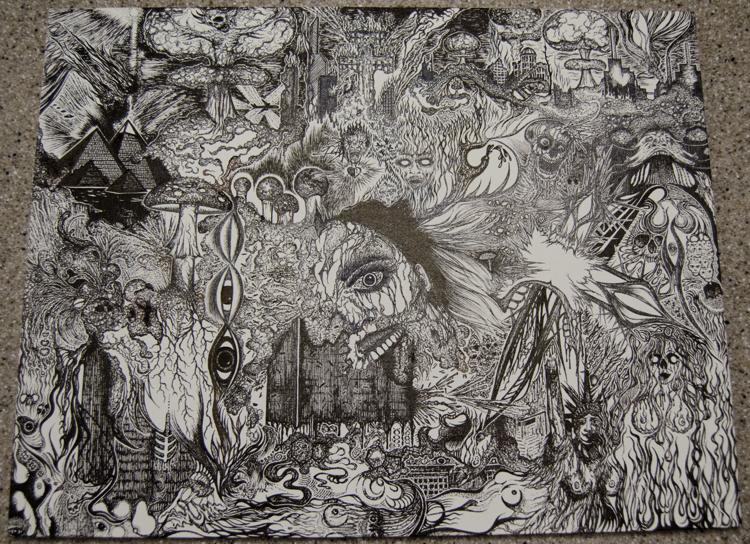 Weekender: What is your ultimate goal as an artist?
Hovde: "My main goal is definitely to communicate a message. It's to tell a story. As I begin the process and come up with that vision or idea, I basically want to express what's inside of me about the issues or subject at hand that I'm creating. By doing that, my main goal is to put the whole story, the whole message, right there. It's kind of overwhelming while viewing because you get so much information from the collage. You don't have to read a whole book. You take in some info. It's not telling you what to do, it's just telling you to take a look and walk away…just check it out."