Anna Hart is a 25-year-old local FedEx employee with a strong passion for both visual art and music. She sings for Brainwreck and manages her own art company, Kitty Kitty Bang Bang.
Hart invited the Weekender to check out the art displayed in her studio and to sit down for a Q&A session, so with no further ado, here is what Hart had to say:
Weekender: Tell us a bit about yourself and what you do.
Hart: "I am an artist, but I went to school for graphic design. I thought that was the career path for me, but then I wondered why I should stop at that one thing when I can do much more. I love painting. I never took a class, but it is my favorite thing to do. I love all art, really.
I'm from Shenandoah, Iowa, and I move up here about six years ago to go to Morningside College. Sioux City is my new home."
Weekender: Who are some of your inspirations for visual art?
Hart: "Agnes Cecile is from Italy. She has amazing watercolor paintings, a lot of which are portraits. It's just absolutely beautiful, I love it. I love watercolor, but I'm not the best at it, so it's just something I aspire to be good at, but she's one of my favorites. My mom has been one of my biggest inspirations my entire life. She's been teaching me art forever. She always supports everything I have, even if it means critiquing. Even if she doesn't like something I do, she wants to help me in some way. Also, Jessica Hammond absolutely, one-hundred percent…we met by accident and our friendship is one of the best I've ever had. At the time we met, I wasn't into trying to sell or promote my artwork. She is always supportive, and inspires me to grow and do more and try different things."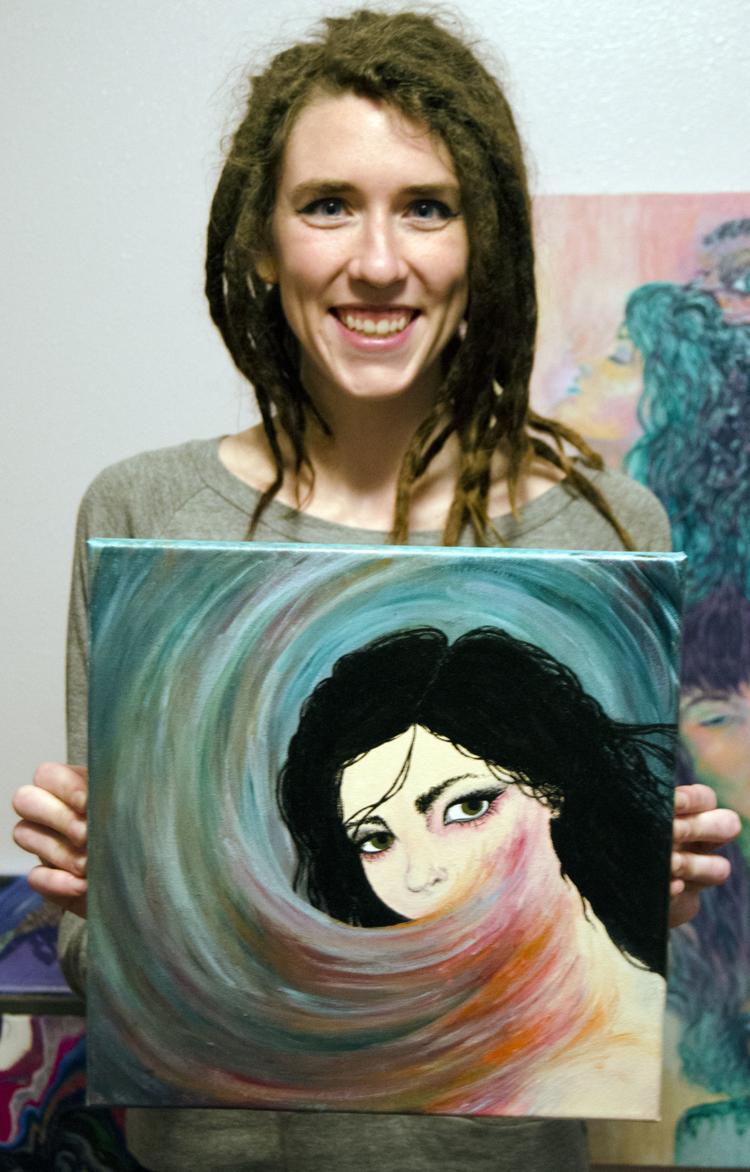 Weekender: Who are some of your music inspirations?
Hart: "My absolute favorite band, hands down, is Paramore. Hayley Williams has always been an idol of mine. I love all their music. They've changed a lot over the years, and I think it's for the better. They just have a well-rounded sound.
As far as smaller bands, Leav/e/arth was just at The Ox within the past year. It is another band with a female lead. I love bands with female lead singers. She is just a powerful singer with a huge range…I'm a bit jealous of her range, because I can't sing as high as her. I was blown away by the band after we opened for them at that show at The Ox."
Weekender: How long have you been creating art?
Hart: "Pretty much since I can remember. I went to art camps when I was younger and always took every art class I could while I was growing up. Music, too…I've always enjoyed playing instruments and singing."
Weekender: What is your preferred medium of visual art?
Hart: "Acrylic paint is what I work with and enjoy the most. I enjoy watercolors a lot, as well, but it is still experimental for me because you don't have as much control sometimes. You'll have to do multiple layers to blend the colors just right. Watercolor painting is a work in progress for me."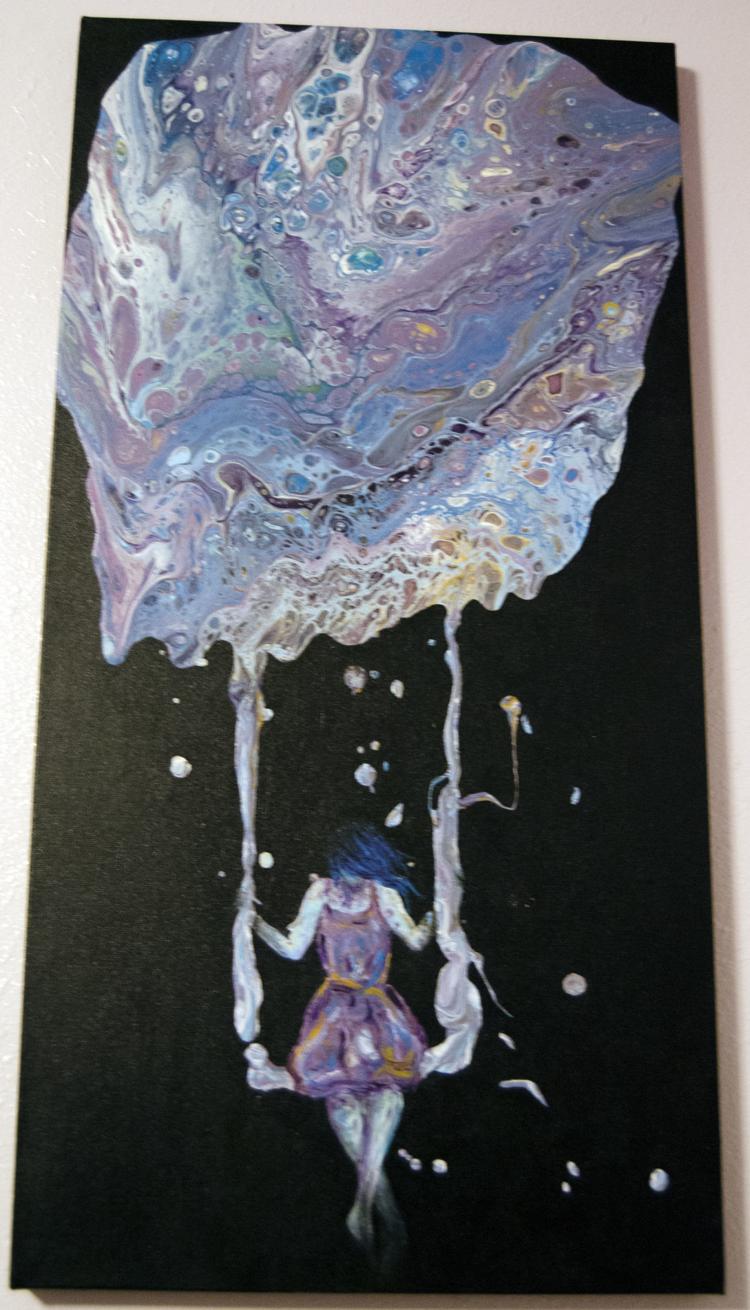 Weekender: When you sit down with a fresh canvas, what is your process?
Hart: "Usually I have a tiny sketch, whether it is just legible to me or if it is elaborate and well thought out. Sometimes I sketch it lightly on the canvas, and sometimes I don't. I then add paint and keep painting until it is finished. It always ends up being different from how it started, even if it sticks within the same concept, which is part of the fun.
I love bright colors, so I use them as much as possible. Content-wise, I like to take pieces of people and capture what they are feeling. I do a lot of art that focuses on emotions. I want the viewer to feel the emotion expressed in my art."
Weekender: Why do you create art?
Hart: "It is what keeps me going. In the middle of college I fell into a deep depression which lasted months. I pulled myself out through my painting. I made some of the first cool things I had ever done, and I came out happier on the other side. It helps me grow as a person and feel more connected with the world and with my emotions. I need it."
Weekender: Tell us about Kitty Kitty Bang Bang.
Hart: "The name came from a little ice cream shop in Wisconsin. I thought it was the cutest thing. I love cats…my first word was 'kitty.' I'm obsessed. I thought it was a clever name and wanted to take claim to it. I looked it up, and found it wasn't really a thing, so I kept it going. As far as my art goes, I thought I could use my name, or I could use a fun name that people could remember better. My name is nice, but why not choose something else that's more creative?"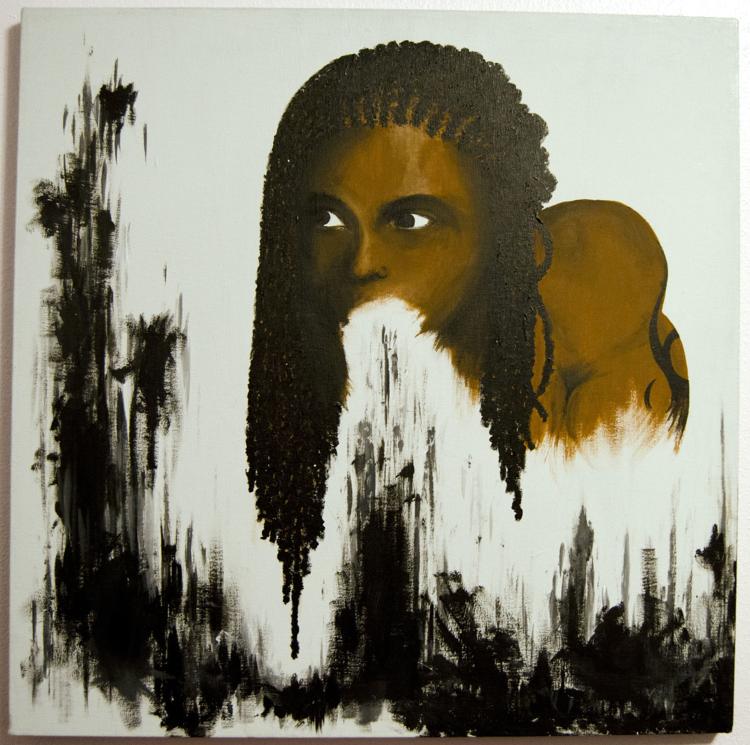 Weekender: Tell us about your experience singing with Brainwreck.
Hart: "When they first started, they would jam all the time and I'd be on the couch. Eventually they got me to sing, and I came to love it and look forward to doing it. I love singing, but don't spend enough time with it, as I focus more time on my art. Getting up on stage with the band nothing is usually scripted, so I get a bit nervous because I'm not always good with words. It is a really fun time, though. I love it so much."
Weekender: Do you sell your art and/or have gallery shows?
Hart: "I have an Etsy shop, which you can find by searching KittyKittyxBangBang. I'm also about to have an art show on Oct. 9 from 5:30 to 7:30 p.m. at the Blue Café in the Sioux City Conservatory of Music. There will be free gourmet food! We are just trying to raise money to help kids with music scholarships so they can learn to play music. I'm really excited to be a part of that."