Chad Dunning is a 43-year-old Sioux Cityan with a passion for creating art.
He specializes in cartoons and acrylic paints and will be throwing an art show with a handful of other local artists from 7 to 9 p.m. Oct. 20 at the First Unitarian Church.
The Weekender met Dunning at the First Unitarian Church for a Q&A.
Weekender: Besides art, what do you do?
Dunning: "I work at Advance Auto. I'm 43 and from Sioux City. I'm currently looking to buy a house. I'm an artist. I paint and draw cartoons…I write songs, too. That's a little more basic than some of my artwork, though. I have a website, www.domesticsway.com. I'm also a lay minister in this church, so I can perform weddings and funerals."
Weekender: How did you get into creating art?
Dunning: "It started with cartoons, really. I got into it when I was a kid in the second grade and would draw my Transformers. I also made little sculptures out of boxes of Nerds. I would take the Nerd boxes and make them into little spaceships and castles, among other stuff. Then I got into making stuff with matches. I eventually got into making cartoons in the seventh grade. My dad took my cartoons and copied them on a copy machine at his work. He made a little book for me…it's kind of been the same process ever since. I still take them to FedEx or Kinkos and then hand the books to my friends."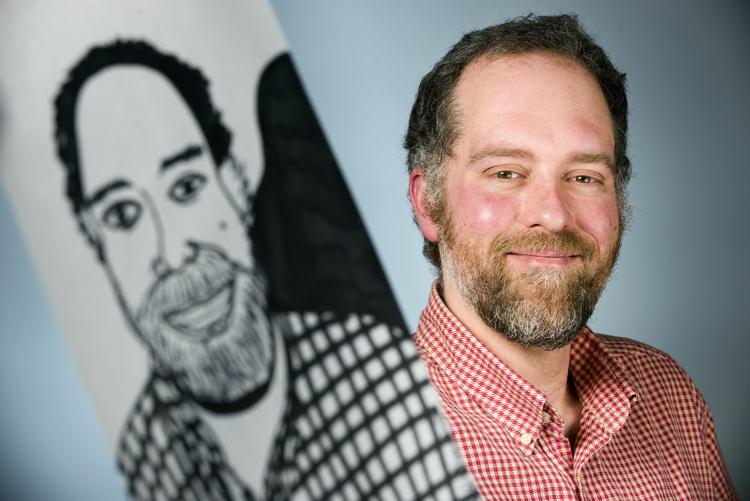 Weekender: What is your favorite medium?
Dunning: "Probably the cartoons, honestly, but I'll be displaying my acrylic paintings at the show. I've been taking private lessons with Jodi Whitlock (Sioux City artist and future subject of the Weekender's Artist Spotlight series). She's really improved my ability to draw a portrait. I've done realistic portraits in black and white, but painting with realistic colors had kind of eluded me. My color paintings were always more cartoonish, and I wouldn't say her paintings are photorealistic, but they are definitely more-so than mine."
Weekender: Who are some of your inspirations?
Dunning: "Howard Finster is one…one of my paintings that will be on display is based on one of his works, the only difference is instead of having a Mickey Mouse character on mine, I painted a rat. John Callahan (quadriplegic artist) and Howard Addams (creator of 'The Addams Family' were some of my first favorite cartoonists. I have an Addams tattoo."
Weekender: What is your favorite subject matter?
Dunning: "I use dark humor in my cartoons. For painting, it's people. I do some abstract paintings, too."
Weekender: Tell us about your process.
Dunning: "I keep composition notebooks handy and take my ideas and do a rough sketch of them. I finalize that on some paper my dad got for me about 30 years ago. I'm almost out of it, so I bought some replacement paper, but I'm loathing using it."
You have free articles remaining.
Weekender: What kind of head-space do you need to be in to create?
Dunning: "When I'm painting, I'm kind of a social artist. I like to be around people when I'm being creative, so taking art lessons with Jodi is ideal. We talk and joke around. I used to be really shy as a kid, I never liked being around people at all, but now I'm the exact opposite…especially when I'm coming up with ideas. I'll sit at Horizon or some other restaurant and spy on conversations…things filter through, and an idea can come my way. For my last book, I went down to Main Street Grill at Hy-Vee a lot because a couple of my friends worked there, so I'd talk to them and listen to the people around me."
Weekender: Tell us about the upcoming show.
Dunning: "It's our third-ever show. The main bulk of the show is pieces of art Unitarians have made. It's an open-ended thing. It's not just painting and sculpture…it's also crafts, woodworking…basically anything. If someone wanted to read a poem, I'd let them. We will also have a musician, David Hansen, playing an hour set. There will be a pot-luck hors d'oeuvre thing, so bring some dishes. There's going to be an art sale in the basement, in silent auction format. The money raised will be going to the church or the church's Change for Change program (a program that helps people in the community)."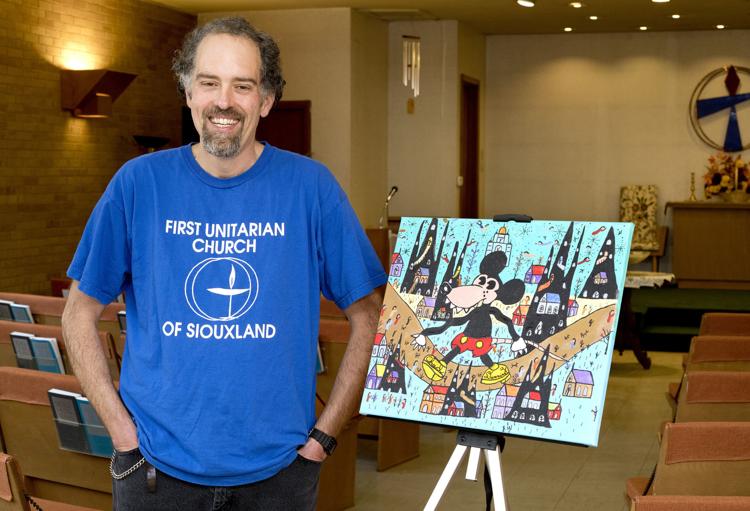 Weekender: Why hold it in the First Unitarian Church?
Dunning: "Well, it's not just my art show. We are specifically doing this for the Unitarian artists, so it makes sense. If I had a private art show, I'd probably do it here, as well."
Weekender: Who else is in the show?
Dunning: "I know Ray Sturdevant is bringing some woodwork, Janice Kooiker will be showing some oil paintings, Elaine Knudson will bring some watercolors, Mikki Bauerly will be contributing a wire sculpture and Jodi Whitlock will have some of her work on display. There will also be work by other artists."
Weekender: Why do you create art?
Dunning: "I don't have children, and I probably won't, so it's just trying to leave something behind, I guess. I was a class clown, even though I was terribly shy as a kid. I suppose that old chestnut about developing a sense of humor as a defense is part of it.
Weekender: Do you sell your art, and is it hard to let go of your creations?
Dunning: "It's not hard to let go. I'm a really stripped-down person and don't have many personal belongings. I have a car and clothes and some practical things like a desk and an easel. I don't own any books or movies. I don't usually keep my art. I typically give it away or sell it for the cost of the materials."
Weekender: What else would you like the readers to know about the show?
Dunning: "The day after the show, we will be having a service at 11:30. All of the art will still be on display. Each person can bring their favorite song, and we will look at art. Also, Terry Brooks will be playing."