Sioux City artist, Gregory Danner, is quite a quirky character.
Outside of creating visual art, performing stand-up comedy and music, Danner likes to surround himself with people who he admires and people whose interests he shares. He is the oldest of eight siblings. He makes a living as a certified nursing assistant. He is outgoing, bipolar and quite eccentric, but don't let that scare you, as he has a heart of gold.
Danner invited the Weekender to his art studio, which he calls "Dragonmouth," for an artist spotlight Q&A session.
Weekender: Who or what are some of your inspirations for visual art?
Danner: "First and foremost is Charles Bass, the design professor at Morningside College. He has helped me in my artistic career like no one else has. He is thorough in his critiques. Anne Austin Pearce, my professor from Kansas City's Rockhurst University, is a very supportive and encouraging mentor. My father, Joseph Danner, is where I learned how to make marks on a paper or canvas. I would watch him while I was growing up and was inspired by the way he would make marks."
Weekender: What is your go-to medium?
Danner: "Typically I jump to acrylic. Ink can be nice, too. I like to play music, as well, so I guess air and sound are some of my favorite mediums. A quote I've heard is, 'as a painter is to canvas, a musician is to time.' I also use saran wrap, silicone, charcoal, Sharpies…whatever Sharpies are made of. I'm not just a canvas painter…I love canvas paintings, though. I also use found, salvaged objects in my art, such as the bowling pin you see in the corner. It was outside of a bowling alley, and I rescued it."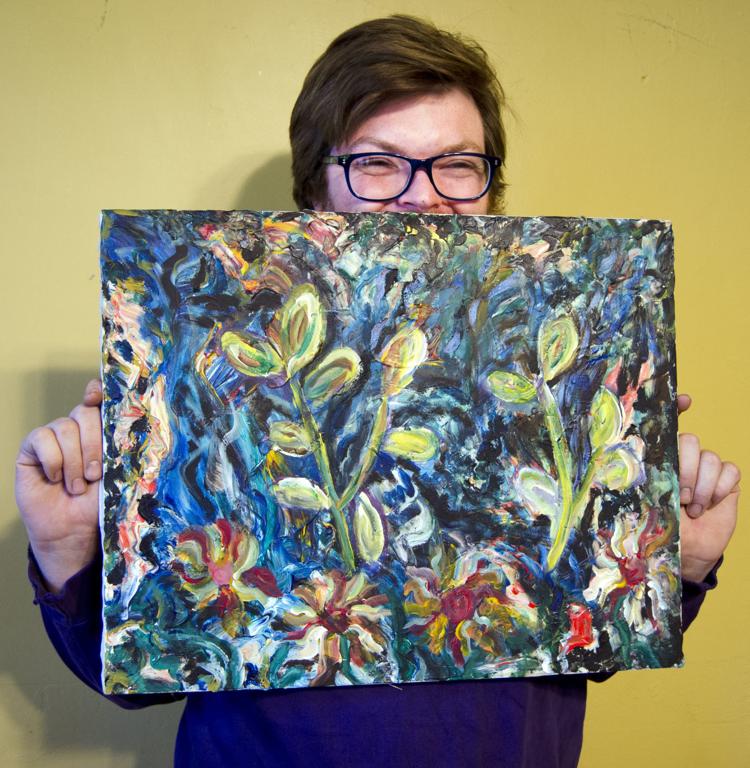 Weekender: What are some of your favorite matters of subject?
Danner: "It's really as the spirit moves, but I've been trying to hone in to loosely representational organic floral feels, water movement, waves…that sort of thing. Sometimes I'll go for a portrait or a fish."
Weekender: Tell us about "Dragonmouth." (Preface: the basement of "Dragonmouth" is covered in art from floor to ceiling, a culmination of work by Danner and all of his friends and cohorts.)
Danner: "This is the basement. I like to jokingly call it the 'pristine chapel.' I do feel that this place is magical. It's a massive collaboration, directed by me…obviously I didn't do all this artwork. This is a place where I can practice my art, music, painting, rendering on media and still entertain people because I'm a very social person. I can work on my art while being surrounded by people. I have blank canvases for anyone who wants to paint. It is a sanctuary."
Weekender: Who are some of your musical influences?
Danner: "My band instructors, my private vocal and piano instructors and Dr. Victor Pennimen, who coaxed me into a vocal solo. Spencer Aspleaf has been very encouraging. Billy and Michael, my brothers. The Sioux City Community Theatre as well as the Wooleys from LAMB, as I've done a lot of musical theatre as well."
You have free articles remaining.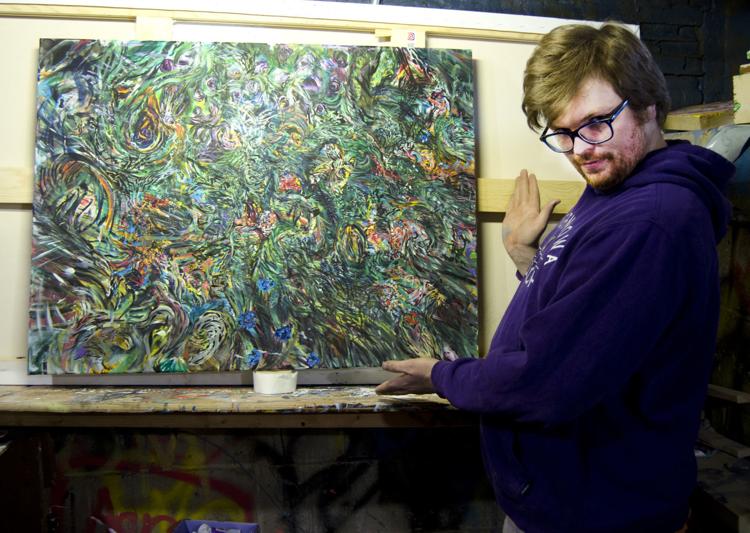 Weekender: What is your creative process while you do visual art?
Danner: "Sometimes it's just having a painting that I go back to, sometimes it will be years and sometimes it will be weeks. I sometimes seek council during that process. I'll work at it and bring out the detail, or I'll be in the middle of something else and it happens spontaneously. Sometimes I feel a flurry of action."
Weekender: Do you sell art or have gallery shows?
Danner: "No, I've never had a gallery show, but I'm definitely interested in putting out a portfolio. I just set up an Etsy. It's called pursuethehorizon – that's all one word. I named it for my favorite poem by Stephen Crane. I'm very keen on getting out there and doing shows. It's definitely my intention to be doing that soon."
Weekender: Why do you create art? What does it do for you?
Danner: "It's really satisfying when I make something people like, appreciate and think is beautiful. I also want to put myself out there and I feel like art, when it's done right, is perfect expression. I'm not there, but that's the pure, perfect communication of completely rendered art is aspirational to me. Art moves people on an emotional level. It's a basic, primal way to communicate. While I'm hacking my way to that, I want to make beautiful products for people as I pursue the horizons."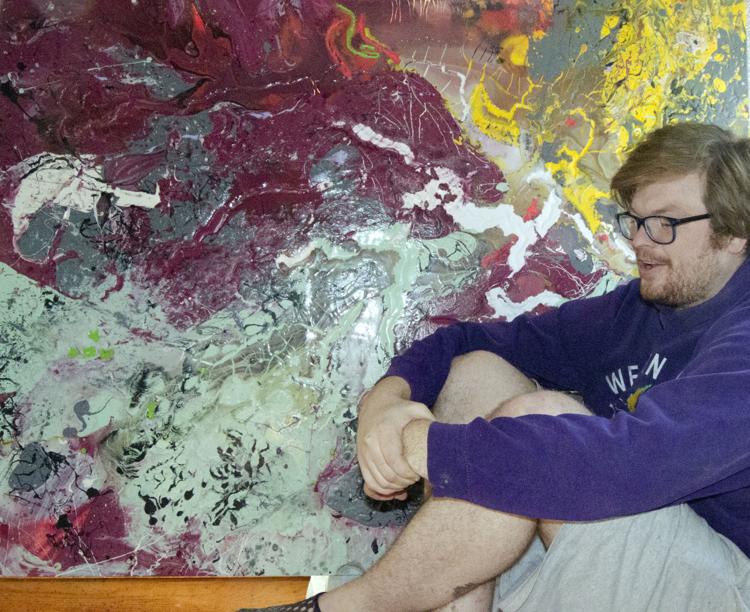 Weekender: What is your ultimate goal in creating art?
Danner: "It would be really nice if it could liberate me of financial trouble. If I could do it full time, that would be nice…that is a goal. I want to leave a lasting cultural impact. I do. I want to make the world better. I want to take what people give me, process on it and reflect upon it. I want to engage the world."
Weekender: What kind of headspace do you have to be in to create?
Danner: "As far out of headspace as possible. I want me and my art to be the thoughts themselves…not having thoughts and then presenting them. I want to immediately put it out there. It seems nonsensical to translate that into a painting…I just want to be completely engrossed in the work. I want to spend very little time second-guessing myself…being free and in the moment. I want to have the art detached from the troubles of the headspace. I don't want to get meta with it.
Weekender: How does being bipolar affect your creative juices?
Danner: "When I'm riding the hypo-mania, it can flow freely and completely effortlessly. When I'm depressed everything can be a complete chore and I can be completely disinterested in creating. Then again, I can be, perhaps, more thoughtful when I'm depressed. A depressed attitude can be more about introspection. Everything is easier with the hypo-mania. When I'm riding it, I can feel a compulsion towards art, towards my creative pursuits. I'd like to be able to harness that."