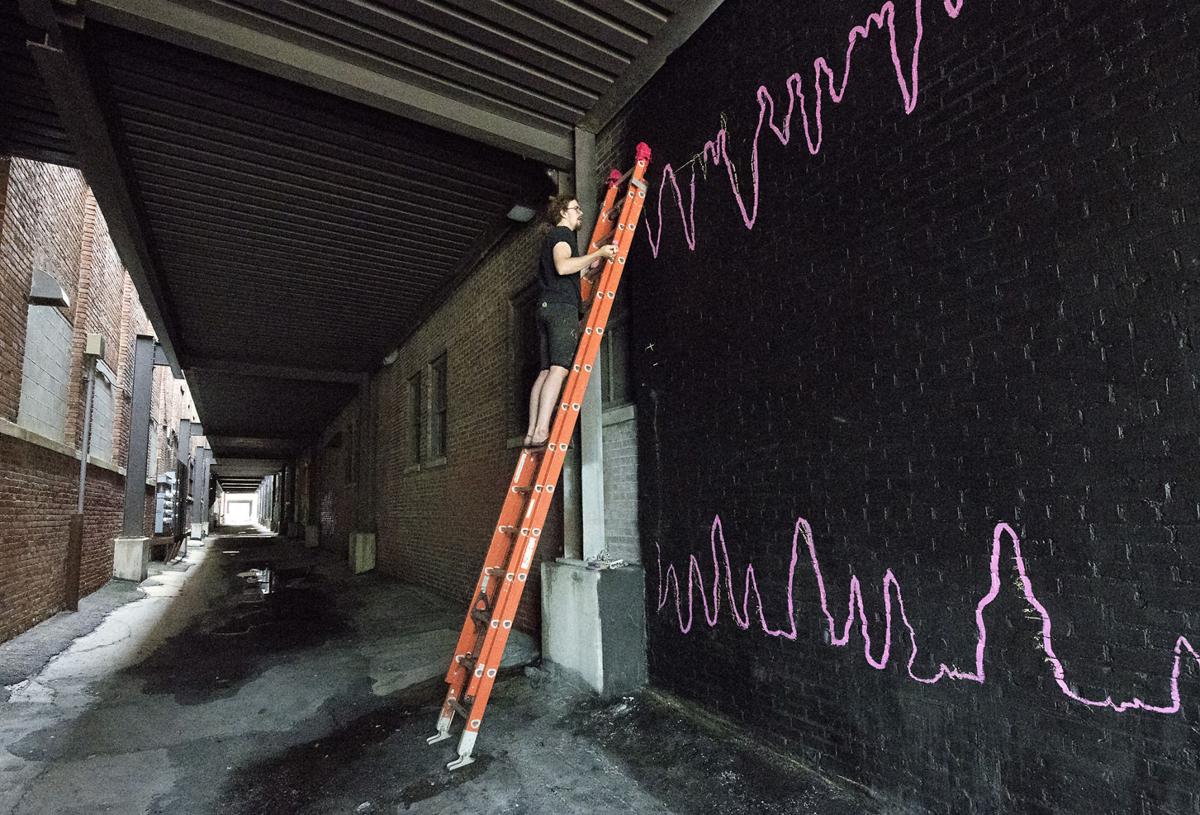 Alley artwork is back in downtown Sioux City. And it's bigger than ever.
The public can view murals from local artists in the alleys between Fourth and Fifth streets and Pierce and Nebraska streets from 1 to 11 p.m. Saturday.
Brent Stockton of Vangarde Arts said this year's Alley Art Festival expanded to Fourth Street. With extra space, it allows people to spread out more, and more art vendors to participate. 
"We have 36 murals this year, and we combine that, a public art project, which allows area artists to show their work," Stockton said. 
Stockton said a big part of the festival is being able to watch artists as they paint. 
Alley Art partnered up with a group of Artists from Art Affair, leading to four times as many artists this year than the inaugural year.
Stockton said the increase in artists also may be related to the cancelation of this year's ArtSplash, which is normally held Labor Day weekend.
Along with the artists, this year's Alley Art Festival will feature live music, food trucks and a kid's area.
"It's kind of an art and music festival that takes place in the alleys, basically," Stockton said,
Many local musicians will perform at the event, including GhostCat, Central Time, and Garry Lewis.
"We also go our headlining act, as far as music goes, and that's Lil' Ed and the Blues Imperials out of Chicago," Stockton said. "They are an iconic Chicago blues band."
Stockton said the kid's area will allow young artists to paint their own mural.
"In a real short way, the biggest thing people can really look for is that it will be a much bigger event," Stockton said. "Just more artists, more murals, more vendors, more music. It's just going to be a much bigger event. I think that's what everybody can look forward too."
Stockton said Vangarde Arts will continue moving forward cautiously with other events, to bring music and arts back to Siouxland.
This weekend, Vangarde Arts also will help promote guitarist Johnny A, who will provide a live stream performance for Sioux City and 10 other venues across the Midwest on Friday. 
Stockton said the guitarist were supposed to play at Vangarde earlier this year, but the event was canceled due to the coronavirus pandemic. 
While Johnny said that he'd done live performances in the past through Facebook, it's not the same as playing in front of an audience.
"It's still an odd sensation," Johnny said.
Johnny hopes that by doing a live stream throughout the Midwest, he'll have a way to engage fans and reach more people.
Be the first to know
Get local news delivered to your inbox!