Josh Beckwith is a local home restoration worker and part time comic with a passion for creating art with a stroke of morbidity.
Beckwith grew up in Sioux City and, as a child, found an outlet for creativity through drawing. While attending Morningside College, he started painting, which is his current preferred method of artistic expression.
"I've pretty much been drawing since I was a little kid," said Beckwith. "I stopped for a while during high school, but then I figured it was something I was really good at doing. I started back up in my 20s and went to Morningside College for it. I started painting then. I mostly do acrylics, but I did some oil when I was in school and had a large studio to do that. It's kind of hard using oil paint in a cramped apartment building. They may frown on the odors. I kind of miss the smell every once in a while. Sometimes when I go to art supply store, I'll crack one open and smell it for a second."
Beckwith has many paintings, most of which are touched with a darkly ominous tone. They are beautiful yet feature creepy and sometimes ghastly scenes. Dark comics are a common source of his inspiration, including the epic Neil Gaiman series, "Sandman," and works by Grant Morrison.
"I read a lot of comics. I do a couple character things, painting comic characters and such. I have an idea for a comic I've been working on off and on that will probably never go anywhere because I don't have the time. A lot of times I'll take a frame from a comic or even a movie and make a painting out of that, but I try to throw my own spin on it so it isn't exactly as it was in the original image."
Every artist has a process. Some start with paint on the canvas, but Beckwith often likes to draw the subject on the canvas before adding the paint layers.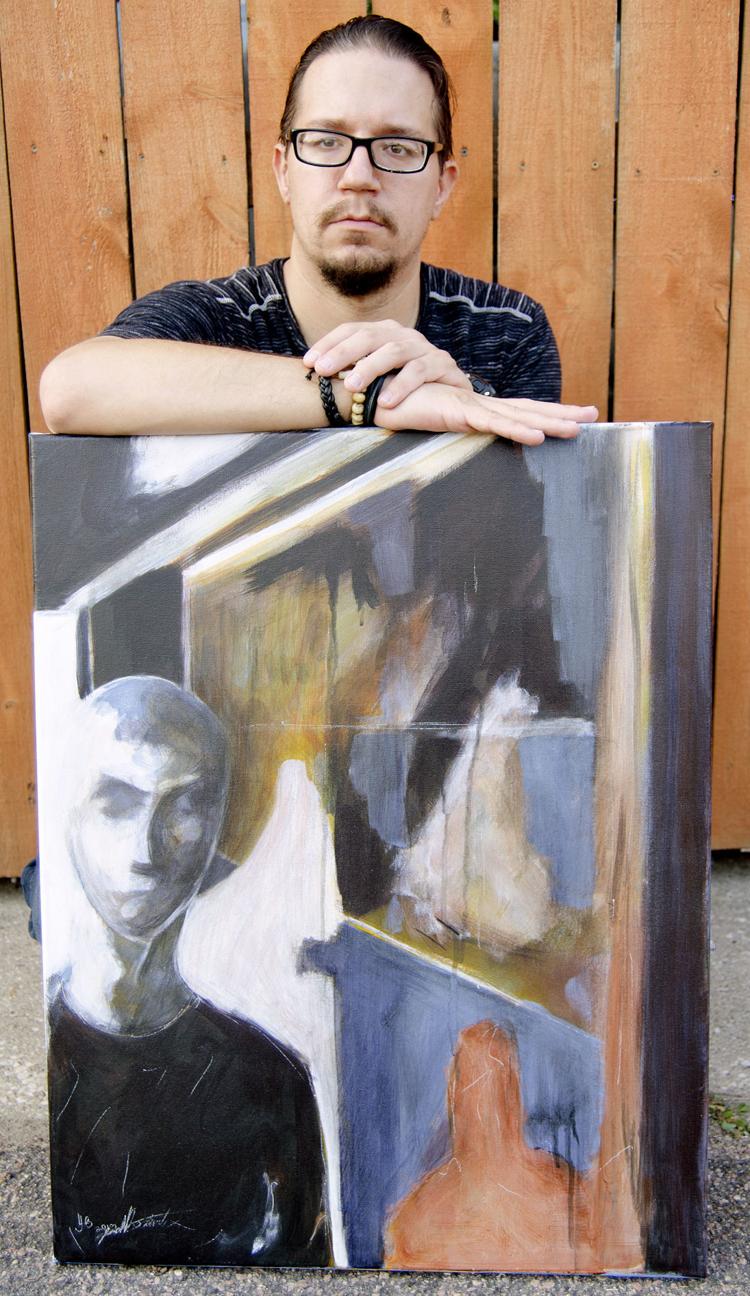 "I'll have an idea for a little thumbnail sketch and just scribble it out, or I'll take an image from something I find interesting and play with it for a while," said Beckwith. "Lots of times I'll just draw straight on the canvas, which seems like it works better because I can sketch and erase until I like the image. The thumbnails I do look good as thumbnails, but sometimes they just don't translate to canvas. After the sketch is on the canvas, I like to add layers of acrylic paint and sketch more on the top layers. Some of my canvases end up being somewhat thick since I have so many layers of paint on them. The good thing about using oil is that you can erase it, but I've been mainly working with acrylics lately, so if I want to change something, I'll have to paint over it. It is kind of like re-sketching it until the painting works out. I do a lot of stuff where I try to blend the background into the foreground, but I've stepped away from that lately. It was kind of a Chiaroscuro style.
As an artist and comic with a full-time job, Beckwith's free time is sparse, and it is difficult to budget his time accordingly to accommodate his creative outlet.
"I do comedy, so I write for that," said the artist/comedian. "I used to write folk stories back in the day. I'd like to get back into writing, but mostly my time is short right now, and I have to pick and choose what to do creatively. I haven't even done much comedy in the last two months. Mainly if I have free time and want to be creative, I spend it painting. Comedy is my hobby, while I actually want to do the art for a living. Comedy is just another outlet."
Beckwith sells his paintings, so if you are interested, look him up on Facebook to get in touch. You can often also find him at the Comedy Open Mic Nights on Thursdays at Marty's Tap (1306 Court St.) enjoying (and sometimes performing) comedy and sipping a nice cold brew.