Twenty-five years ago, Sioux City Art Center organizers weren't sure how an arts festival would be received.
This weekend, it's clear ArtSplash is still going strong.
The 25th annual event takes over Riverside Park Sept. 1 and 2. It will feature live entertainment, food trucks, children's activities and more than 95 artists touting unique goods you can't find anywhere else.
Erin Webber-Dreeszen, development coordinator for the Sioux City Art Center, has been involved with ArtSplash for seven years and explains that this is an event the whole family can enjoy as well as a way to become acquianted with the arts in the community.
"Our festival is extremely family friendly," said Webber-Dreeszen. "I remember when I had young kids and brought them to ArtSplash. There was something for everybody to do. It was something that was captivating and really engaging. It is also just a taste of what the Art Center offers throughout the year and sometimes serves as a 'dipping of the toe' into the art culture we offer."
There have been some major changes to the festival since its inaugural year, when it was located on the Sioux City riverfront.
"I've seen a variety of changes on the logistics side, having been involved with the festival in two out of the three venues we've had," said the organizer. "Since I'm a native Sioux Cityan, I've attended ArtSplash at all three of the venues.
"After seven years of doing this, things are finally finely tuned for us at Riverside Park. We had to move the festival away from the Anderson Dance Pavilion the year the Missouri flooded. From there we went to Grandview Park, which is great for Saturday in the Park, but didn't work out for us with all the hills causing problems for the artist's load-ins and load-outs. At Riverside Park, the accessibility can't be beat."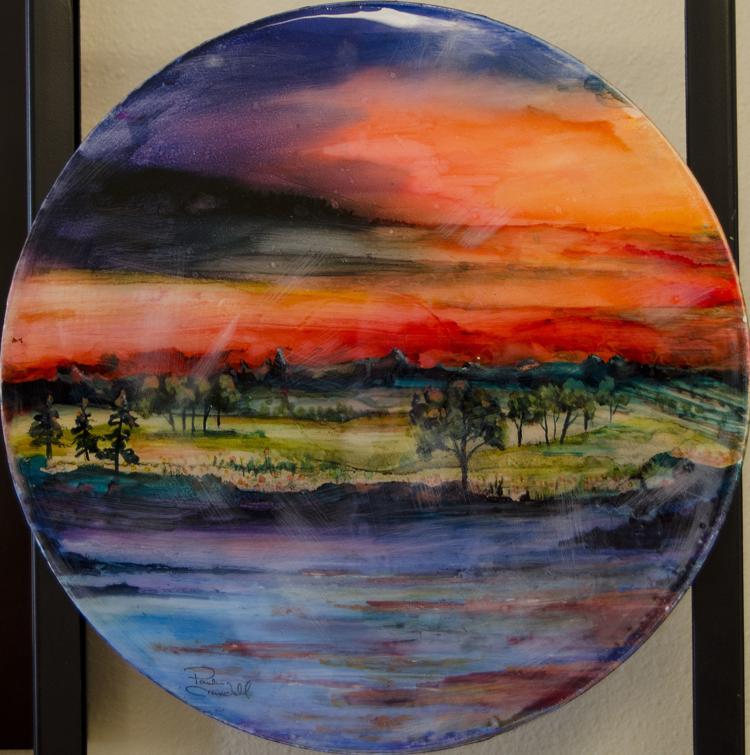 Artists inspiring artists
A long-time attendee and new Splash artist, Paula Crandell, is excited to set up shop and sell her alcohol ink pieces for the first time at ArtSplash.
"I was involved in the festival for a couple years with Siouxland Artists, and one year we had a booth introducing people to alcohol in," Crandell said. "We provided people with little tiles and let them experiment with the medium. Last year, we did a mystery painting where small tiles were numbered from one to 10 based on shade. When the tiles were put together on a grid, the image of the Woodbury County Courthouse was formed."
Crandell, who also teaches art classes at the Art Center and has works for sale in Sioux City Gifts on Pierce Street, uses recycled products including small "quote boxes" and vinyl records as the canvases for her alcohol ink paintings. The colors produced are vibrant. The images are sometimes realistic (such as flowers) and sometimes surreal (she can see an unintentional Christ-like figure in a certain piece).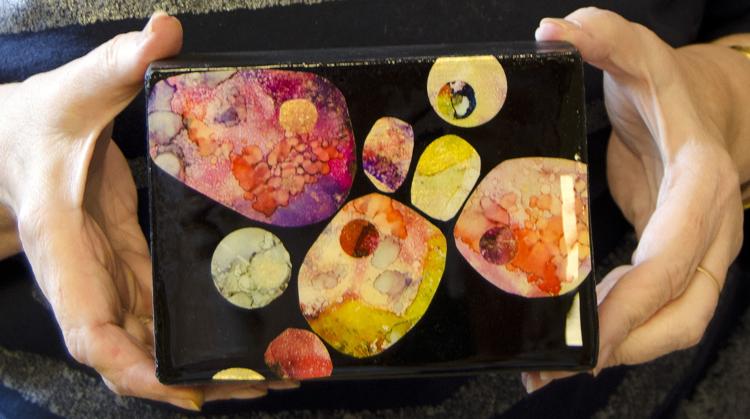 The alcohol ink artist believes in three rudimentary principles:
"No. 1: Less is more," said Crandell. "Everybody uses too much ink when they start out, it's just a given. No. 2: No love affairs. You can't fall in love with a portion of your artwork because that stifles you from finishing your work. No. 3: It is art, not a coaster!"
"I think what I enjoy most about ArtSplash, besides the beautiful art, is just being able to walk around and talk with the artists about what they do and how they do it," said Crandell. "It's just a wonderful way to network with like-minded people. It's really a social event…the entertainment is great, as well as the food, and there is stuff for the kids to do."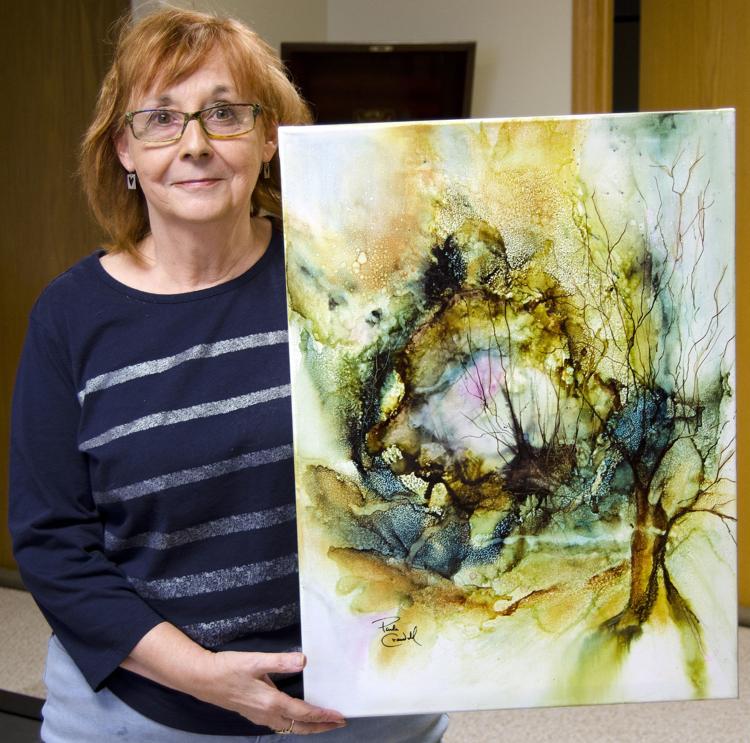 There will be two stages this year, the main stage and the children's stage, each offering multiple performances by different performance artists and musicians.
The children's activity area will be rife with crafts to make and take home, as well as bungee jumps and climbing walls. There will also be a car, provided by Woodhouse, which kids will be able to paint.
In addition to all of the arts and activities, there will be an area with non-profit organizations spreading the word about their respective causes.
"I figured that I had an audience that was coming to ArtSplash, and what I really loved about having that audience was that I was able to put these organizations in the forefront and say what they were doing in the community," said Webber-Dreeszen.
"They talk about the upcoming seasons for the Sioux City Symphony, KWIT and the Siouxland Center for Active Generations, as well as others, and get the word out using ArtSplash as their platform. If there is something I hate more than anything else, it is hearing people say there is nothing to do in Sioux City.  I want other people to hear about the amazing opportunities for events happening around Sioux City."
The cost to get into the festival is $5, and proceeds go directly to the Art Center. One ticket is good for both Saturday and Sunday, so attendees won't have to pay the entry fee twice if they decide to go both days.
"The Art Center is an institution in our community and ArtSplash proceeds go to support it so the Art Center can give back to the community all year," said Webber-Dreeszen. "ArtSplash is a festival for the whole community."