Terri McGaffin is an artist with a passion for oil painting and an interest in structures and bridges.
She has been an art instructor for three decades, mostly at Morningside College where she was also chair of the art department. She plans to retire in December.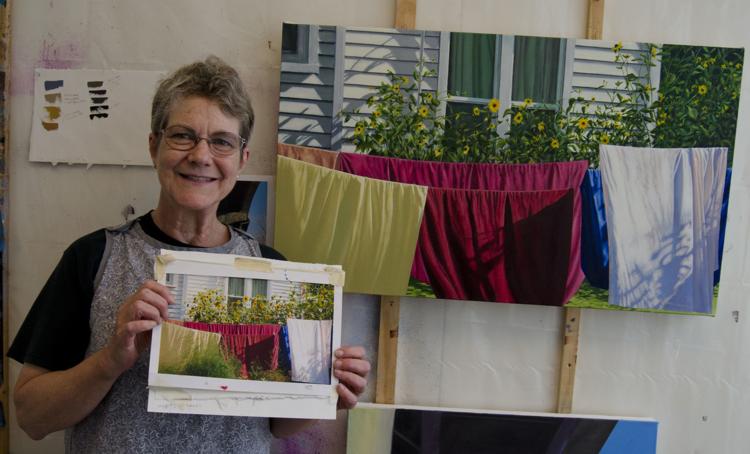 Although she loves teaching students, she has been putting off a career as an artist for those three decades, so she said she is excited to begin the next stage of her life.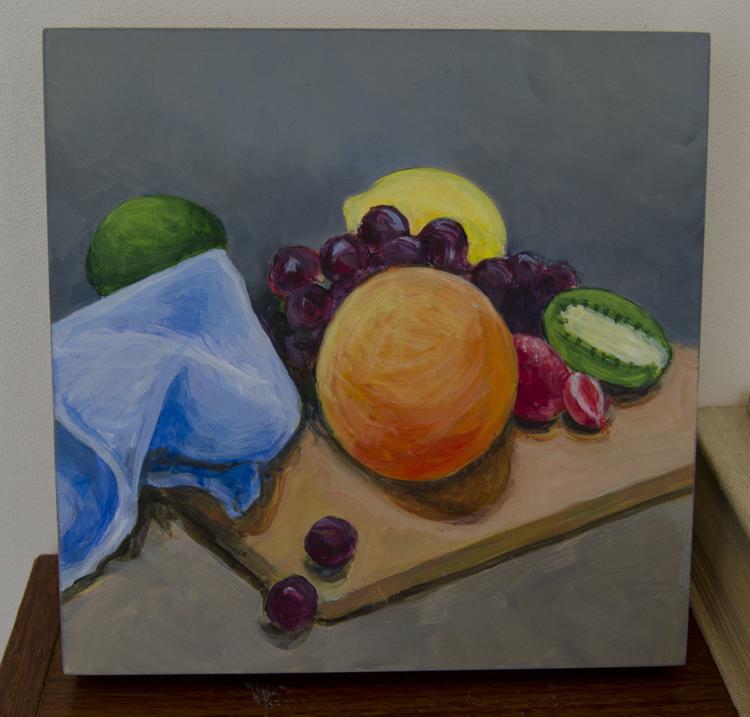 Weekender: When, how and why did you get into creating art?
McGaffin: "When? As a child. How? The way all kids get into it: by drawing. And why? I don't know the motivation behind that. All children have that. For them it is a pre-writing form of expression. I was encouraged by my family and that makes all the difference in the world. I've heard people say they were discouraged by their family or teachers...I think that is tragic."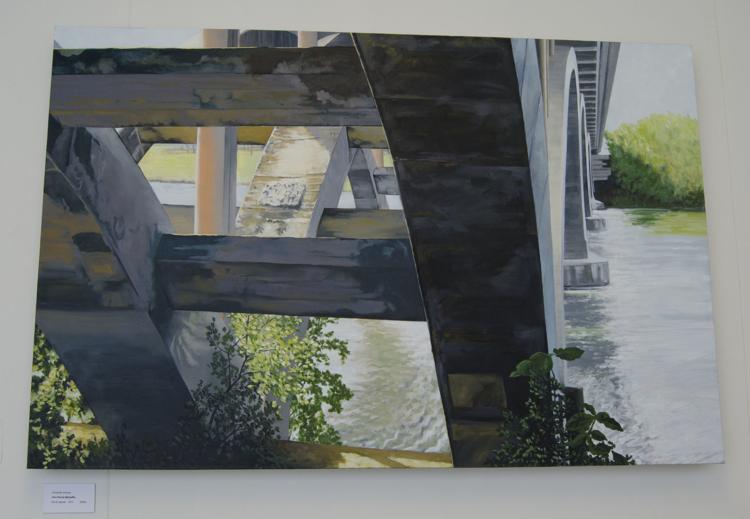 Weekender: Who are some of your artistic influences?
McGaffin: "In recent years I have been influenced by German painter Gerhard Richter. He's a 20th-century painter, and, like me, he uses photographs for his source image. He has used the quality of the photograph in a way I appreciate. The photograph captures things that you don't necessarily see. Let's say I'm taking a family portrait and I take a look at it and see that not only is my family there, but there are some bizarre tree shapes around my family. The photograph distorts and makes things surreal in a way. Gerhard appreciated that. After being asked what is important about art, he said, 'I want to see what is.' I get that."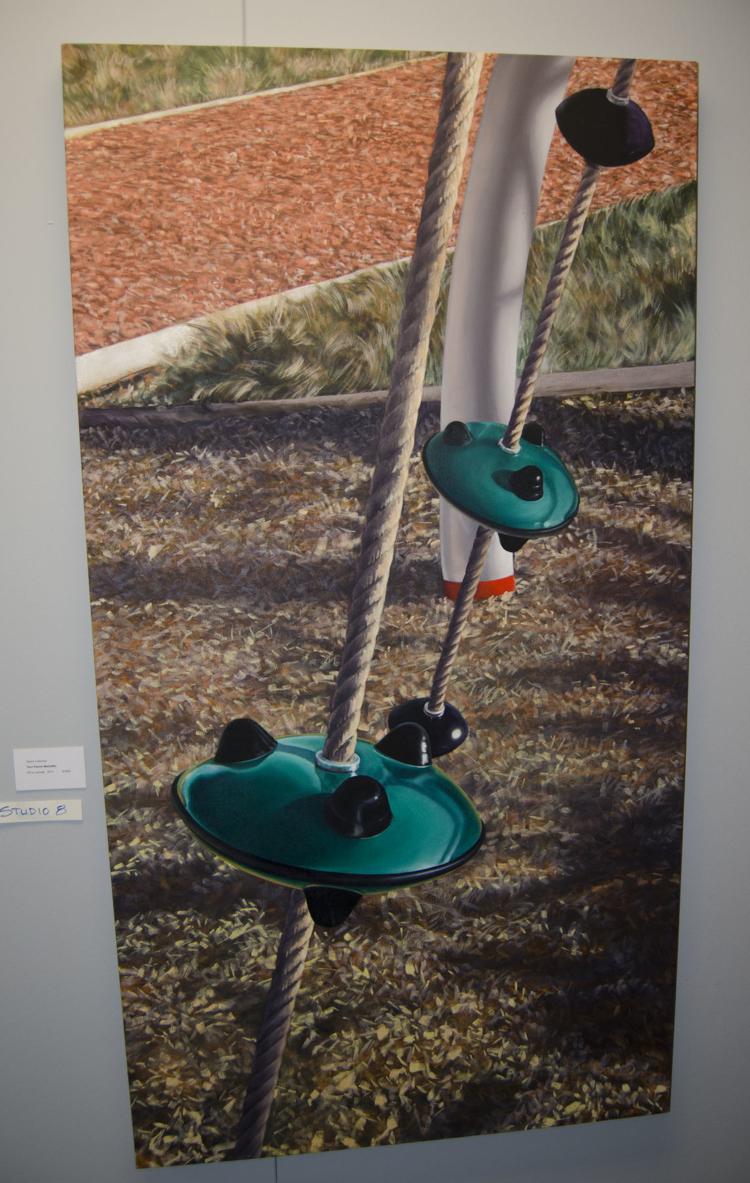 Weekender: What in life inspires you to create?
McGaffin: "The fact that life is bizarre. Even in the sheltered environment that I live in, I'm aware of the strange quality of life. Why not make art about that? My art observes the places we make for ourselves, and I think there is something bizarre and wonderful about the places we make."
Weekender: Are there any specific subjects you gravitate toward?
McGaffin: "Architecture, bridges...some of what I think is bizarre in our creation is what I call 'the architecture of our culture.' Because our culture has a dependency on automobiles, we have created an environment that supports that and we don't even think about that anymore. Everything we do is tied to the necessity to get from one place to another in one way, and that's by automobile."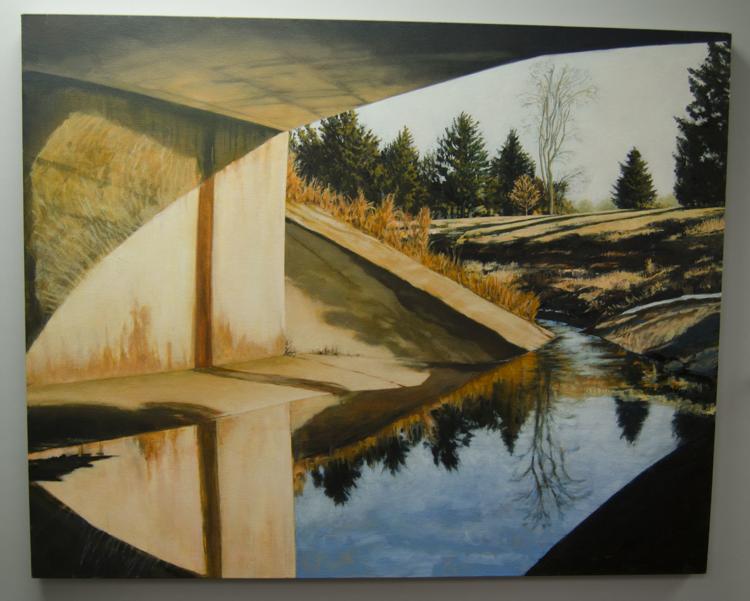 Weekender: What is your creative process from start to finish?
McGaffin: "Taking photographs is the beginning. Those photographs can be photographs that I planned, but more likely are photographs of stuff I come upon. Many times I've regretted not having a camera with me, but I can fix that. From the photograph, I sort through the photographs and find the one that will give me the greatest pleasure. What painting is going to make me blissful? Sometimes it isn't something that is visually attractive like a view from underneath a bridge, but it might have some stuff in it that I really want to play with...like how the water looks."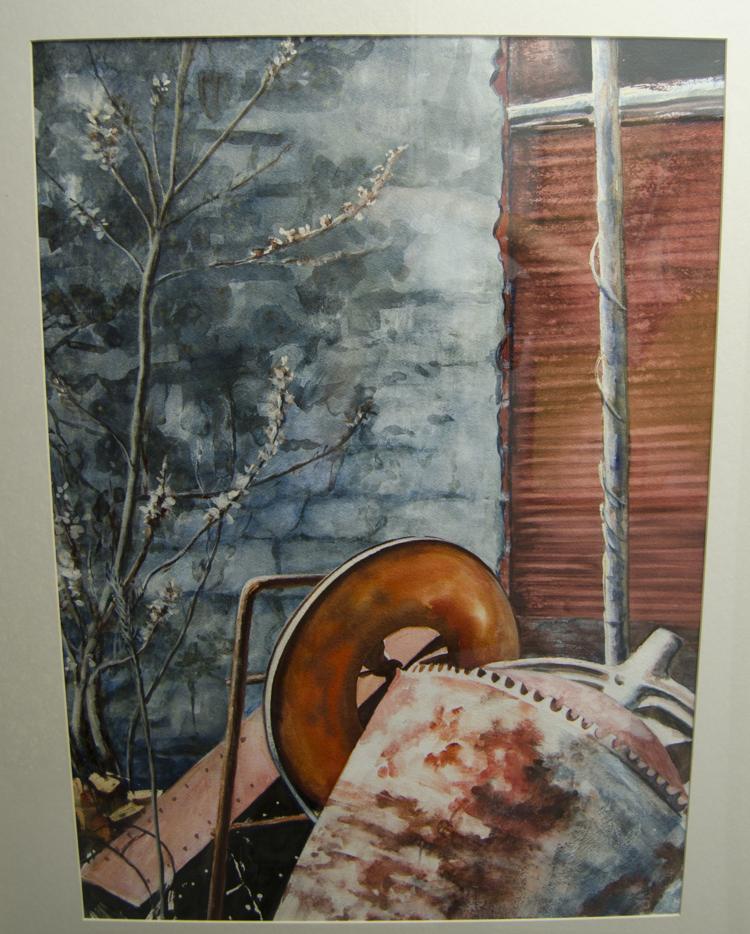 Weekender: How do you know a piece is complete?
McGaffin: "Because of the nature of my work, I would say I know when it is complete when it is visually resolved. A more true way of saying that is because my paintings are illusionistic, they create these illusions of space. When the illusion works, then the painting is done."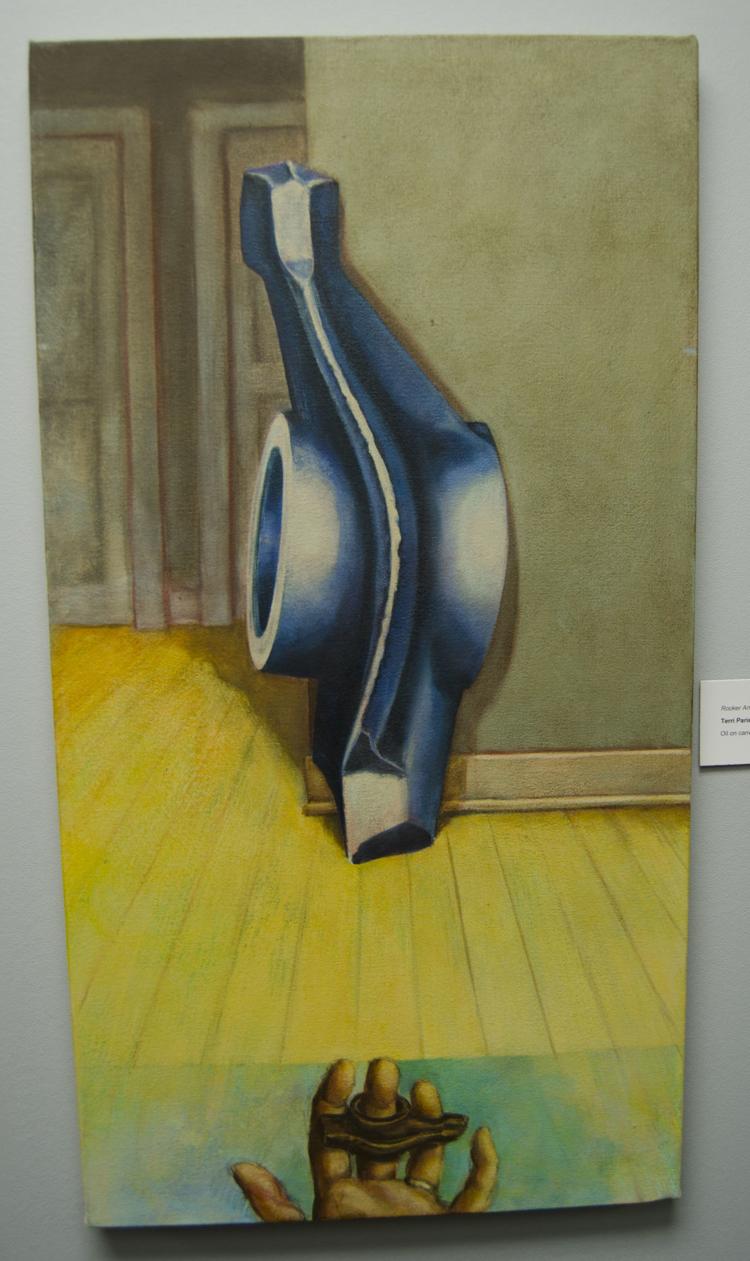 Weekender: What advice would you give a young version of yourself if you saw her getting her start in art?
McGaffin: "I should have been prepared for this because I've been giving advice to young artists for a long time. I would tell that person to be fearless. I say that because as a young person who was too nervous and not sure what I was going to do, I was paralyzed by the fear of stuff, fear of success, fear of love...so I want to tell that person to be fearless."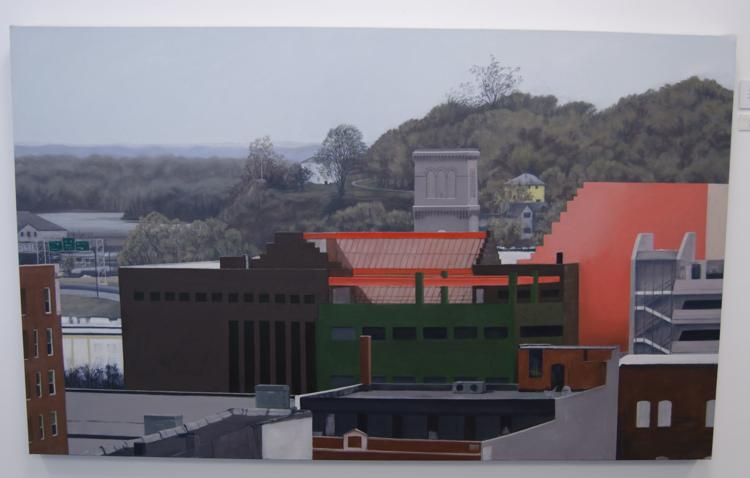 Weekender: What makes art, art?
McGaffin: "Darn you, what a good question. The idea of gestalt is based on a concept of wholeness. One way that is translated is the whole is greater than the sum of its parts. To add up any particular set of parts of some object, some function, some performance...to try to add up the parts of it to equal the whole does not address the situation that gestalt presents. When there is a wholeness to something, you cannot describe what the different components are. You as a human being are a whole, and you are made up of different parts. You are made up of hair and flesh and interior organs. You are made up of intellect, you are made up of spirit. I think that art has to have reached that state where it is a whole or complete thing that defies description and defies dissection. Art has to have an inherent wholeness that can't be described.
Weekender: Imagine and describe what you would do if you woke up color blind.
McGaffin: "At first I would weep. I would have to weep because color is too important. Then I hope that I would suck it up and work achromatically the rest of my life because there is great beauty in the spectrum from black to white...there is great wonder in that."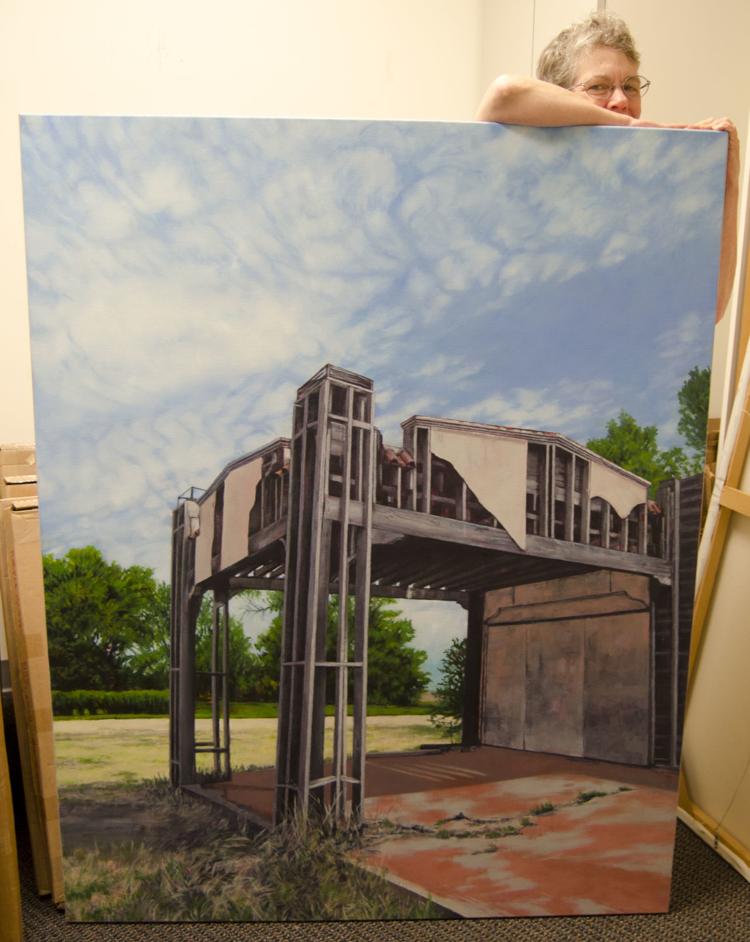 Weekender: What has been your experience as an artist in Gallery 103?
McGaffin: "This has been a gift to me. I think it has been to the others, as well. We were isolated before. I think what might be a little different for me is the last 30 years I have had something like a camaraderie in academia. I've worked with other art teachers and I've worked with art students, so there's always a dialogue about art. I appreciate that here it isn't a teacher/student situation. I can be the student, and I love that."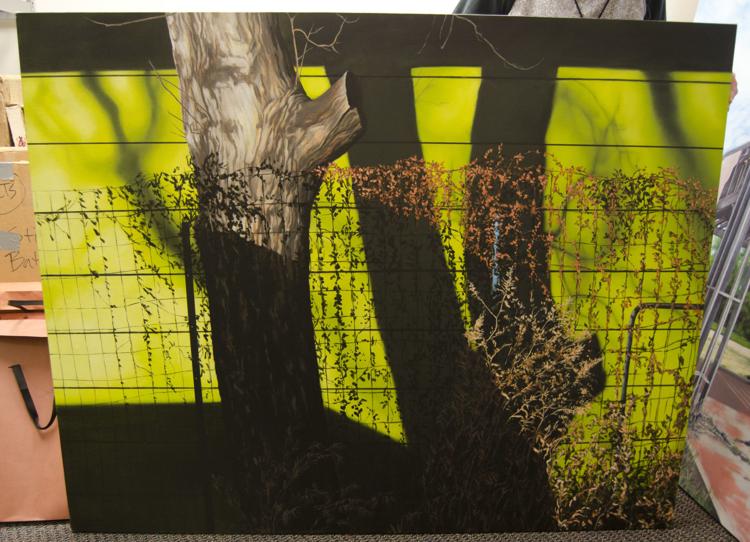 Weekender: What is your ultimate goal with your art?
McGaffin: "I would like to know that I am approaching retirement and my goal is to make a lot more art and to focus on creating a professional status for myself as an artist. I think that is a realistic goal for me now, which means I need to seek gallery representation and that is outside of Sioux City. I've spoken with Modern Arts Midtown in Omaha, so I hope that will be in my future...or Des Moines or Kansas City or Minneapolis...I think it is realistic to pursue that. I want to make a thousand more paintings before I die. That's my goal!"