Susie Rodriguez is an artist who creates jewelry mainly out of copper and stones and runs her own company, Hope by Design.
She is retired from her career at MCI, but works part time at the Sioux City Art Center and is on the boards of Siouxland Artists and Vangarde Arts.
Rodriguez is also very involved in her church.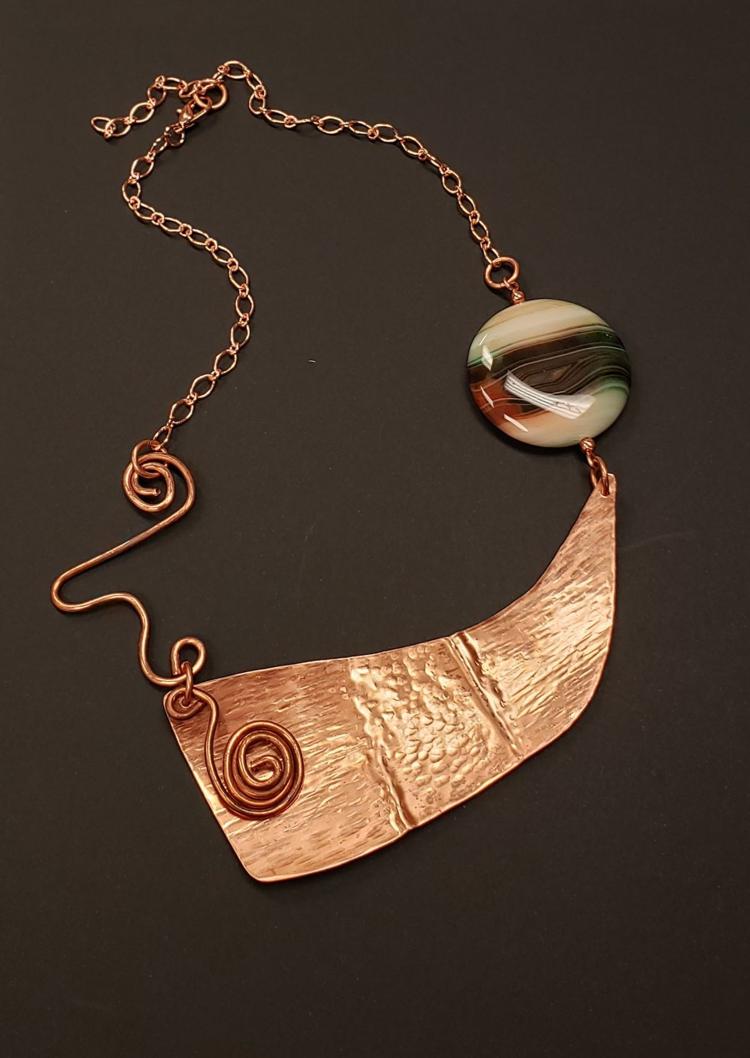 Weekender: When, how and why did you get into creating art?
Rodriguez: "After MCI, I went to work at Stream, but two-and-a-half years into that, it was very stressful and it affected my health. I had to leave. I decided I wanted to do something that made me happy. Jewelry came to mind because I've always loved jewelry, so I started to make it. I ended up with a pile of jewelry that I didn't know what to do with, so I started selling it. That was probably around 12 years ago. It has come a long way in that time. I've had a studio in the Commerce Building, the Benson Building and now I have one in the Ho-Chunk Centre."
Weekender: What in life inspires you to create?
Rodriguez: "Everything inspires me. You can go on Pinterest and find all sorts of things. I like to work with copper, so things with organic shapes and textures inspire me. Stones, as well, I love stones. The different feels, textures, colors...the variety. God made so many beautiful stones that it's like a candy store."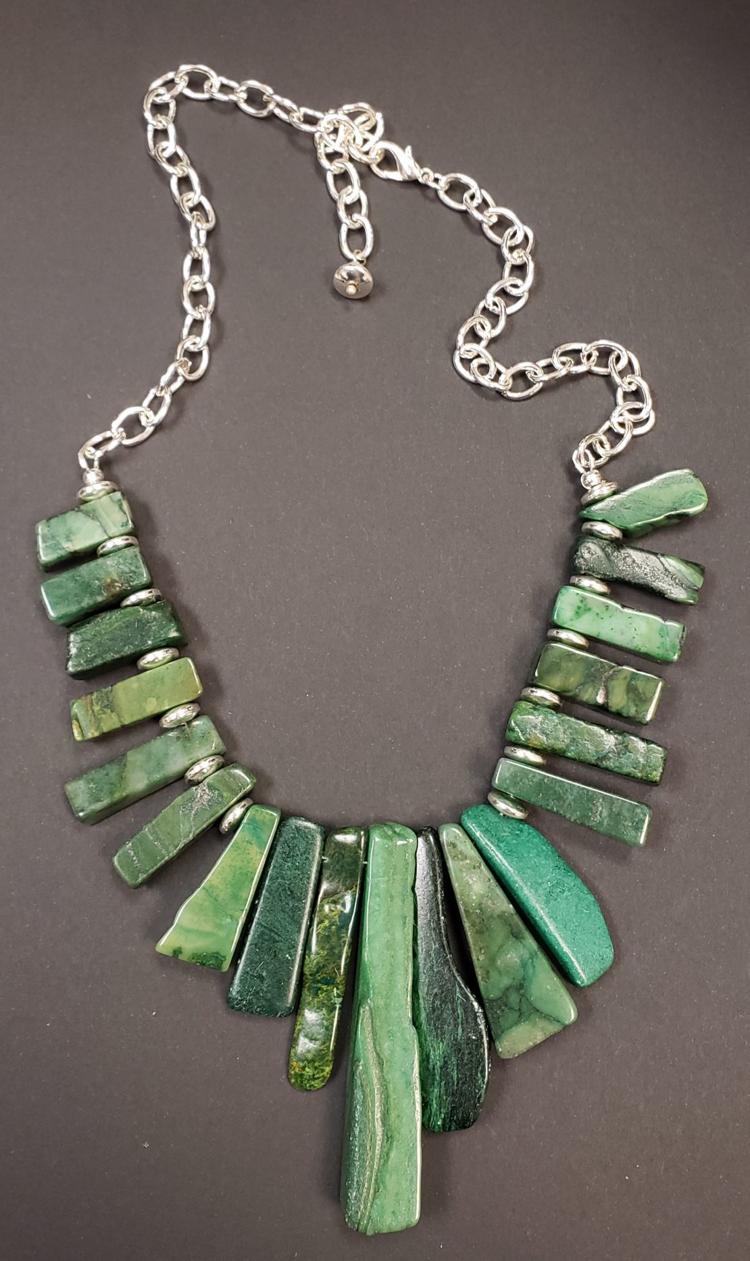 Weekender: Why do you like creating jewelry above other art mediums?
Rodriguez: "What I create, I look at like a piece of art. The piece that I have at the Art Center right now is being accepted as art. It's fun for me to be able to wear it, too. I like when people see what I'm wearing and they say they want it and want to wear it. I then know they love it as much as I loved making it. The pieces are all one-of-a-kind."
Weekender: How did you learn the craft of creating jewelry?
Rodriguez: "I took one jewelry-making class where we learned how to make a bracelet with beads. I basically just started working on my own and learned the process myself. Every year when we go to Santa Fe to get our stones, I'll take one class on something different."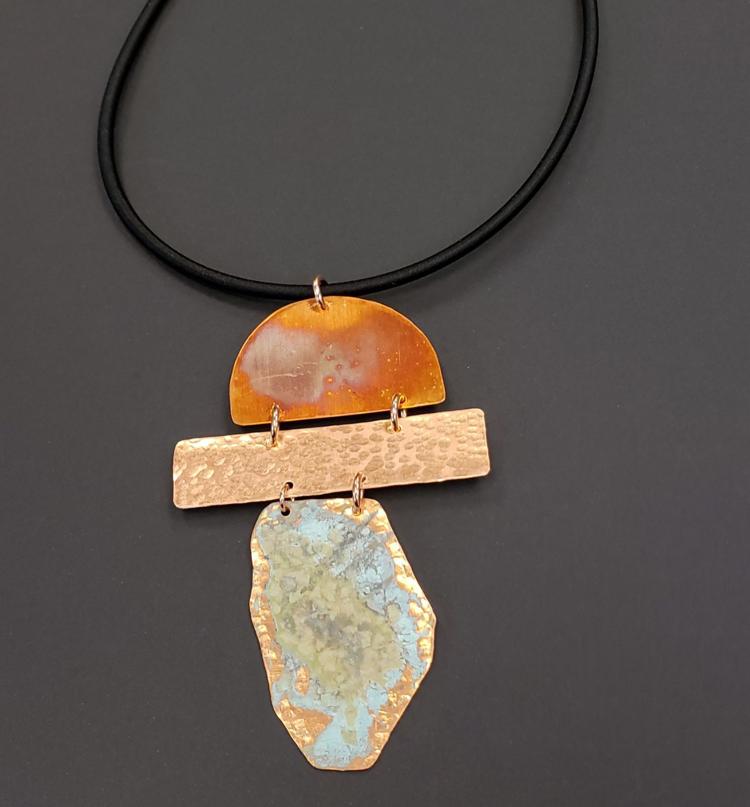 Weekender: What tools and materials do you use to craft?
You have free articles remaining.
Rodriguez: "For cutting copper, you need cutters. For the textures, I have all sorts of texturing hammers that I use. I use a torch to bring out the color in the copper. I have all kinds of wire cutters and pliers that I use. There is a file because everything has to be filed down. Those are the main things I use on a daily basis."
Weekender: How long do the pieces take to complete?
Rodriguez: "It depends on what I'm making. Earrings don't take nearly as long as a necklace. The copper takes the longest, because there is a lot to do in that process. If I just string stones together, that might take a couple of hours. With copper, first I have to cut it, then I have to file it so there is nothing rough that will hurt anyone. Then I texture it. Then, if I have to torch it, I can't do it in the studio, so I do it in my back yard. Copper is a long process, and it can take days."
Weekender: Imagine your hands stopped working. Where would you transfer your creativity?
Rodriguez: "I would move my creativity to seeing and speaking. With Austin, I try to help him with his art. I would probably do more of that and coaching others...that sort of thing."
Weekender: What do you think would happen if art became illegal?
Rodriguez: "That might happen! In a Communist world, they wouldn't be great with art. As with my faith, if I woke up tomorrow and it was outlawed, I don't care...I'm still doing it. It might be the same answer for art. In China, Bibles are illegal, and people bring them in all the time to teach. I think there would be a big underground art world."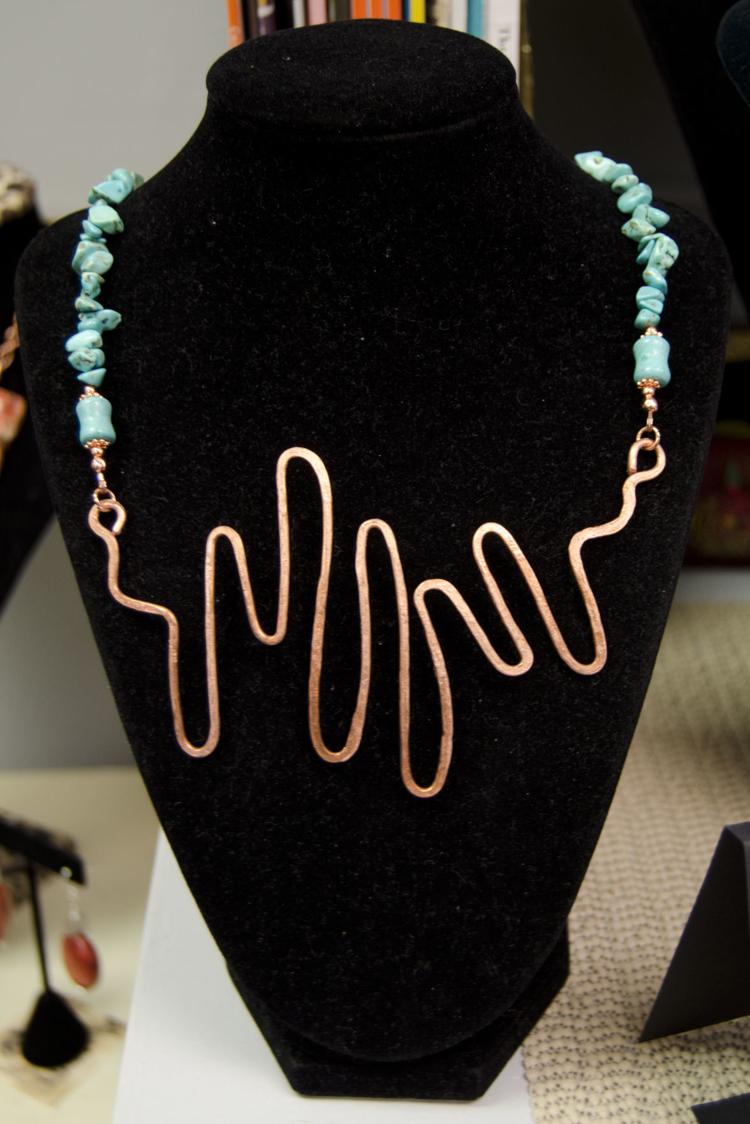 Weekender: How do different emotions affect your creativity?
Rodriguez: "I have God in my life. If I have any issues, I just give them to God. You know what? When you aren't thinking about it and you know you've given it to Him, He takes care of everything. I don't have the lows that some people have. I don't know what that is. I see myself as more of an even-keel."
Weekender: What is the best part of being in the Gallery 103 community?
Rodriguez: "Of all the studios I've had, this is my favorite because we are a family here together. It's just fun coming in and having all the other artists here. I love working with the other artists."
Weekender: Why do you create art? What does it do for you?
Rodriguez: "My whole life, I've always been accused of being creative. When I worked 60 hours a week, I didn't have a lot of time for art, so I used scrap-booking as my creative outlet. I was keeping memories of the family. When I stopped working and started making jewelry, I started doing watercolor. It was a lot of fun. One of the things I love about this is you meet so many people. It's so much fun and it keeps you excited about what comes next and seeing people create. Then I want to try more and do different things."