Austin Rodriguez is an artist who creates abstract works with bold, vivid colors using mainly acrylic and alcohol inks.
At 13, he was diagnosed with cancer. He had two malignant brain tumors and was the representative of the Children's Miracle Network in Iowa. During this time he went to Washington D.C. and met the first lady. Amy Grant even asked for his autograph on his trip to D.C. He beat cancer and is currently cancer-free.
Rodriguez enjoys traveling and experiencing new things. His motto is "carpe diem," seize the day.
You can find his art at Gallery 103 in the Ho-Chunk Centre, at the North Sioux City Library and on Facebook @artbyaustin.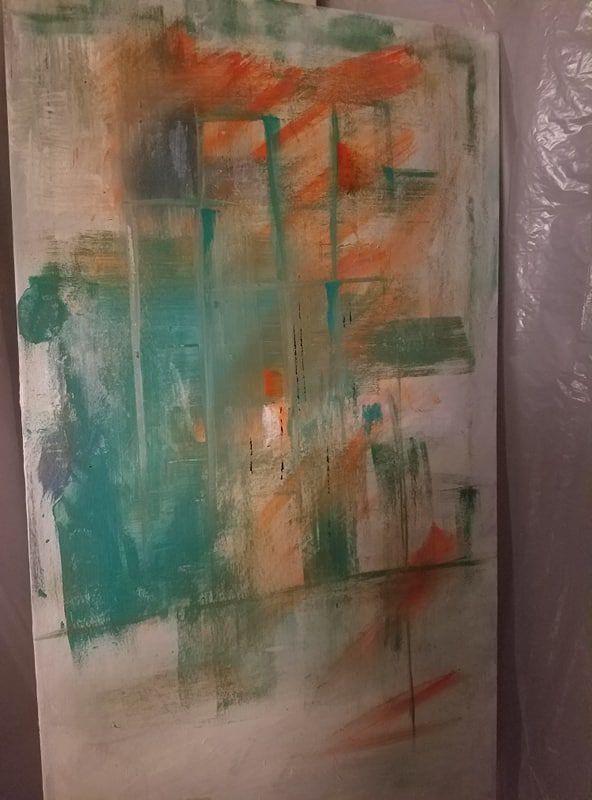 Weekender: When, how and why did you get into creating art?
Rodriguez: "My mom (Susie Rodriguez) started making jewelry 10 years ago and became involved with Siouxland Artists. I helped the ladies carry their wares in and out of shows. I always loved art, but never thought I could do it. I met a teacher named Glenda Drennen, a well-known water-colorist. She got me to try mixing acrylic paint with rubbing alcohol. I tried it and thought it was pretty cool. I started experimenting with things and breaking the rules. I found that I had a love for it, and people started enjoying my work. Even well-known artists complimented my works. That gives me a big high, knowing these people liked my paintings."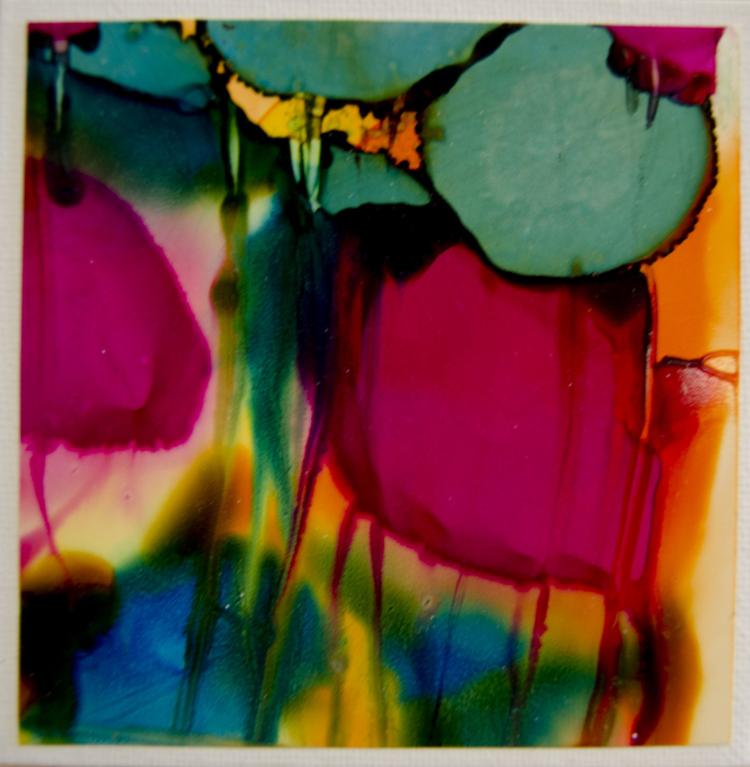 Weekender: While creating abstract pieces, do you ever focus on a subject or topic?
Rodriguez: "My pieces are all about experimentation. When I have a specific idea of what I want to do, it looks terrible. When I let the colors move and do their own thing, I think…wow…how did I do that? The less control I have, the better it works. I normally don't use a brush at all. I use different tools like putty knives, pieces of paper, sponges…all kinds of things."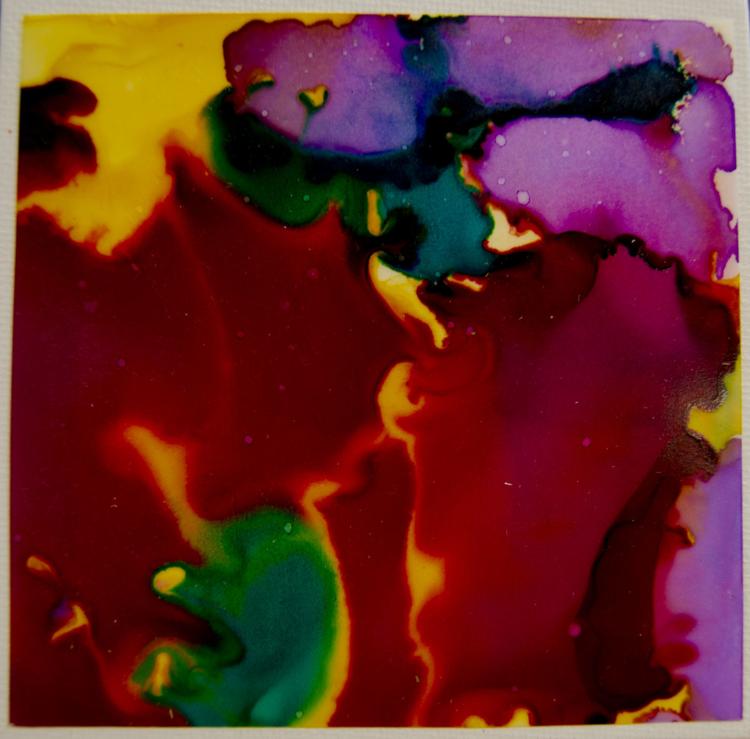 Weekender: What are your favorite mediums to work with?
Rodriguez: "Alcohol ink and acrylics. I was always an acrylic painter until I started playing with the inks."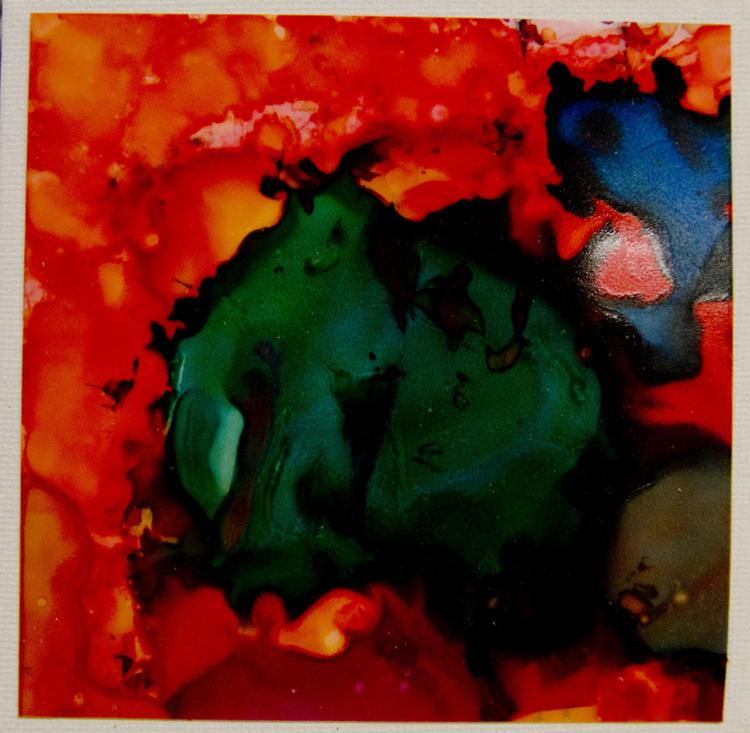 Weekender: Who are some of your artistic influences?
Rodriguez: "Glenda Drennen. The thing is, I'll look at what other artists have done and if it looks cool, I'll try to make something similar with my own spin. It is all about experimentation."
Weekender: What in life inspires you to create?
Rodriguez: "The joy of the color. I believe God has blessed me with the ability to do these works that bring people joy. That makes me really happy. You never know how long you are going to have (to live). If you find something that you like to do and other people like what you do, it makes you want to continue and express it in any way you can. I'm drawn to bright, bold colors because I like joyful, happy tones."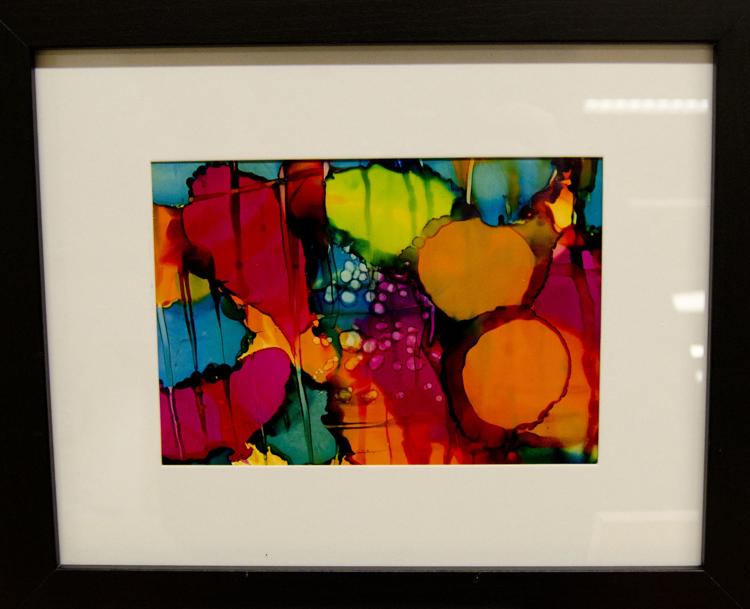 Weekender: What is your creative process?
Rodriguez: "I take the canvas and soak it with water. I don't want the paint to soak right into the canvas; I want liquid on there first. I'll add paint and then put more water on, or put some alcohol on it. I'll add more colors and let them blend together. Then I'll pat it down and watch the colors move. I like to experiment with different colors and different tools to see what the final outcome looks like."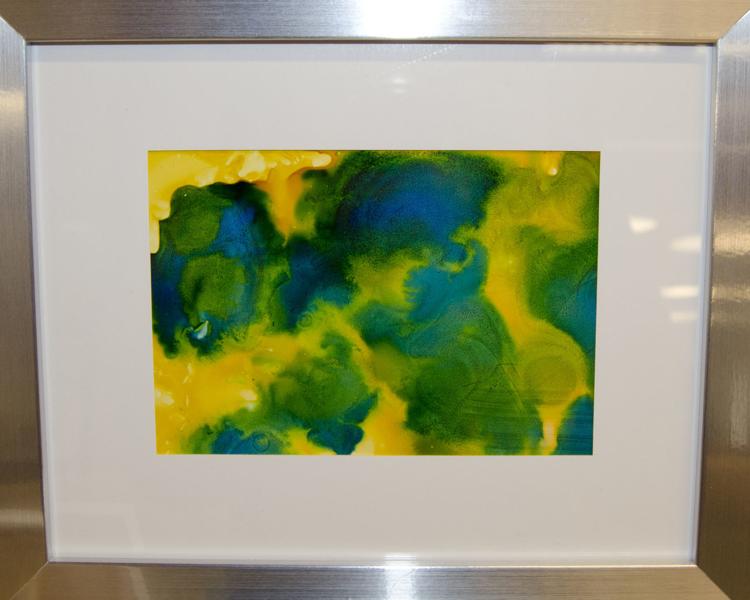 Weekender: Imagine waking up one day not being able to see color anymore. Describe what you are feeling.
Rodriguez: "That's cold. To me that would be hard because I love color so much. Having already known what all these beautiful colors look like, I think I would hate it, but I would be able to picture the color in my mind."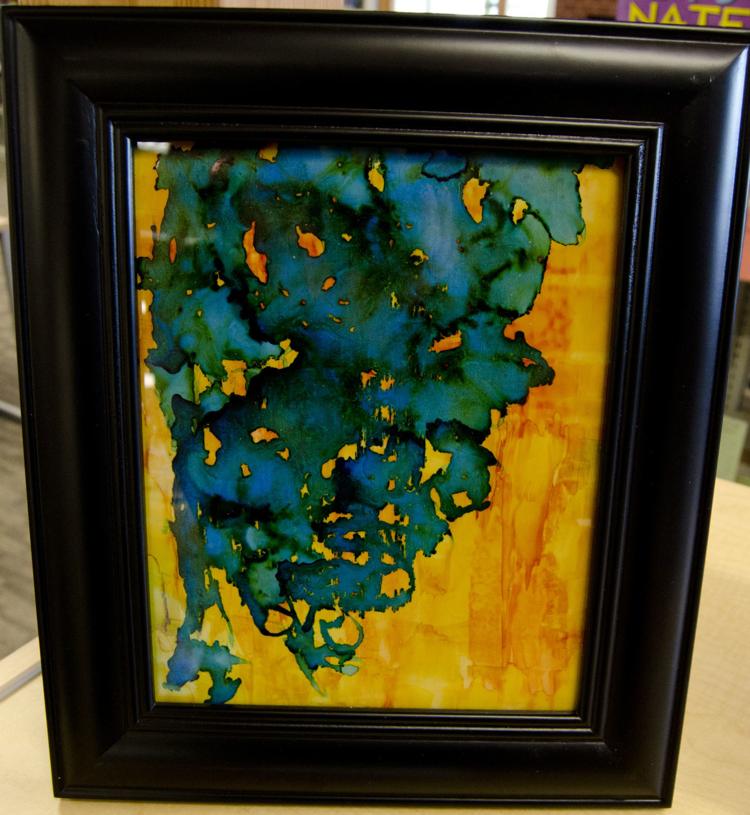 Weekender: Describe the feeling of selling an original piece.
Rodriguez: "Oh, it's a joy. When somebody expresses interest in my stuff and not only like it, but they buy it…that is a huge high for me. I never thought I could do this. Now, finding out that more and more people are liking my stuff, it feels amazing."
Weekender: What makes your art stand out from other artists work in the area?
Rodriguez: "Not only my abstract take on things, but my work is totally different from others because I don't follow the traditional steps and methods other painters use. I go ahead and do what I want. Many other artists work in the same medium as me, but I do it from a different perspective. I let the colors mold and move…the colors create the piece."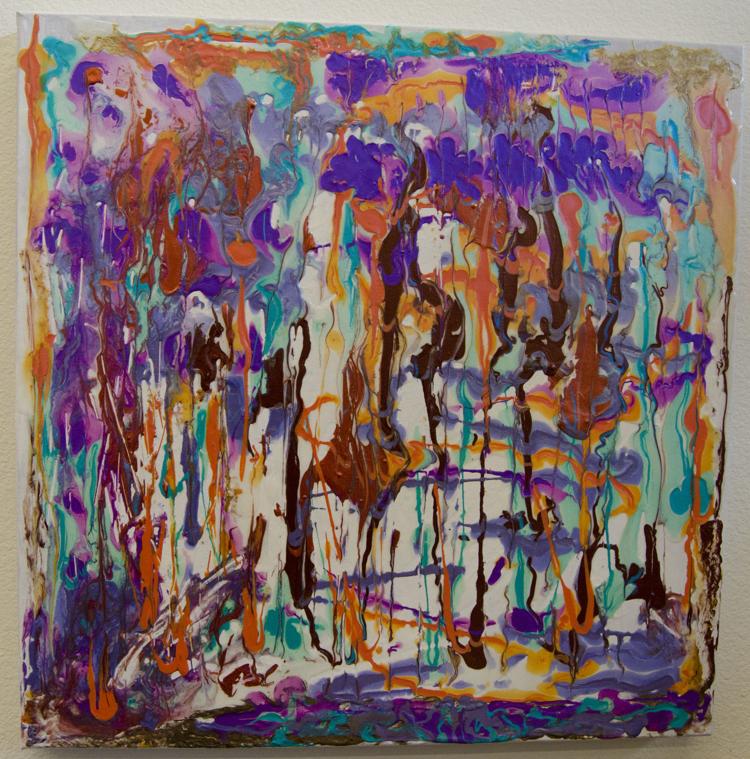 Weekender: Why do you create art? What does it do for you?
Rodriguez: "It gives me a way to find color in a cold, dark world. It brings joy and happiness to me when I have a piece I like; especially when someone else likes it."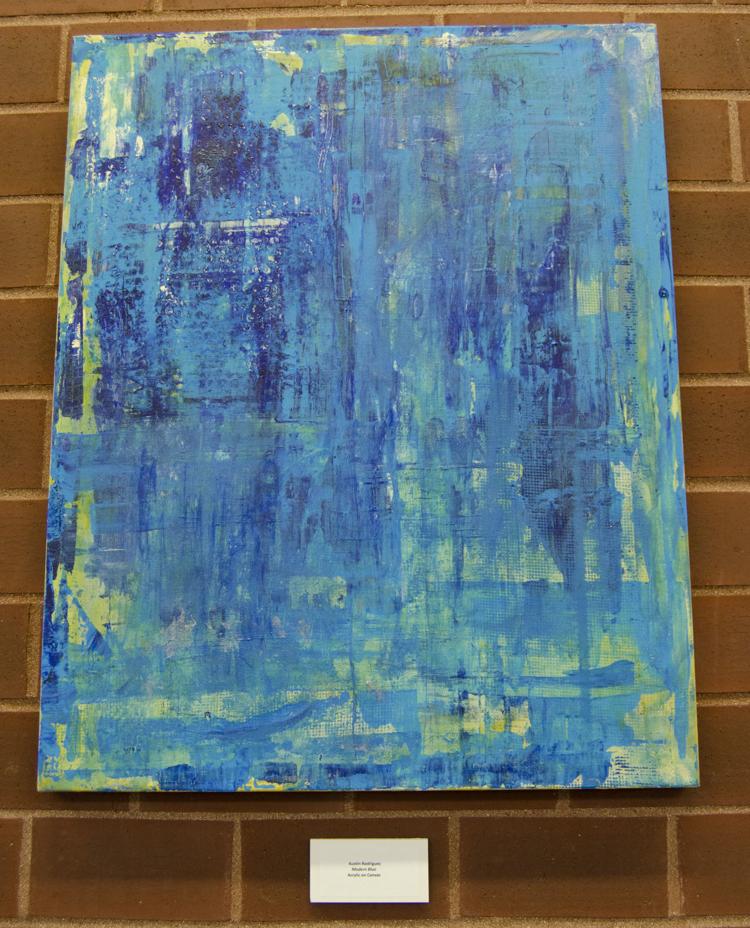 Weekender: How does it feel to be a part of this great community of artists in Gallery 103?
Rodriguez: "It's wonderful. When we first started out, we would meet some artists and they didn't want to say how they did their works. They didn't want to help. When we moved to the Commerce Building, the artists were so kind. I now have a much larger group of friends because we became part of that community. It has brought me new relationships and friendships; it has totally changed my life."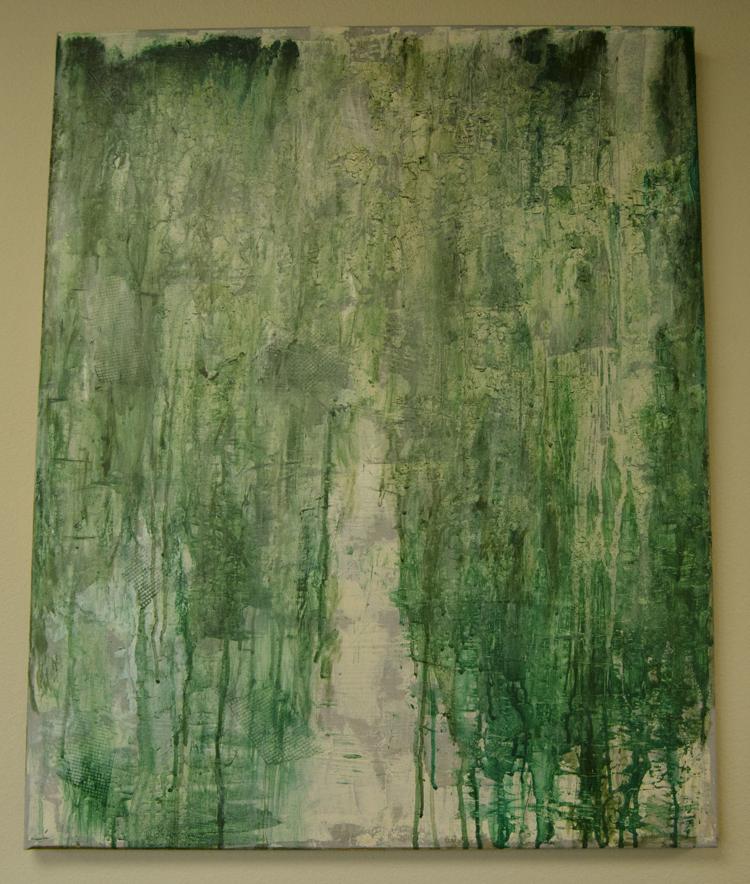 Weekender: What makes art, art?
Rodriguez: "A person's perspective of what they see in front of them. Art is not art for everyone. Art is art in the eye of the beholder."