Meghan O'Connor is a multi-media artist, print maker and a Siouxland transplant from Tennessee.
She is a teacher, an extrovert and loves interacting with people.
O'Connor also loves yoga and being outside as much as possible.
You can find her work at Gallery 103 (first floor of the Ho-Chunk Centre), the Sioux City Art Center, on Instagram @curlymeg88, at www.curlymeg88.com and her show "Dig" at the Norfolk Arts Center.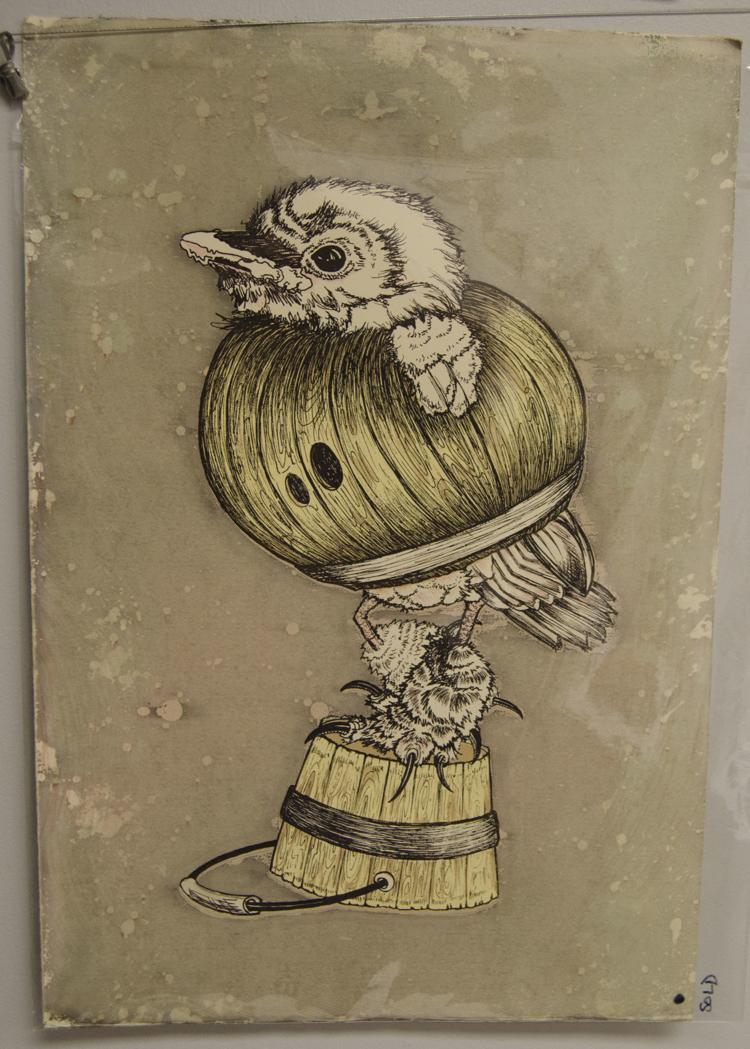 Weekender: When and how did you get into creating art?
O'Connor: "When I was a kid my grandpa would send cards to us. I was always less excited about the card and more excited about the envelope because he would always make drawings and pictures on the outside of the envelope. I would always keep those envelopes; my mom still has a bunch of those. Whenever I would stay with that set of grandparents, I would always draw with him. That is what I remember getting me started in art."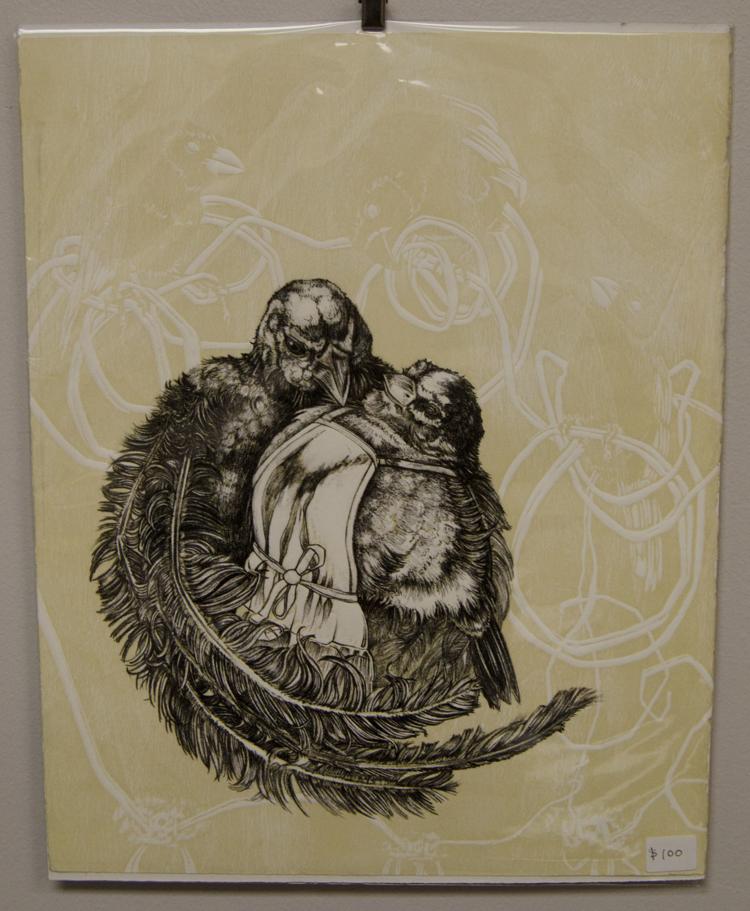 Weekender: Who are some of your biggest artistic influences?
O'Connor: "Hieronymus Bosch is a big one. I like Northern Renaissance artists in general because of their use of pictorial space and emphasis on the imaginative creation of their own universe. I love surrealist artists, as well…a lot of them were influenced by Bosch. One of my print-making heroes is Francisco Goya. He was making work that was about the darker side of human nature and the humor that lies in that. He created works about the horrors that surrounded him. I appreciate the honesty in his work."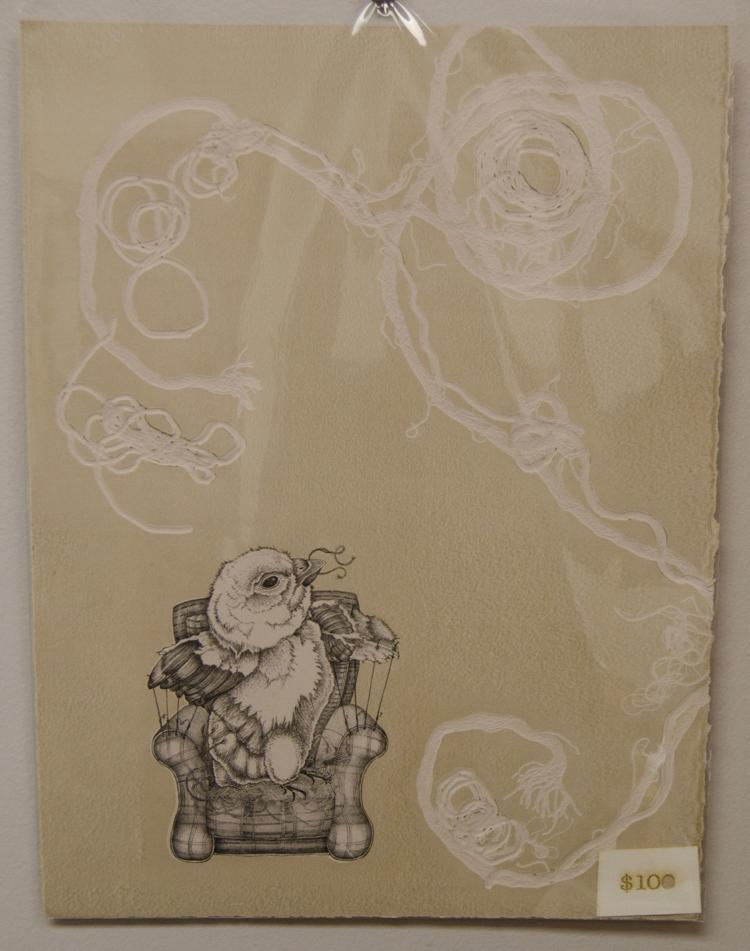 Weekender: What in life inspires you to create?
O'Connor: "I think life is all about interacting with others. Most of the work that I make is a reflection on relationships…with others and with self. I think how we treat others is really important. I feel like we are in a casino all the time being tempted by gambling. There are all of these outlets and it is better to use them to connect with people rather than disconnect. A lot of my work is about a conversation that inspires me that I have had with somebody."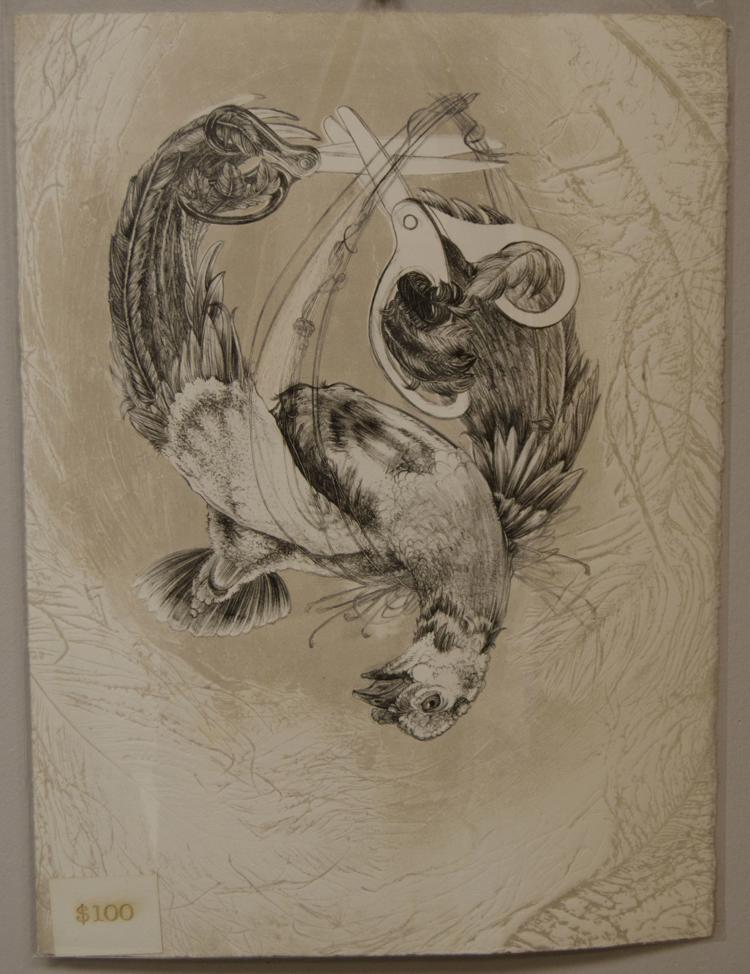 Weekender: What are some of your favorite mediums to work with, and why?
O'Connor: "I trained as a painter initially in college, but I've always loved to draw. I found print-making during my third year in college and just fell in love with it. I enjoy print making because it is very process-oriented and technically challenging. When I'm working on it, it keeps my mind very busy. Some of the works that I make are mixed media. The show that I have opening at the Norfolk Arts Center has a few installation pieces. Instead of making pieces to go in a rectangular picture frame, I am making a bunch of prints and using them as movable modular elements to additively construct installation-type work."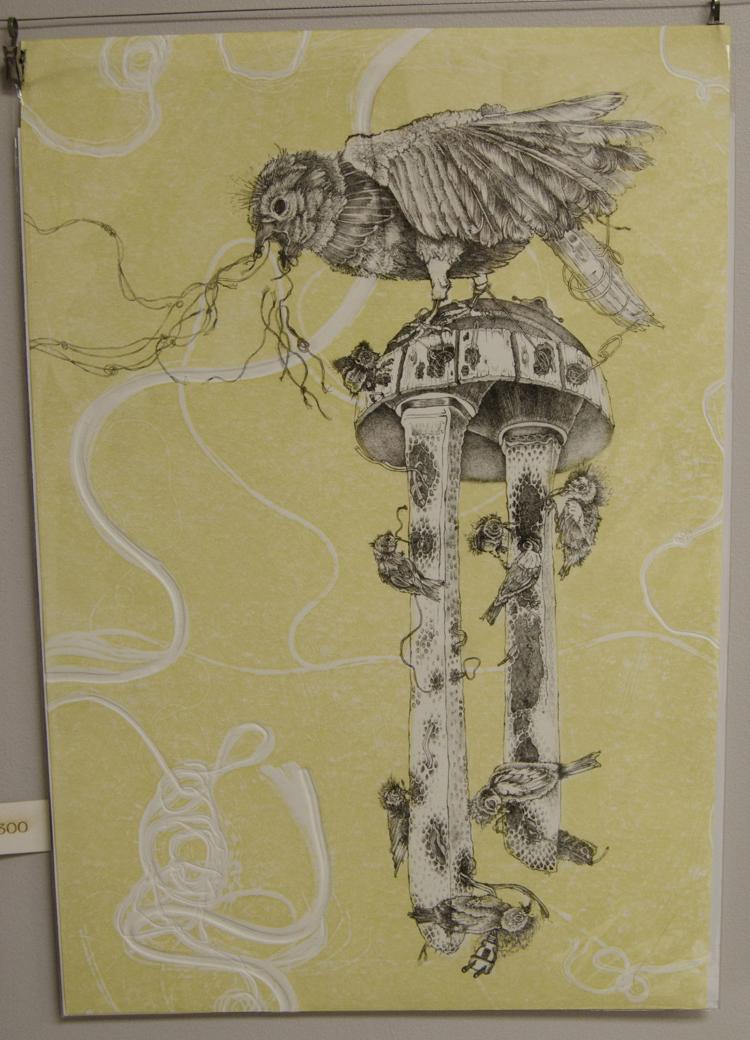 Weekender: Describe some of the subjects you focus on.
O'Connor: "I definitely draw a lot of birds; songbirds mostly. I like how small they are. I normally work life-size. Like in children's books where animals stand in for human characters, I look at these birds as stand-ins for human personality traits for people that I know or have interacted with. I also love drawing them because of all the different varieties of birds with different plumage, feathers and traits."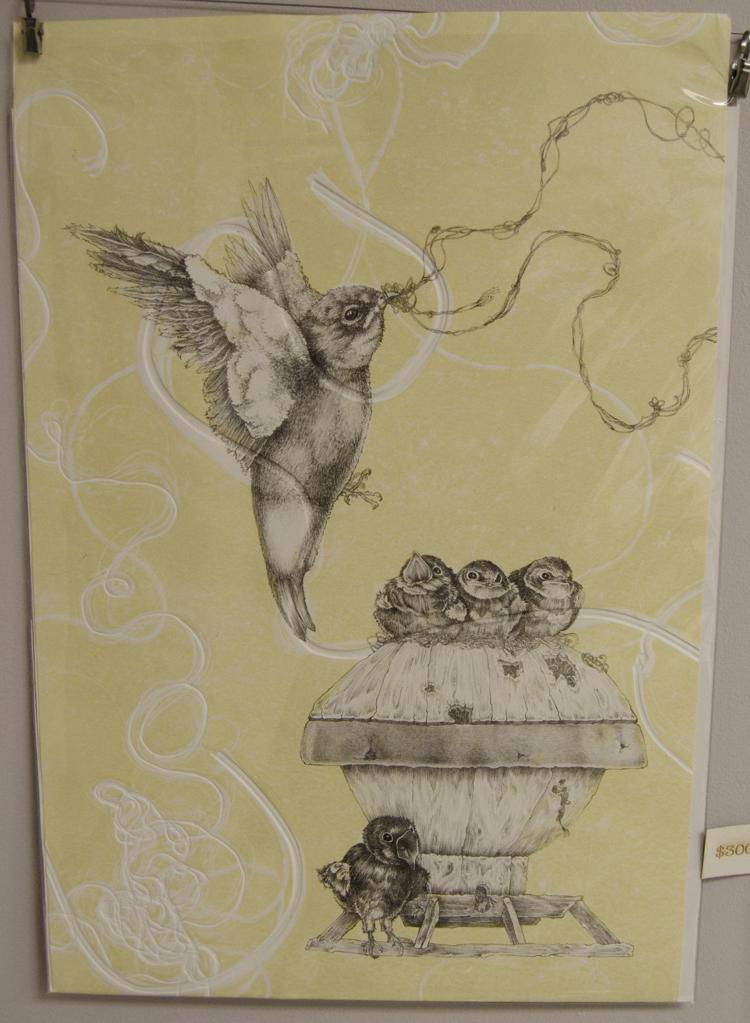 Weekender: What kind of headspace do you have to be in to create? Do different emotions affect your art?
O'Connor: "It's hard because some days you don't want to make anything. You just have to force yourself sometimes. Outside factors help to keep me in check, so when I have external deadlines they will hold me accountable. I make work when I'm angry, happy and sad. The work affects me as opposed to the other way around. If I'm feeling sad or down, a lot of the time I'll feel better when I do the work. I think it has to do with having a sense of accomplishment; it also makes me happy. Another thing is the way that I feel in life has a lot to do with the colors I use in my work."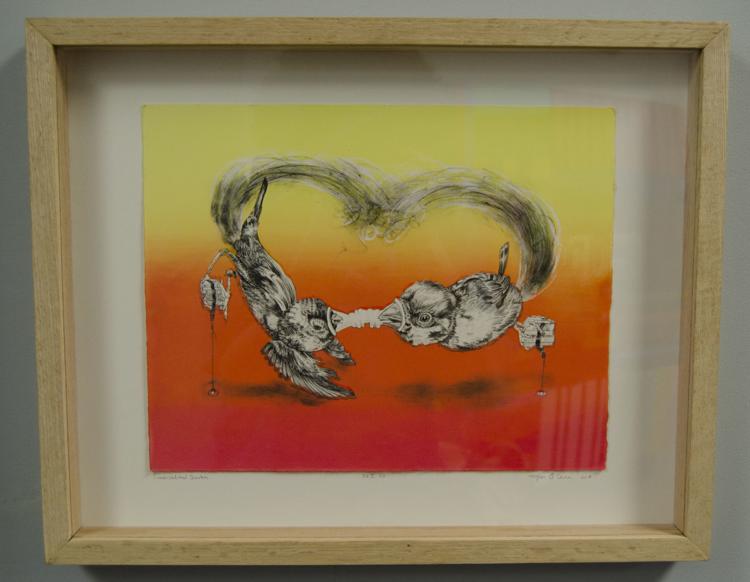 Weekender: What is your creative process?
O'Connor: "It starts as very loose, rough thumbnail sketching and brainstorming. It gets the creative juices flowing. Once I have a plan, I go through the print-making procedures or it won't work. A fair amount of that time is spent measuring and cutting paper, mixing inks…things like that. There is a lot of drawing involved, which I love, because it gets me into a zone that is almost meditative. The printing is meticulous because I'm always counting the number of times I roll the roller over the surface to make it appropriate and consistent. I also try to find places for play and freedom so I can let go and have a bit of fun."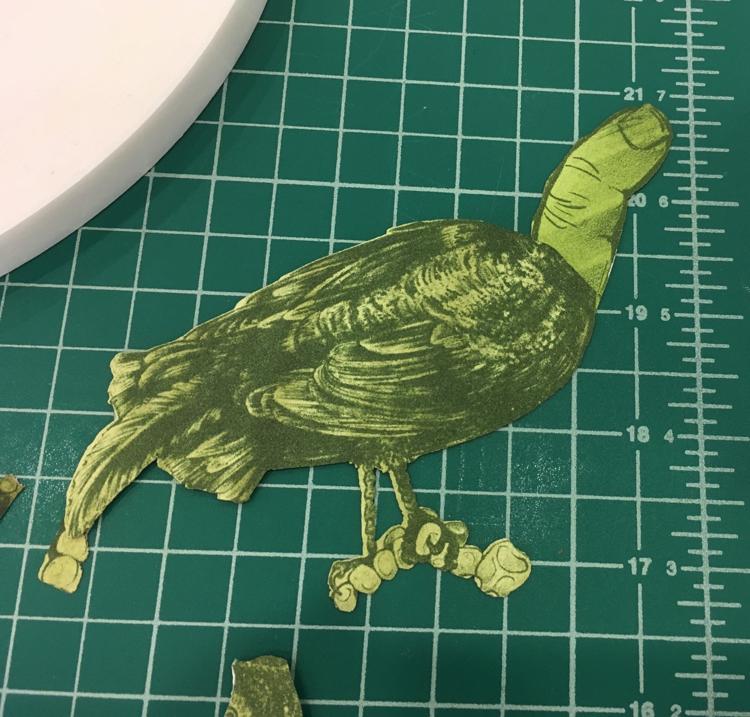 Weekender: Why do you create art? What does it do for you?
O'Connor: "For my happiness. I remember somebody once told me that you are an artist if when you don't create, you are miserable. When I don't do it, it feels like I'm teetering on a chair without being able to put the legs down; like I'm very much in limbo. It helps me to feel like who I am as a person. There is a sense of accomplishment and satisfaction. Ultimately I do it to express myself. My artwork is an avenue to connect with others."
Weekender: Tell us about your art show, "Dig."
O'Connor: "It is up at the Norfolk Arts Center and the opening is June 13 from 5 to 7 p.m. It is a solo exhibition in both gallery spaces. It is a combination of more traditional, flat two-dimensional prints and installation-type work. I have three large-scale installation pieces. One includes chicken skins, one includes cut paper on the wall with corn and birds and the other one is an arm-wrestling table. The arm-wrestling table has some prints suspended around it that are printed impressions of previous arm-wrestling sessions. When you come and participate, you will rub Vaseline on your hands for good-sportsmanship and then arm wrestle. Whoever loses gets their hand pressed in a plate, and that makes an impression. I will print those, and those will add to that exhibition as it moves forward. That piece is all about conflict."
Weekender: What is your ultimate goal as an artist?
O'Connor: "I think of my students and spreading the love of print-making. It doesn't have to be just print-making, but that is the flavor I love the best; it is what I am passionate about. I get most excited when my students go and do things and get out of their comfort zones. I think education is a big component. Teachers have a big responsibility to share with and inspire the students to want to learn. I'm pretty happy with where I am, but I also think I'd like to work less and make more money…doesn't everybody?"