On most Wednesday evenings, more than 20 teams make their way to Ickey Nickel Bar & Grill, 4700 41st St., for camaraderie, competition and a chance to snag $100 in cash. 
Welcome to Big Daddy Trivia, where trivia is far from trivial.
A Classic Rock 99.5 radio announcer by day, Denny Anderson (AKA "Big Daddy") began hosting trivia contests at night more than three years ago.
"It started out as something for me and my wife to do at night," he explained. "We started doing a trivia night at (Sioux City's former) McCarthy & Bailey's Irish Pub that quickly caught on and started attracting attention."
Specifically, it began capturing the attention of competing bar owners.
A 'QUESTIONABLE' SIDE HUSTLE
After acquiring a following at McCarthy & Bailey's, Anderson was hired to begin a weekly trivia night. From there, he expanded his operations to include similar events at Castle Pub, Hard Rock Hotel & Casino's Anthem as well as P's Pizza Houses in Le Mars, Orange City and Dakota Dunes.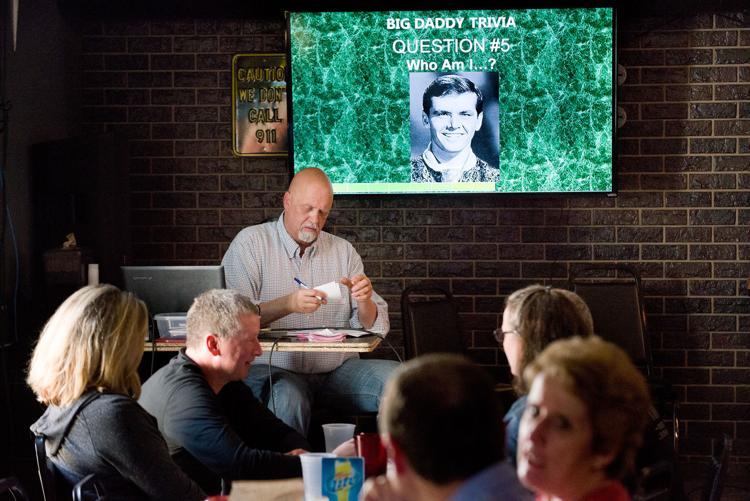 When Anderson isn't available to host a competition at a particular location, he'll farm out emcee assignments to some of his fellow Powell Broadcasting deejays.
Which is pretty sweet since trivia night contests are strictly sideline gigs for Anderson.
"I'm less expensive than a band and I always draw a crowd," he said. "It's a formula that works."
This is because trivia contests attract a surprisingly wide demographic from baby boomers to students to couples wanting a night out on the town.
"When you start having kids, you grab any chance at getting out of the house," said Edward Henry who, along with wife Angela, is a member of Team Flow. "Trivia night has become our version of date night."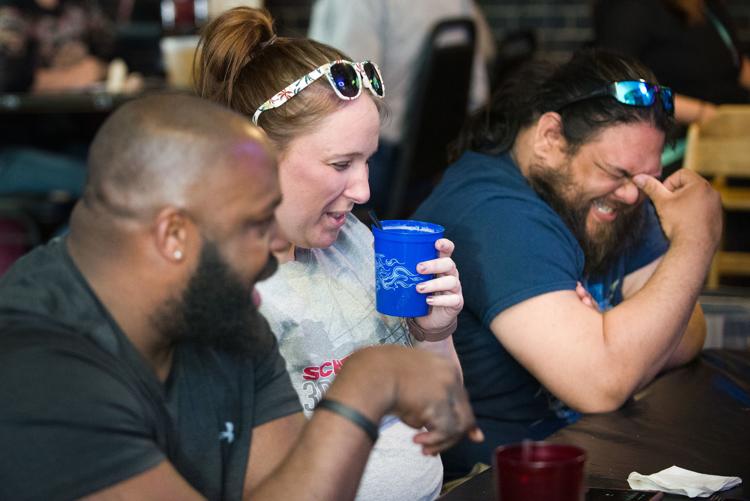 While Angela excels at arcane pop culture, Edward is expert at all things sports.
"As long as it isn't hockey, I'm golden," he said with a breezy confidence.
Made up of East High School staff members, Team Dunder Mifflin regulars say they are tops when it comes to history-related trivia.
"Most weeks, we do pretty well," Mark Larson said, speaking for a group that consisted of himself along with fellow educators Bryan and Debbie Getchell. "We haven't embarrassed ourselves yet."
The teachers were bested by their own high school students at a recent competition. Plus it had to do with a history question.
"It had to do with the St. Valentine's Day Massacre," Larson said with a shrug. "Just a lucky guess, I'm sure."
According to Rueben Arellano, 17, of Team Dropouts, this is nothing but trash talk.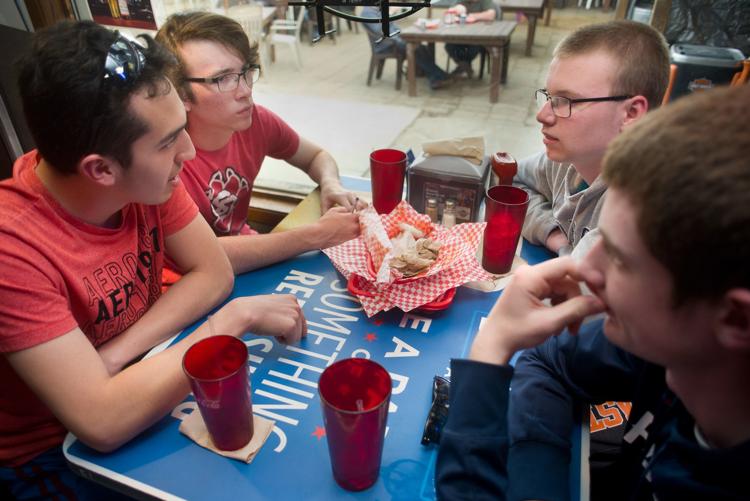 "Leave it to our teachers to talk smack," he said, rolling his eyes.
While Arellano and Daniel Ten Hulzen, both East 12th-graders, excel at history trivia, Noah Barger, also an East senior, is a scholar when it comes to sports.
Rounding out the high school quartet is Calvin Ten Hulzen, an East 11th-grader.
"I'm here for the science trivia questions," Calvin Ten Hulzen said. "Plus I'm also here because I like Ickey Nickel's grilled-cheese sandwiches."
Indeed, Anderson is happy Big Daddy Trivia has brought couples together as well as a surprisingly number of families.
You have free articles remaining.
"I love it that people bring their kids with them," he said. "We strive for a family atmosphere."
PRO TIPS FROM TEAM FAKE NEWS
Perhaps, the most dogged of trivia teams is one made of print journalists.
Team Fake News includes both current and former Sioux City Journal reporters.
The current incarnation of the team consists of Journal government and political reporter Bret Hayworth as well as former Journal reporter (and present Dakota County Star editor) Michelle Kuester.
At one point, Team Fake News was the team to beat, Anderson said. 
"They have kind of come down to earth lately," he said, diplomatically. "(The team isn't) as dominant as it used to be."
"Well, that'll do my ego a lot of good," Hayworth said, after overhearing Anderson's comments. 
Hayworth said Team Fake News' success is an ensemble effort since his strength comes from music trivia while Kuester is the go-to person when it comes to animal trivia or anything related to literature.
Just don't expect to tell the difference between a 1990s child actor and a pretty boy singer-songwriter.
Looking at the TV screen which asked the question "Who am I?" Hayworth audibly groaned when the answer was revealed.
"I thought for sure that was a childhood photo of ('The Wonder Years') Fred Savage," he said.
Who knew that John Mayer looked exactly like Fred Savage when he was young?
Many of Anderson's trivia questions would have newcomers scratching their heads.
Anderson acknowledged that all of his questions come from an old radio buddy, who runs trivia contests in Denver.
"I usually do a mix of music, sports, history, geography, you name it," he said. "I like keeping people on their toes." 
Still, we imagine that some of Anderson's more die- hard contestants are fully capable of keeping Big Daddy in check.
Amy Parker and Janel Hansen, both of Sioux City, were the big $100 winners at Ickey Nickel's trivia night, March 27. They also picked up another $100, the next night, by winning the Thursday night trivial challenge at P's Pizza House.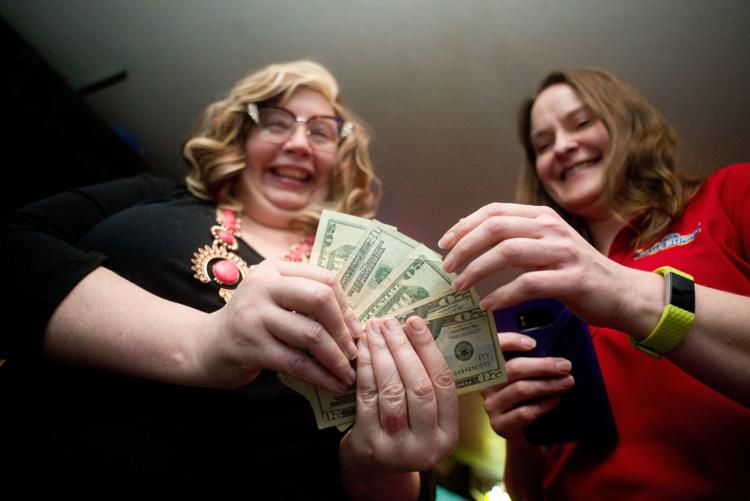 "Our advice is know stuff and lots of it," Parker said. 
"Also don't overthink your answer," Hansen added. "Go with your gut." 
There you have it: a winning strategy from the ladies of Team 28 Paws. Um, Team 28 Paws?
"I have fours dogs and Janel has three dogs," Parker explained. 
OK, seven dogs times four paws a piece.
ANYONE CAN PLAY ... AND PROSPER
Despite that, Anderson said no one should be intimidated.
"It costs nothing to enter and we emphasize a good time over everything else," he said. "You have nothing to lose by giving it a try."
And what can you gain? About a hundred smackers plus some bragging rights about having a bunch of random info floating inside of your noggin.
Copyright 2019 The Sioux City Journal. All rights reserved. This material may not be published, broadcast, rewritten or redistributed.