BAND6k RECAP: C-Note makin' it rain, wins preliminary round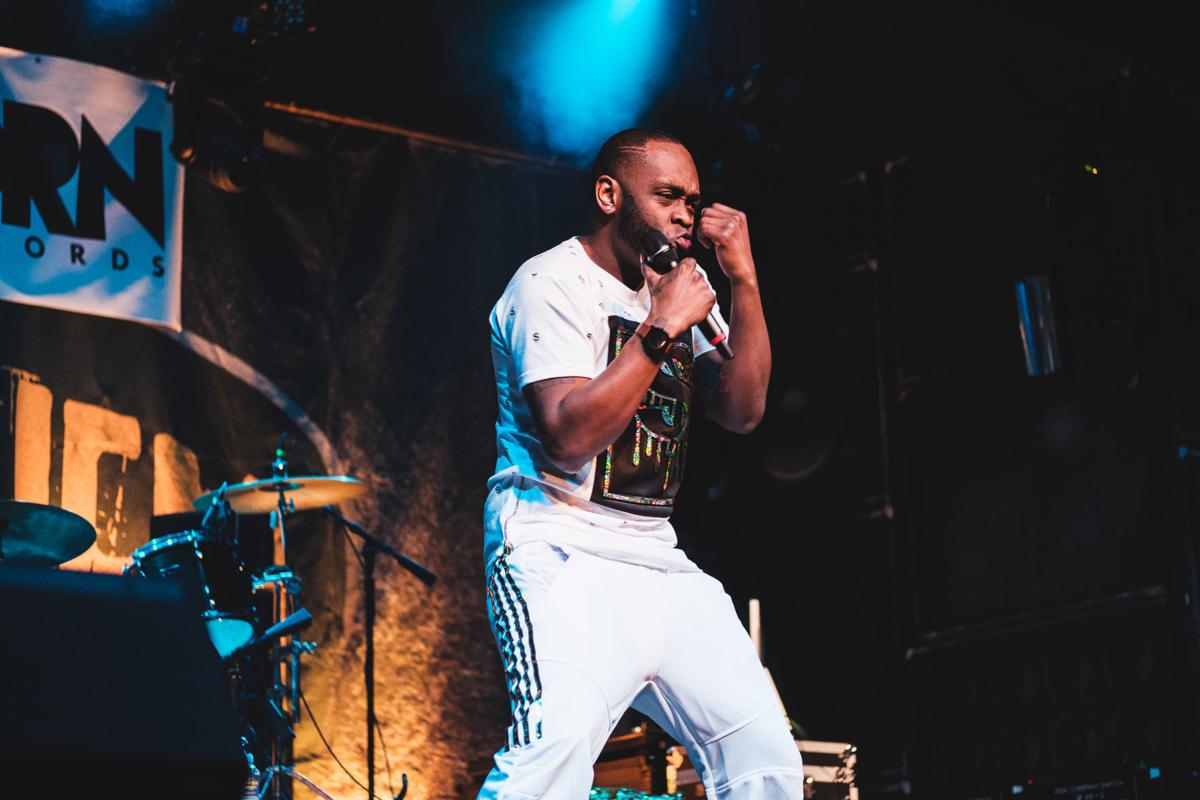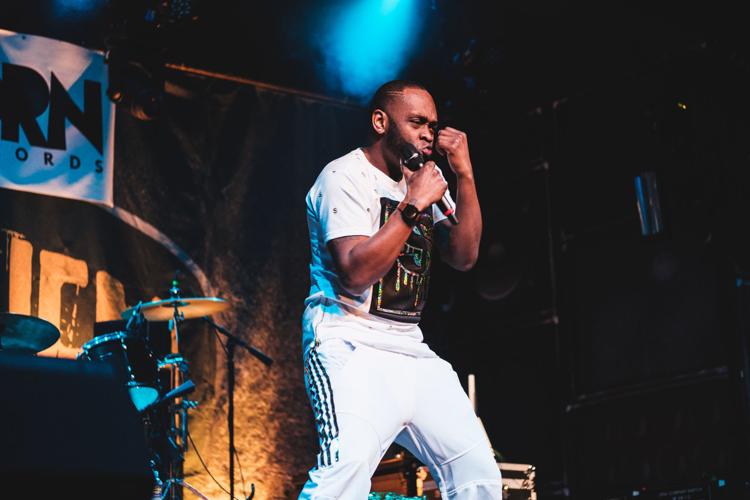 When D.A.D. emerged victorious in the Road to Vegas 2 championship battle last year, it was a monumental accomplishment for Sioux City hip-hop, the genre that had always seemed to get the short end of the stick years prior to the competition.
Those affiliated with the genre are used to the struggle by now. They lived it – some still are. Since I began covering local music in 2014, Siouxland rappers have had it rough. I remember having sad conversations with area emcees who have watched the scene ebb and flow through the years. They told me how some venues or promoters wouldn't give them the time of day, fearing the atmosphere a hip-hop show might create. There was endless negativity, but some artists still managed to find an audience and kept the genre relevant. They'd celebrate and cherish small victories when they could.
Then D.A.D. came around. Hip-hop artists Eboli and Protige (Jason Reinert and Mark Koenigs) teamed up for a project that showcased the duo's rap skills alongside tongue-in-cheek lyrics about what life is like as a dad. Conceptually, this sounds like the makings of a midlife crisis. But the music resonated with an audience that had become disenfranchised by most of today's mainstream hip-hop and maybe even served as a stepping stone for folks who had never given the genre a chance.
Viral music videos and energetic Road to Vegas 2 performances with its DJ The Sound Insurgent propelled D.A.D.'s popularity even further. Although D.A.D. wasn't the first hip-hop act to perform in the competition (that honor goes to Rev), it was the first group to move past the preliminary round – and eventually win the entire competition.
D.A.D set the bar high. So now the challenge befalls upon the BAND6k hip-hop artists to rise above it if they want to win; and as far as I could tell, all three competitors last week failed to do so.
Kicking off the contest was TJ F1GH, accompanied by Rev who served as his DJ, backup singer and hype man. TJ, who is blind, originally competed in Road to Vegas 2. During that performance, he displayed a high level of charisma for his craft despite a handful of awkward, amateur moments. For TJ's BAND6k set, I was happy to see a great deal of improvement from last year.
Nerves caused most of TJ's problems last year -- he forgot verses, a skit was rushed and some props were completely unnecessary. Although this year's set started off a bit stiff, TJ gradually became comfortable with his surroundings. By the end of the second song, TJ was in control. During transitions, he let his personality shine through and interacted well with the reasonably sized crowd that had gathered around the stage.
The synergy between Rev and TJ was spot on. I can't remember a single instance when the two clashed or talked over each other. The cooperation between TJ and guest rapper Warren Peace, however, wasn't as clean. Vocals were often jarring and unbalanced, making for a brief yet messy collaboration.
In contrast, TJ's flow and delivery were almost always on-point at the start of each song, but that consistent energy and enthusiasm would often fizzle away near the middle. As a result, songs with heavy instrumental outros and no vocals just sort of lingered in the air a bit too long. At times TJ would switch from full-on rapping to singing, a shift he didn't seem all that comfortable with at first. The time when TJ was at his most comfortable was during the performance of his last song, "Runaway Highway." He sold that song from start to finish.
Up next was C-Note, an artist who blends rap with stellar R&B-style vocals. The show was off to a somewhat slow start when a person who wasn't C-Note took to the stage to introduce the rapper. Gatzbi, a singer from Cleveland who shares the same label as the competing rapper, awkwardly hyped the crowd before C-Note emerged from his green room. She would do this again before C-Note's finale but otherwise had no other interaction with the set, which was confusing.
In spite of the second intro, C-Note jumped into performance mode and consistently outputted a high level of energy for every song he played. Accompanied by largely electronic-inspired beats, C-Note's repertoire suited an audience that pays regular visits to nightclubs. And apparently the BAND6k spectators aren't used to that type of environment because I could literally count the number of people C-Note was performing to on one hand early into his set. Undeterred, C-Note kept giving it his all and eventually won the crowd back during the latter part of his show.
Ranging from fast-paced bangers to seductive tunes that made good use of C-Note's singing talents, the artist offered one of the more unique sets of the night. Above all, C-Note had stage presence. Extremely active onstage, he made sure he wasn't just rapping each song – he was performing each song. The only artist without a DJ that night, C-Note relied solely on the strength of his backup tracks. Raps were clear and comprehensible, but the instances in which C-Note had to sing over his own recorded backup vocals were disappointing and more than a little distracting.
But that wasn't what I remembered most about C-Note's set. What I remember most is that finale. After a brief wardrobe change, C-Note returned to the stage with a full-fledged band backing him up. Drums, guitar, standup bass, keys/synthesizer and saxophone -- the whole shebang. In my notes, I described it as a "sexy finisher." C-Note's R&B voice paired so well with that groove band led primarily by its excellent saxophone player. C-Note wanted to finish out strong, and he ultimately impressed the judges enough to send him to the next round of battles. Mission accomplished.
Ending the night was the hip-hop duo Bout That Life accompanied by DJ Skribe. Made up of rappers Fetty Fred and LiteSkinLatin Poetic (LSL Poetic), Bout That Life shares the same label, 4Worn Records, as the group's previous opponent, C-Note. Luckily there was no double intro this time though. Right off the bat, DJ Skribe hit the audience with impressive scratches on the ones and twos while the duo rappers bounded around the stage spitting on the mics.
Fetty Fred and LSL Poetic weren't short on charisma during their set, but the excitement (or perhaps nerves) got the best of them. There were numerous occasions when the rappers were completely out of sync and rapping over one another. At times, someone was on beat while the other was rushing a bit too far. They'd often look lost and turn to DJ Skribe to point them in the right direction. And, again, artists were performing over backup tracks. Fetty Fred's A Capella part was a good touch, but it could use some refinement.
This set lacked any sort of control, direction or planning, evidenced by the painfully repetitive crowd banter. "Can I get a hell yeah?!" This was something I criticized Mat deRiso (of Mat d. and the Profane Saints) of doing last year. Don't become a pullstring toy with overused catchphrases like "When I say 'Bout That,' you say 'Life!'" Asking the audience to work for you is tough. You really have to be choosy with stuff like that. These only work during the right time and at the right place. But I have to give props to both rappers in Bout That Life for rolling with the punches. Even when the audience's energy was depleting and their attention wavered, Fetty Fred and LSL Poetic kept themselves energized.
The addition of DJ Skribe was a high point of the show. The man knows his way around turntables and added a fiery energy and improvisational quality to the set. However, I don't agree with Bout That Life's decision to end the show on a DJ solo, especially if the rappers of the group are going to just stand there and bob their heads and drink water to wait it out. I can't say I'm 'bout that life, but I could be in time. This group is still green, so there's clearly room to grow and improve.
I think that's a sentiment every act can take away from this night.
Last week's BAND6k competition was a true test of talent, and as far as I'm concerned everyone passed.