BAND6k RECAP: Talented sets all around, Artificial Stars gets the gold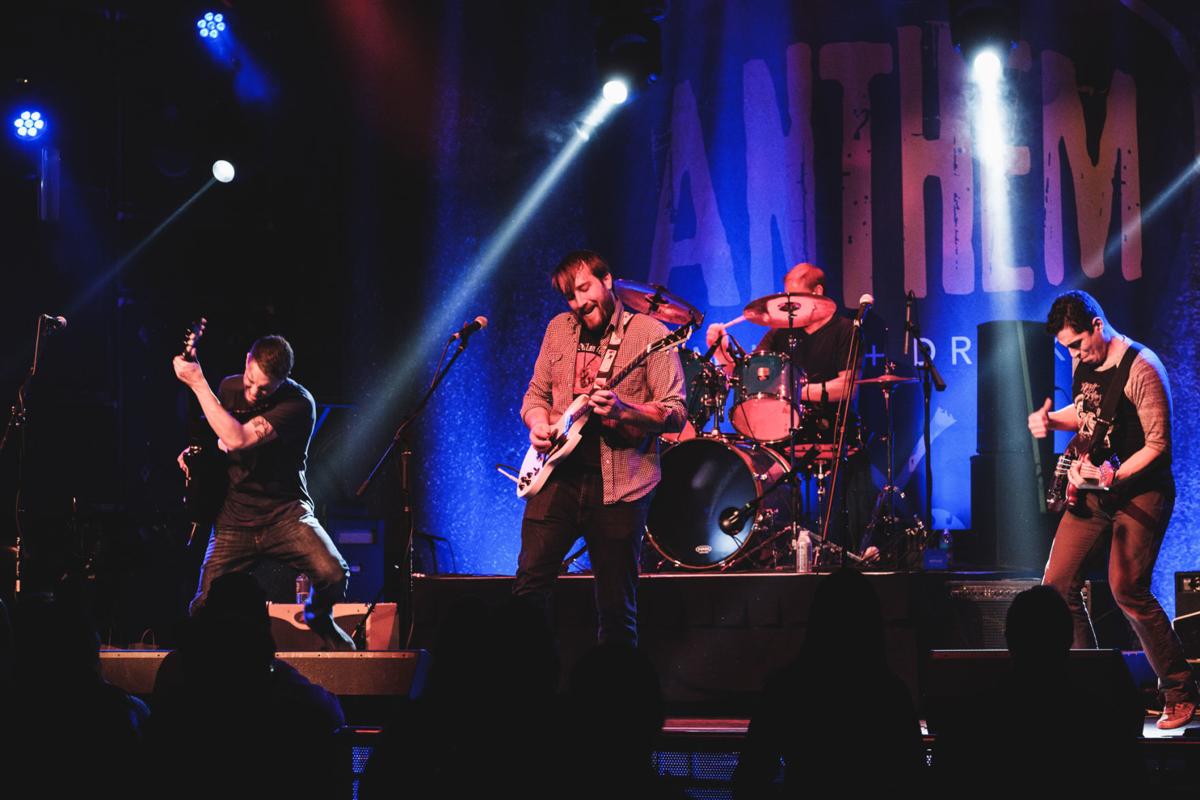 Last week's BAND6k competition was a true test of talent, and as far as I'm concerned everyone passed.
Artificial Stars, Spencer Aspleaf and Lil Red & The Medicated Moose Band are a testament to the amount of musical expertise Sioux City has at its disposal. Not a single act delivered a weak performance that night, even when the odds were stacked against them.
On paper, I assumed Artificial Stars would move on from the preliminaries as the clear winner so long as nothing "bad" happened. Lil Red & The Medicated Moose Band is a great group and was one of my favorite acts from last year's Road to Vegas 2, but I couldn't picture the husband-and-wife duo overthrowing a largely electronic and energetic band like Artificial Stars. Aspleaf had prior experience performing in Hard Rock Hotel & Casino Sioux City's annual battle of the bands as a guitarist for Port Nocturnal, but solo artists – no matter how good they are – tend to struggle in the preliminaries.
To make things worse, Artificial Stars was chosen to perform first. Meaning the two bands that I had initially doubted were going to follow the group I expected to win outright. In the end, Artificial Stars did win over its opponents, but it didn't come easy. Judges deliberated for quite some time trying to find a winner, which is always a good sign and speaks to the strengths of all three bands – especially Aspleaf and Lil Red & The Medicated Moose Band.
The four-piece rock band experienced a brief delay before kicking off the set with a flurry of catchy, energetic songs. Coaxed by singer and guitarist Neil Strub watch the show from the front of the stage, Artificial Stars attracted a sizable and expressive crowd of fans. Those who took Strub's advice were treated to a vastly dynamic stage show with no added fluff or bells and whistles to distract from the band's play.
Artificial Stars does not sit still for a more than a brief moment. Part of what made the band's set so engaging was the sheer authentic enjoyment expressed by every band member. Singer-guitarist Jeff Koithan and bassist/back-up vocalist Jesús Iñiguez would frequently play alongside each other and their fellow bandmates during a lick or riff midway through a song. These interactions were natural and exciting to watch and helped drive the mood of Artificial Star's repertoire of largely uplifting, indie rock power ballads.
But Artificial Stars wasn't without its faults. Many of the band's three-part harmonies between Strub, Koithan and Iñiguez sounded jumbled and out-of-sync. Sometimes all three singers would belt their parts into a simultaneous mess of noise that could just have easily worked out better if they had staggered their parts and have only one singer cemented in the forefront. What did work well vocally was the shifting of lead vocals between Koithan and Strub -- the former had a bright, slightly pop punk characteristic to his voice while the latter was more hardened and rough around the edges.
Drummer Luke Sweeney was the backbone to Artificial Stars, keeping everyone in time and in check. His snappy, confident drum work rarely ever bolstered a bombastic drum solo, but it certainly didn't go unnoticed. Like his bandmates, Sweeney was still able to have some fun with his play, putting on his own show in the background. Individually, every member was on point. There was no half-assing this set. The passion was there, plain as day. And the energy was wildly contagious.
Artificial Stars would be a tough band to follow. At least, that's what I initially thought.
However, my apprehensions about whether the remaining acts could deliver performances as strong as the opening band were quickly thwarted as soon as Spencer Aspleaf began to play. Well, almost. A brief sound issue persisted through Aspleaf's opening cover tune, "Georgia on My Mind." Strangely enough, the song didn't sound too bad even though Aspleaf's guitar had some sort of output issue. The audience heard the clipping of strings and Aspleaf's delicate, smoky voice. Luckily, that latter element was all we really needed to hear.
In previous battles, I had praised Aspleaf on his guitar prowess in Port Nocturnal, but I had never heard him sing before. An audience member I spoke with described his voice as "vulnerable," which I found very fitting. Whether he was singing a cover song or an original, there was always emotion behind it. And best of all, the audience genuinely listened to him sing. With Aspleaf onstage as a one-man acoustic show, he single-handedly changed the vibe of Anthem into more of a dive bar or coffeehouse setting.
Credit to Aspleaf for being completely unfazed performing as a solo act following a well-rehearsed rock band – usually it's the other way around, but he took it in stride. He wasn't a deer in the headlights.  He wasn't intimidated. In fact, he was probably the most relaxed musician I had seen onstage throughout the three years of this competition.
Somewhere in the show, Aspleaf revealed that he sustained a hand injury some time ago and was told that he might not be able to play guitar again. Could have fooled me, man. His play was stellar, and he'd sway along to his songs with his eyes clenched shut, listening and feeling the vibrations as he played. The only time his performance faltered is when he elevated his voice to a full-on shout during a Kurt Cobain-style cover of "In The Pines," a version that is supposed to be a little jarring especially near the end. But despite his best efforts, Aspleaf had trouble getting to that comfortable shouting volume.
Everybody likes to root for the underdog, and by the time Aspleaf had finished his set, I realized he wasn't. In the back of my mind, I knew it was a long shot if he made it through to the next round, especially when half of his set consisted of cover songs. But Aspleaf gave us a strong performance and commanded the audience's attention with only his voice and a guitar. I was beginning to think this was a David and Goliath story in the making.
Then came Lil' Red & The Medicated Moose Band, a husband-and-wife duo that performed at Road to Vegas 2 in one of the most entertaining preliminary rounds I'd ever witnessed in the competition. Aided only by their drummer last year, Matt VanMeter, the duo came off as an extremely personable group with emotionally rich songs. For its BAND6k performance, I was expecting more of the same. What I did not expect was a fully-fledged band backing Tiffany and Bryan Jurries.
Noah Towns was on keyboard while Drew Paulsen played a stand-up bass. These two additions helped lift Lil' Red & The Medicated Moose Band to another level sonically, giving the group a much more well-rounded sound and allowed the band's songs to resonate even stronger. At times, that full sound got the better of the band and would clash with and overwhelm its two singers, but was otherwise a smart addition. While the actual stage performance is noticeably less active than some other bands like Artificial Stars or Goobye Old Friend, Lil' Red & The Medicated Moose Band make up for it with their titular duo's likable stage personalities and their damn good songwriting.
Bryan was in charge of most of the audience chit-chat partly due to his wife's bronchitis, which, I thought, wasn't even noticeable. But that doesn't mean Tiffany's personality didn't shine through in the band's performance. Her bright and bubbly voice perfectly complemented her husband's twang-y, honkytonk vocals. When Bryan sang, he'd often lean towards his wife with a big ol' grin on his face as if he was trying to charm his way out of an argument. Tiffany would answer by rolling her eyes and ultimately break a smile.
The couple's obvious love for one another plays to their advantage musically. The love songs they sing suddenly have meaning and give off the affection that helped inspire them. Sure, there's emotion driving these original tunes, but what's really impressive is the emotion coming out. I don't know how someone could feel unhappy listening to Lil' Red & The Medicated Moose Band.
When the battle finished, I realized it was a lot closer than I initially predicted. No one played as if they had already been defeated. Last week's BAND6k battle felt less like a competition and more like a showcase of experience and talent. I'm glad I wasn't a judge that night. Although Artificial Stars was named the winner, I distinctly remember a clashing of names when host Brad Streeter asked the audience who they think won the battle.
That's something every band that competed should be proud of.