BAND6k RECAP: Third time's the charm, returner Rev snags first win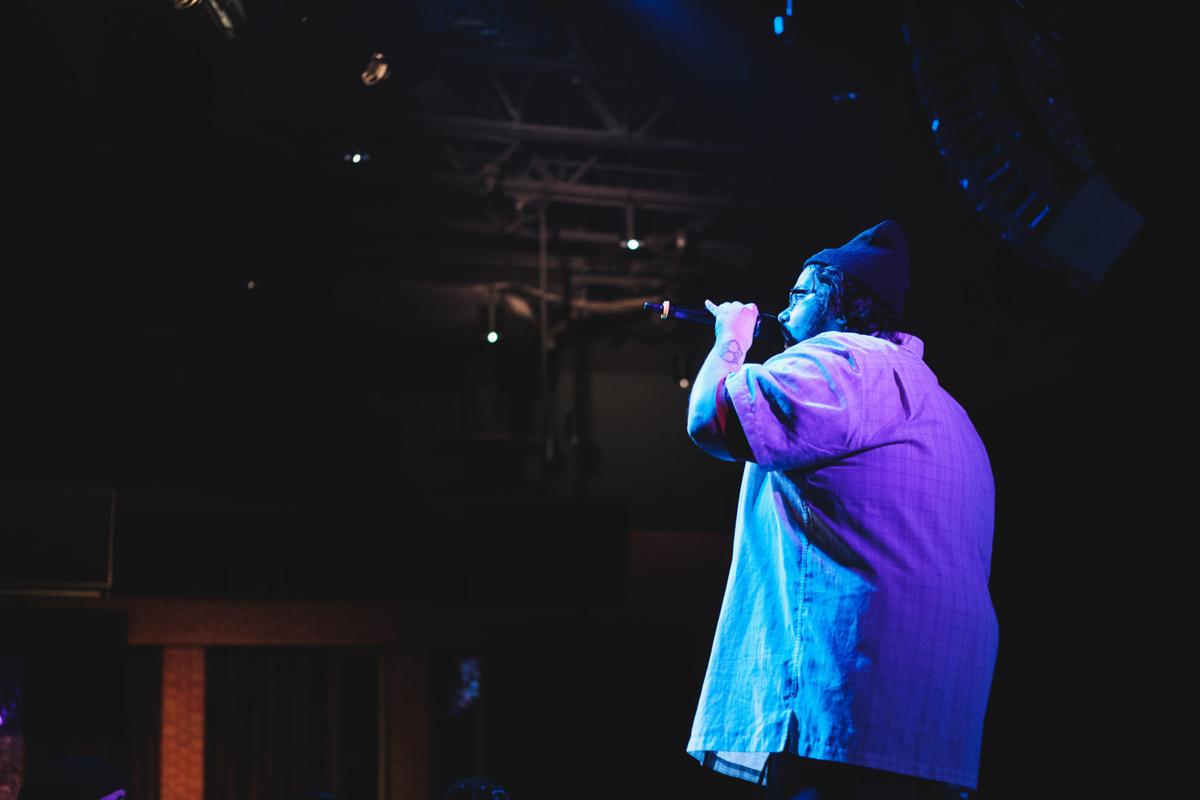 Every instance in which a musician is not prepared -- no matter how small -- is easily recognized during a live show, even more so for hip-hop artists. Without the added distraction of a band and extra equipment onstage, rappers are primarily left on their own to impress the crowd. Sure, a DJ is an added benefit and can help alleviate the burden, but the responsibility to entertain is ultimately left up to that one person on the microphone spitting bars and controlling the flow of the show.
What was interesting about last week's battle is that we saw completely different levels of preparation from all three acts – the good and the bad. Let's start out with the good.
Kicking off the night was Rev, a Sioux City rapper who, for the past three years, has competed as a solo artist in BAND6k/Road to Vegas. Despite his best efforts, Rev has never managed to make it past the preliminary rounds, losing to GhostCat in 2016 and D.A.D. in 2017. Coming into this year's BAND6k, Rev armed himself to teeth, using the experience he gained competing in the battles the past two years to create an impressively dense live show -- although it wasn't without its faults.
I don't know if this is just a "first band" problem or if some folks just have a fetish for delaying the action, but these false starts are driving me nuts. As soon as host Brad Streeter announces the first act, it seems like there's this long, awkward pause that completely kills the pace of the show right off the bat. Rev somewhat rescued this unwanted moment of silence with a brief intro before popping off the show with a sadly timed confetti cannon explosion into his first song.
Luckily, that slow start and odd timing was short-lived. Accompanied by duo DJs to amplify the rapper's catchy beats, Rev attacked each song with force and a great deal of emotion. At times he was aggressive and combative -- a style which fits his distinct voice perfectly -- while others were deeply intimate and sometimes outright painful. Although I typically relate strong lyricism with Rev (and still do), his beats had never sounded better that night. I believe that's partly because of his duo DJs amplifying the power of the instrumentals so much that they could be felt throughout Anthem.
Rev also took advantage of those two hovering flat screen TVs on either end of the stage, more so than any other band or musician in this competition so far. Colorful and striking visuals helped intensify the impact of Rev's set list, although the true selling point was the artist himself. While he does have a great deal of "sad" songs in his repertoire (something he still gets flak for), they don't feel out of place or forced. He sells them with genuine passion and well-thought-out production techniques, like the live implementation of musician Shawn Fertig singing the hooks to "Drowning" and "Namesake."
Much like his rapping style, Rev's set was direct and to-the-point. While he does match his songs with true emotion, his overall stage performance isn't exactly energetic. However, Rev still manages to command presence behind the mic, even when the crowd wasn't as big as it probably should have been. He certainly lives up to his rap name, relying solely on his spoken words to provide something that's beyond surface level.
Up next was JayyR. Where do I even start?
Pumped up with youthful energy, JayyR sprinted up and down the stage, calling attention to himself almost immediately. After claiming to have made a new genre of music called "trap pop," JayyR celebrated his accomplishment with a song in which I can only recall him saying the words "trap pop" over and over and over again. All the while, he was running from one end of the stage to the other like a kid hyped up on too much sugar. Near the middle of his set, JayyR was out of breath and could barely explain his next song.
I don't recall any sort of rapping taking place. I remember the "woos" and "yeahs," but I don't remember any rapping. In any case, he had no control over the microphone anyway. Volumes were often blaring and distorted, making most of JayyR's set incomprehensible. I also remember JayyR cutting off his DJ (a teen behind a computer)at one point and telling him to pause the song, which he did. OK? Did he just get tired of playing? Did he forget the next verse or something? Thankfully, JayyR's set was over much too soon.
This is the prime example as to why it is mandatory to go into these battles -- or any live show for that matter -- with a game plan. Show up prepared or don't show up at all. Save us and yourself the embarrassment of performing a half-assed set. This wasn't a show. This was a mistake. This was a guy trying to convince us that he's a rapper.
Last to perform was Geri Dobbs, a solo rapper who is also a member of the South Sioux City hip-hop group The 402. Like his 4Worn Records labelmates in Bout That Life, Dobbs was accompanied by the talented DJ Skribe on the ones and twos. In the mainstream hip-hop world, what's "good" is mainly acquitted to how good the beats are. As a result, lyrics aren't necessarily at the top of the priority list anymore. While I'm all for a "if it sounds good, it is good" approach, it was so refreshing to watch Dobbs embrace old school rap practices and focus his efforts on lyrics and technique.
Dobbs displayed a surprising amount of control over the mic and was exuding confidence. An obvious leader, he walked the stage like a rapper trying to be the example for his peers without throwing shade or having an unlikable cockiness. Occasional rapid fire bars showcased his technical talents as an MC, and he certainly earned crowd points when performing a song that pretty much trashed the trend of mumble rap. He mentioned his home of South Sioux City, clearly proud of his upbringing and hometown. All the while Dobbs was proving himself a force to be reckoned with. The passion for hip-hop was there.
But so were the backing tracks. This was a main talking point with judges -- and for good reason. Dobbs has talent. It's there. Clear as day. But rapping over his lyrics undercuts his skills and his value as an artist. And I think he knew that before judging even commenced. Big props to Dobbs, because he stood up straight and proper and took the criticism from the judges like a pro. As a first timer to Hard Rock's battle of the bands, Dobbs can walk away from this preliminary round knowing that if he continues to hone his skills, polish and liven up his stage show and ditches the backing vocals, his progress as an artist will only improve.
Preparation is everything, and last week proved that. If Dobbs had prepared a more dynamic stage show or had workable backing tracks with no vocals, maybe the outcome would have been different. If JayyR had prepared at all, maybe he would have had a stronger set. But judges decided that Rev would move on in the competition. On top of being the most prepared, Rev displayed a clear progression and mindfulness toward his live show.
"By failing to prepare, you are preparing to fail."
That's a quote by Benjamin Franklin. I realize this dude has nothing to do with the BAND6k battle of the bands, but I think that bit of wisdom rings true. Preparation is an important factor in winning this battle. I've seen it time and time again.