Susan Young peered through the glass cylinder of a kaleidoscope, twisting and adjusting the base for the perfect color pattern.
The piece was propped in a 45-degree angle for easier viewing, and it shared space on Young's booth at the Siouxland Artists Holiday Show last weekend with other kaleidoscopes of varying colors and shapes. Many of them were fashioned in the common cylindrical shape, but a select few looked more like eggs, held in place by an ornate receptacle. Young handmade them all and filled the insides with colorful beads.
Still looking through the glass eyepiece, Young settled on an image she felt was worth looking at. She motioned me toward the kaleidoscope and instructed me to look inside. I was greeted with what looked to be a vibrant snowflake.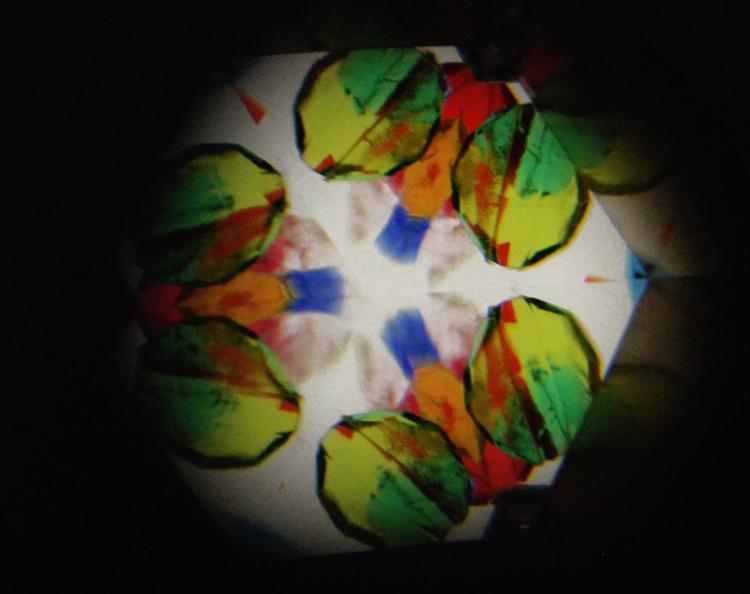 She encouraged me to fiddle with the contraption some more. I turned the perpendicular base tube encasing the colorful trinkets, and in an instant the image was gone forever. But in its place was another colorful pattern.
Each kaleidoscope Young brought with her to the art show had its own unique images to share. She skimmed through photos of previous kaleidoscope art pieces of all sizes and styles. After more than 25 years, she hasn't lost her fascination with these intricate items.
The Weekender spoke to Young about her work with kaleidoscopes: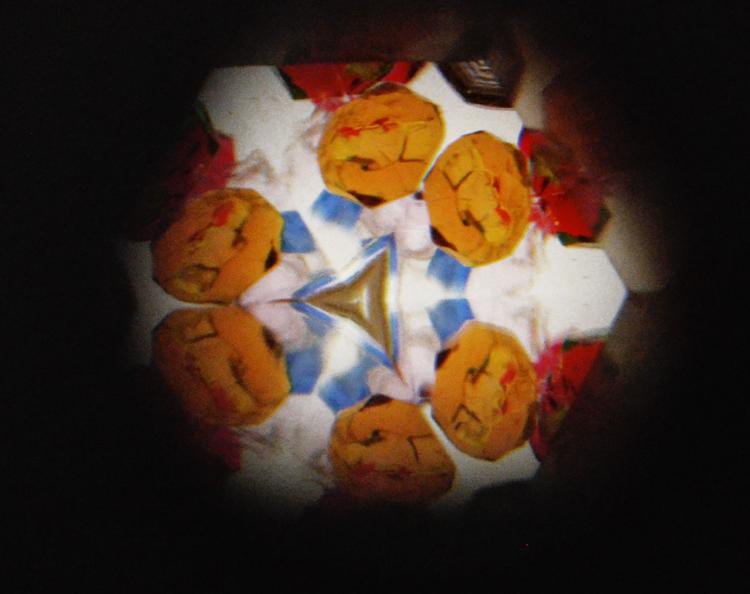 Primarily, what does your work consist of?
I do fused glasswork, jewelry, hanging pieces and garden art. I incorporate copper and fused glass into garden art. And I do kaleidoscopes.
What spurred your interest in kaleidoscopes?
My boys were in 4H and they had a kaleidoscope class. They always did different things for 4H, and somebody came in and taught them how to make kaleidoscopes in a Pringles can. They showed how to set up the mirror system and it would actually do a reflection of the image. I went to the library and started checking out anything I could find about kaleidoscopes. This was a while back so there wasn't much online at the time.
What made you want to keep making them?
There's quite an interest in kaleidoscopes. And I've found there are a lot of collectors. Kaleidoscopes can be artsy. They've done studies on them and found that they're relaxing, so they promote them as a form of relaxation because our world is full of stress. You can sit down with a kaleidoscope and just relax.
You also have kaleidoscopes of different shapes and ornate bases. So in addition to looking good on the inside, it looks like you also have to make them look pleasing on the outside, right?
When I do shows I have to have different things all the time. A lot of the times you'll have repeat customers so you have to change your product and look at what you have. You can't have the same piece of jewelry all the time. Same thing with the kaleidoscopes. You can't have the same kaleidoscopes all the time unless you're getting new customers all the time.
What have you discovered while making these different kaleidoscopes?
I found that different kaleidoscopes draw different interests. I've made one out of an old crank editor. It had a wheel on it so I was able to put a Ferris Wheel-type with little hand-painted photos on it. That went to a collector. I made a couple kaleidoscopes out of old drills. Kaleidoscopes out of trumpet bells, too. I also do mosaics. I made a mosaic table that turns. So the table itself is the object chamber and you hold the kaleidoscope and look at the table as you turn it. I've made three of those.
What is special to you about a kaleidoscope?
Kaleidoscope is an art form in itself, in that the images you see are an art form in themselves. It's always a changing color. And it's also like music in motion.
What are in the vials that make the images so colorful?
Some have some beads in them. There are a lot of fused glass pieces in them. Sometimes even just a piece of wire will give a different look within. In a dry scope, if you put a little piece of pipe cleaner – that little fuzzy part will give off a really unique look.
If you could guess, how many –
How many kaleidoscopes have I made? (laughs) I don't know. Oh, I wish I would have had pictures of all the kaleidoscopes, because I used to sell kaleidoscopes through the [Sioux City] Art Center when they had the gift gallery. I sold a lot of kaleidoscopes through the gift gallery. I had one gal that always bought a kaleidoscope for her relatives. She would always have me personalize it with colors on the outside or colors on the inside. She always had me put a six-pointed star in it.
Are there particular kaleidoscopes you like more?
The ones I've kept at home for myself. I've had a kaleidoscope that is a trumpet bell that has the piston soldered into the end of the bell so that you can push it just like a trumpet and you can also turn it. Within the piston is a test tube filled with objects.
What do you like most about kaleidoscopes?
There's a constant change, so you never ever have the same look. That is probably one of the most unique things about the kaleidoscope, besides the brilliant colors.