Since forming in late 2016, Calling Grace has been synonymous with hard rock in the local music scene, and with a new EP coming out the band plans to further fortify its standing in Sioux City.
After the members met as competing bands at the first battle of the bands at the Hard Rock they decided to join forces and create a new band, which would become Calling Grace. Jake Rains (drums) and Bill Pelchat (bass) came from One Pimp Avengers, and Shawn Fertig (vocals) and Alex Newman (lead guitar) came from Trust. The band was then rounded out by the addition of Logan Lansink (rhythm guitar).
"We became friends and I said that if I could choose I'd like to do this hard rock thing with Shawn singing," said Rains. "He has the voice of a buttery smooth angel. And Alex is probably one of the most underrated guitar players around here."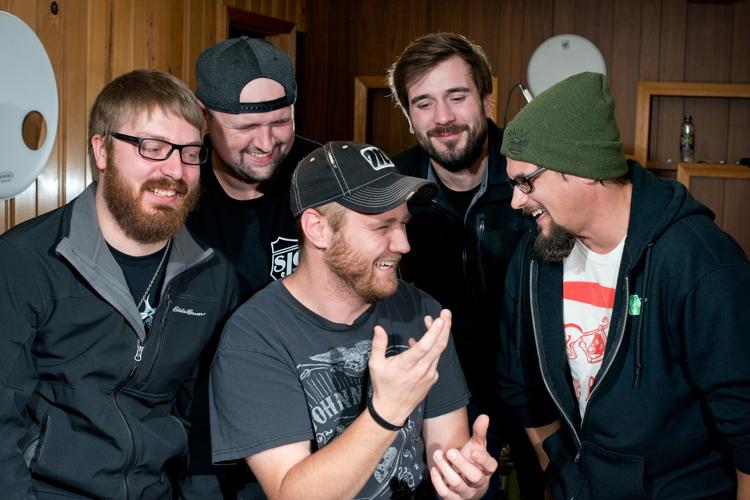 The band released its first six-song EP, 'Here's to the End,' in 2017 to a packed party at The Marquee and soon was recognized by the Z98 Underground Awards as the best local rock band the same year.
Why did the members decide to call the band Calling Grace? Does it have any religious context? The answer in short, no.
"We were throwing out names, one in ten being somewhat serious suggestions," said Fertig. "One of the names we threw out was Killing Grace, but we looked it up and there was already a band using it. We decided we wanted to keep the Grace part, so we went with Calling Grace.
"We are not a Christian band at all. We recently had a record label try to sign us on our name alone. The record label's about section talked about praising Jesus…I thought, man…they are going to read my lyrics and hate them."
How has the band grown in the last year while preparing for the release of its sophomore EP, 'We're Out There Somewhere'?
"Oh, about 15 to 20 pounds," said Pelchat.
"Musically, we keep trying to sound bigger and more grandiose," said Newman. "'Here's to the End' was really raw and I think that's one of the things people will be surprised about with 'We're Out There Somewhere.' It sounds bigger, feels bigger and compliments our live show a lot."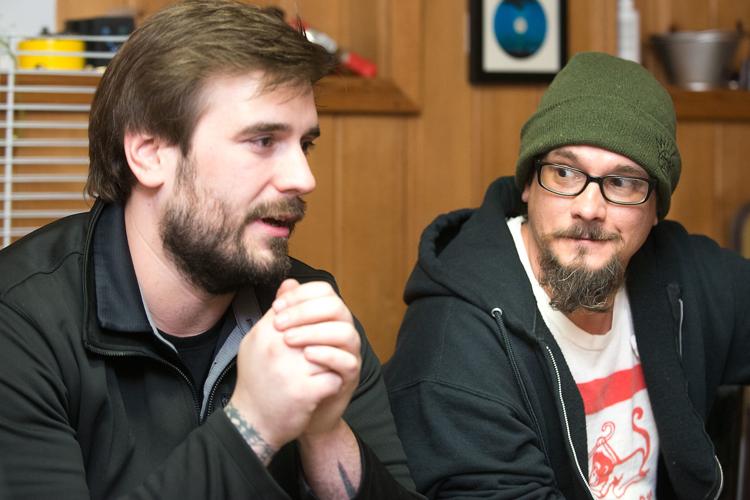 The band draws influence and can be considered the same genre as Chevelle, Breaking Benjamin and Sevendust. Fertig's main vocal influence is Corey Taylor of Slipknot and Stone Sour.
"We sound like Chevelle and Breaking Benjamin had a baby that was delivered by Maynard (James Keenan – TOOL)," said Rains.
"It's weird because people tell me I sound like Maynard," said Fertig. "TOOL is a great band, but I wouldn't say it's one of my influences."
Taking about a year to finish, the new EP was written with a different attitude than the band's freshman work.
"It's a lot angrier," said Newman. "'Here's to the End' you can tell is written out of hurt and anguish. This one you can definitely tell from Shawn's performance is more anger driven."
"Lyrically for the first album I was looking inwards and dealing with personal issues," said Fertig. "Every one of the new songs is lashing out. There isn't a song on this new album of me looking inside myself."
Along with the new attitude of the album comes different vocal options. In the new EP all songs but one include vocal harmonies from Newman and Lansink.
How does the band write its songs?
"A lot of times either Logan or I will come up with a riff and we will just build off that," said Newman. "For 'Something Better' Jake just sent us a drum track he recorded…we thought, 'what about the melody, you douche.'"
"For that one I knew what I wanted the speed to be, and I knew where I wanted transitions," said Rains. "Then the rest of the band started riffing out on it, and the song came together."
"A lot of times I come up with my lyrics while driving," said Fertig. "On the last record, one of the songs, 'Give into the Vice,' I wrote on a drive to Kansas City. It was five in the morning and I was tired and needed to keep myself awake."
What is the next step or stage in Calling Grace's career after the band releases the new EP?
"We want to start touring more, getting outside of our footprint," said Rains.
"Just about a month ago we finally got a trailer," said Fertig. "The plan was to make the trailer our big purchase of 2018. The day after our EP release party, we will be packing up the trailer and heading to Denver for a show with Scarlet Canary."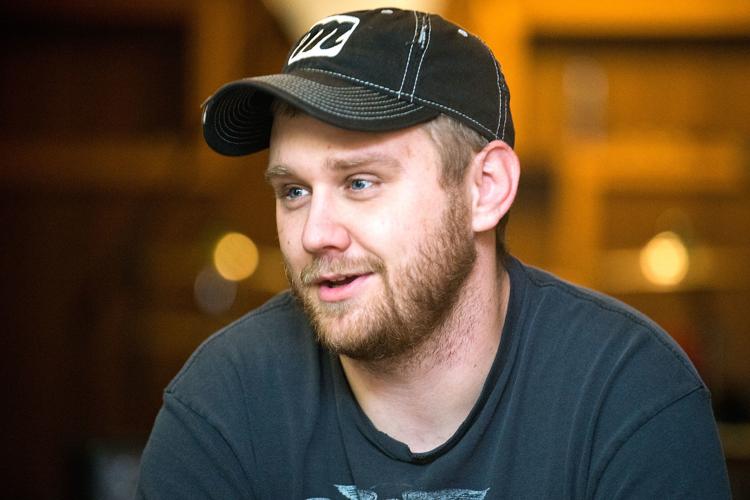 For the members of Calling Grace, their ultimate goals with the band vary.
"Mine is to have it pay my rent," said Rains. "If I can pay my bills and live decently by playing drums, I'm good. I don't need to get big."
"I'd like to have a beer with Dave Grohl," said Fertig.
"Tacos," said Pelchat. "And breathing treatments for Logan."
"Get me some inhalers," added Lansink.
The release of Calling Grace's new six-song EP 'We're Out There Somewhere' will be at The Marquee from 8 to 11 p.m. on Nov. 9. Support for the band will come from Scarlet Canary, Ben Grillet and the Black Bloods, Eli Dykstra and REV.