After 24 years sporting Lewis and Clark and subsequently Herky the Hawk and a beloved fish, Marty's Tap has gotten a fresh facelift.
"It's kind of one of those things where things just kept getting added on," said Kelly Quinn, owner of Marty's. "The mural just became a staple of what Marty's is. A lot of people recognized it as the building that had a lot of odd mural things that didn't really make sense being together, but collectively was known as Marty's."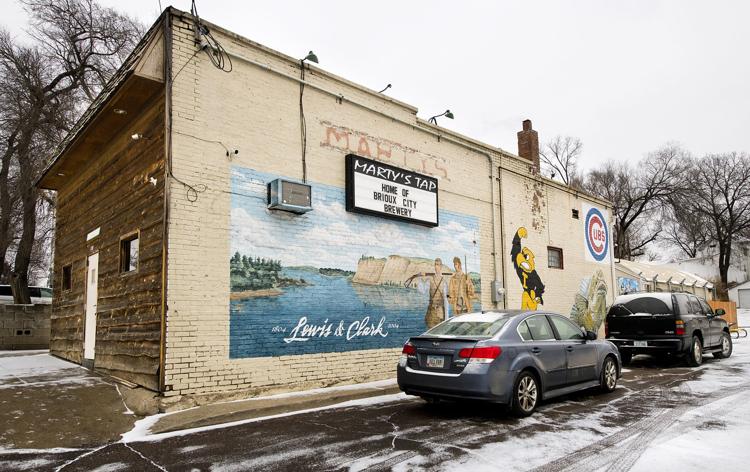 Some may ask why Marty's didn't just repaint the mural, but the owners thought the bar needed a new face-lift, especially with the addition of Brioux City Brewery.
"We thought about doing a touch-up, but then realized it would have been a lot more work," said Quinn. "We talked with a lot of our regulars who have been coming in for the past 30 years and wanted to see what they thought about a new mural before just going ahead and doing it. A lot of them said it was time for a change, it was time for us to put our own personality on it. With Brioux City happening, we are kind of rebranding ourselves. We will always be Marty's, but we wanted people to know what we have been doing with the brewery."
While thinking of replacing the mural, Marty's was contacted by a Chicago graffiti artist and restaurateur with ties to Siouxland.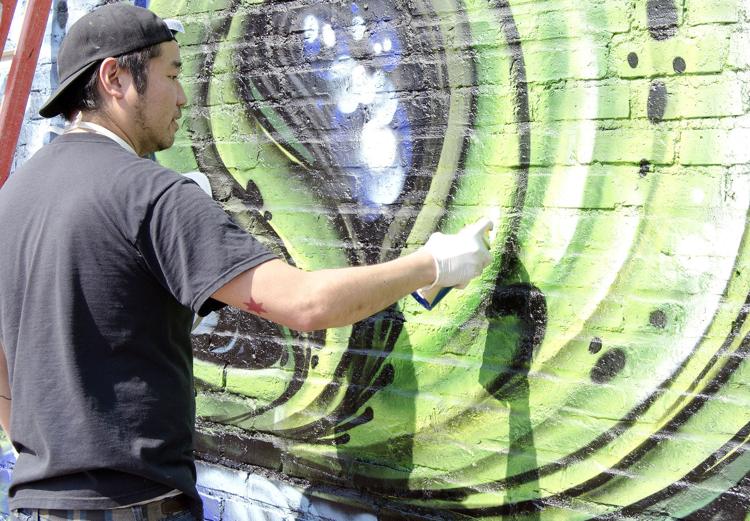 "Won Kim reached out to us," said Quinn. "I got a message about a month and a half ago from him. His girlfriend's parents live in Hinton. He knew he was going to be here in town and he wanted to create art somewhere. He was Googling cool things to do in Sioux City, and our Sunday Pho-unday (Vietnamese soup, Pho) popped up. As a chef, he thought it would be awesome to come to our event and paint a mural. That's what made him contact us. When I checked out his social media sites, I realized it just wasn't a guy that wanted to do art. He is a renowned street-art muralist in Chicago. We still want to incorporate local art, but with Kim wanting to do a piece for us, we thought we would be stupid to turn him down."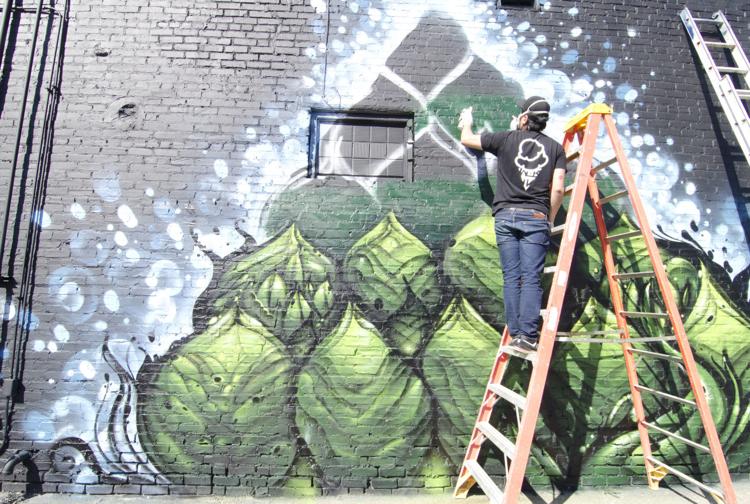 The South Korean-born Chicago restaurateur, who owns the Polish/Korean street-food fusion restaurant, Kimski, was excited to take on Marty's new project. He has done street art all around the country, as well as South Korea.
"I've done work in most cities around the Midwest except for Minneapolis, surprisingly," said Kim. "I've also painted in Texas, New York, Los Angeles, Phoenix - of all places, South Korea - it was like a birthright to go back there and paint - and many other places."
What does Kim get out of painting street-art works?
"It's complicated," said Kim. "It's a really selfish act to begin with, writing your made-up name everywhere and anywhere you can. What I got out of it was feeling a bit of importance, but at the same time I didn't want anyone to know who I was because it was illegal. It's a weird juxtaposition of being an artist, and at the same time staying anonymous. For me, personally, it was about growth. It was about doing something and getting better over time. I started with tagging my name, which grew into bubble letters, which grew into wild-style, which grew into murals and things. It expanded into helping friends out with wall projects and art. It kind of took a life of its own."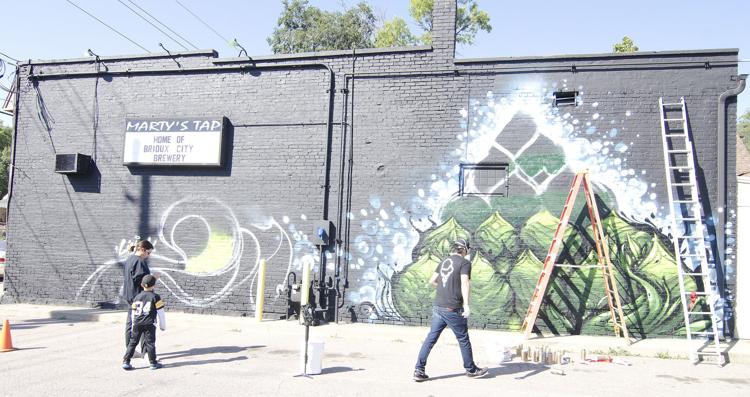 Kim believes it is important to have art around the streets of cities. It gives people something to look at other than the otherwise boring walls of buildings.
"I think the community can benefit from color," said Kim. "It brings dialogue, it brings something different to the table. It's not meant to satisfy everybody's palate, and not everyone is going to like or appreciate it, and that's fine, that is what art is supposed to be. I think anything that is good should come with some discussion unless you are the property owner and you are paying taxes on the property."
What would come out of this new mural that would take over the beloved old artwork? The thought was mutual between the owners and the street artist.
"I wanted something that said, 'Hey, we were brewing beer here,'" said the owner. "I wanted hops and hop vines. This is something I wanted before the artist even contacted me. I sent him a message asking what he had in mind, and he had been doing research on us. He said he wanted to do something to do with our brewery, and he suggested hops."
"As far as doing a mural like this, it was safe," said Kim. "It's a hop cone. It can't offend anyone. If it does, you have other issues you need to tend to. In this day and age, 2018, you have to have a tolerance for everything including spray paint. How can this bother you? It makes people happy. They like to look at things that aren't dilapidated and breaking down. Color is always good; how can it be a bad thing?"
It was a match made in hops heaven.
"We contacted our regulars, and they agreed it was time for a change, so they gave the project their blessings," said Quinn. "The only drawback was a couple people commenting on Facebook. They were saying they were really going to miss the fish…I don't know if they were kidding or not. Everyone knows we were doing this for the betterment of Marty's."