Looking for a mixed martial arts fighter you can get behind?
Try Chris "The Super Jew" Galinsky, a Sioux Cityan who's a father and full-time graphic design student. He'll be on the card at WinnaVegas's King of the Cage Epicenter II on Oct. 13. At 41 years old, this may be one of his last hurrahs.
The Weekender stopped in to have a Q&A session with him at DeVall's MMA and BJJ gym in downtown Sioux City. Here is a part of that conversation.
Weekender: Tell us a bit about yourself and what you do.
Galinsky: "I'm a professional mixed martial arts fighter. I'm a busy guy. I have six kids, all boys, the oldest is 17 and the youngest is 8. I'm a full-time college student studying graphic design at the bright, young age of 41. I'm married and raising a family."
Weekender: How did you initially get into MMA?
Galinsky: "For me it was more of a transition. Throughout high school I played football, hockey and baseball. After high school I played a little bit of hockey for (the University of South Dakota), and then I started playing old man's hockey. I wanted to stay competitive, then life happened. I couldn't keep playing hockey all the time…it's tough on you. I started getting super fat, which hasn't changed much. I then started training with some guys I worked with, and a couple months later they said there were some fights coming up and asked if I wanted to fight. I decided, why not? So, I tried my hand in MMA. I lost my first fight…it was kind of a challenge for me. I knew there was no way I was that bad at it, so I pursued it as more than a hobby.
Weekender: So you're saying hockey is harder on you than fighting?
Galinsky: "It's different. The thing about fighting is there are weight classes, so I'll be going against somebody my size. Generally speaking, people my size aren't super-fast. In hockey, I'm not going to catch someone that weighs 100 pounds less than me. They are going to be too fast, so it's tough on me that way. With this, everything is size-related, so someone that's around 300 pounds is going to be doing things like I do, so it's easier for me that way. I think the training I've done as a fighter, as far as jujitsu, goes has made my body so much stronger than playing hockey a couple nights a week."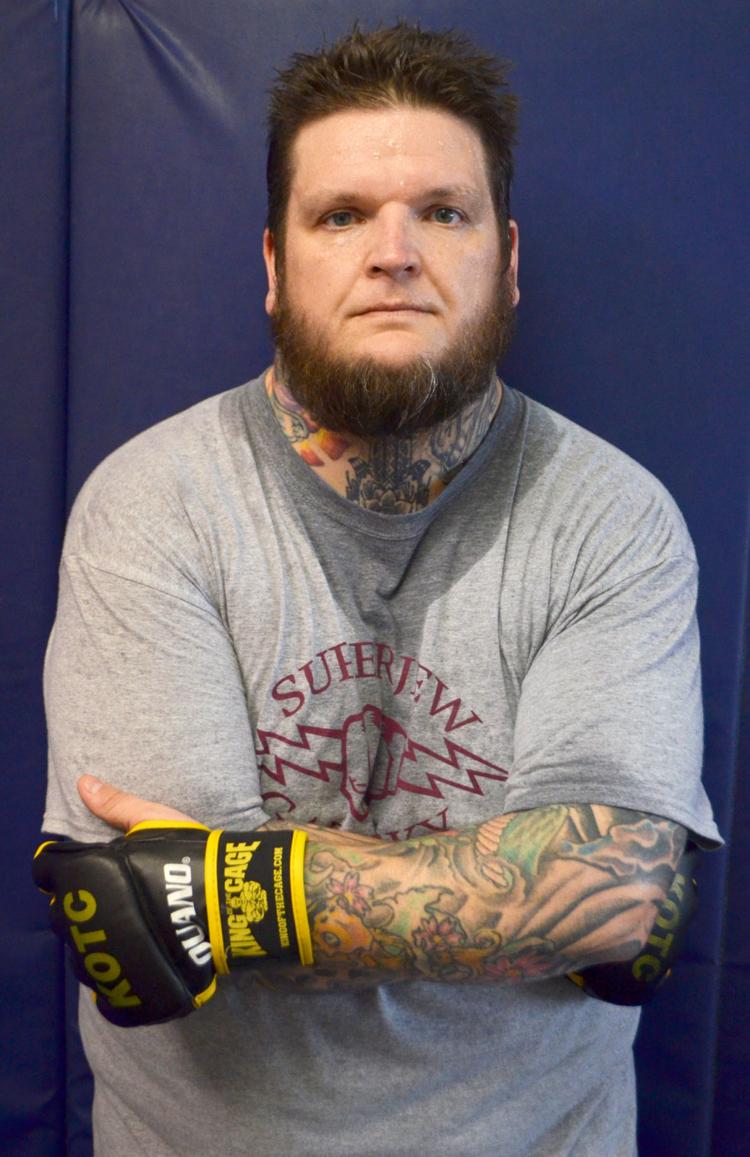 Weekender: How much training do you go through, and what is your regimen?
Galinsky: "I think it varies from fight to fight. A lot of the big-time fighters do eight to 12 weeks of camp, working out three to six hours a day. I try to get in when I can, maybe a couple times a week, and work on whatever skills I need for that specific fight. Now, with the internet, you can see what a guy does, what his tendencies are. Is he going to lead with a spinning back fist? I'll work on that. A couple years ago, I quit my job and basically moved into the gym. I spent six to eight hours a day training. That was great, but, unfortunately, bills won't accept IOUs very long before things start getting turned off. My training is secondary to everything else in life, and I think that is a good balance to have."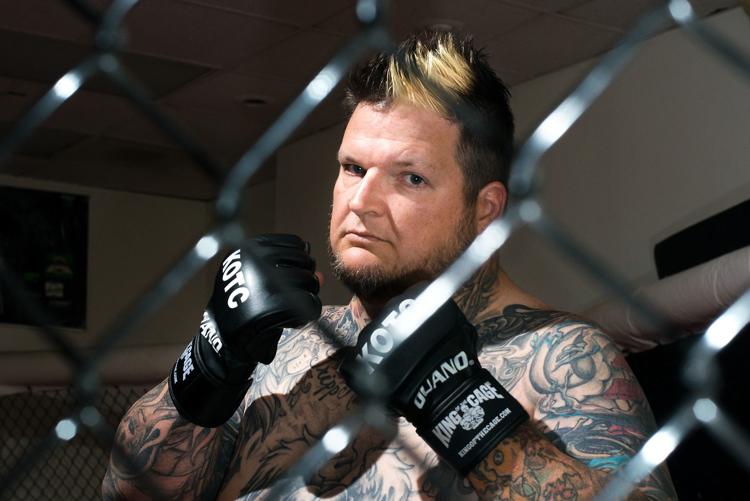 Weekender: What styles of fighting do you use?
Galinsky: "Most of the time people look at me and say they bet I knock everybody out. Honestly, most of my MMA wins have come from submissions. That is really more of a jujitsu background. I've been training with John (DeVall) for the past eight or nine years off and on. I get a certain satisfaction, maybe a sick one, from the gurgling sound someone makes before they tap out."
Weekender: How did you get your nickname?
Galinsky: "It's kind of funny. When I first started, I called myself 'The Hebrew Hammer.' I was trying to find a way to marked myself and create something people were going to remember. I couldn't figure out how I was going to fit 'Hebrew Hammer' on a license plate. I put my issue on Facebook and someone said something about 'Super Jew,' so I ran with it…and got that license plate. I created an identity behind it. For whatever reason, gentiles and Jews alike have gotten behind the 'Super Jew' name, and I think everybody thinks it's hilarious. I even get asked if I'm actually Jewish, which is the most ridiculous part of the whole thing."
Weekender: Have you gotten any backlash while using this name?
Galinsky: "No. Not one person has said anything. I have 'Super Jew' tattooed on my leg. It must have been before or after a training session, but I was at a local eatery and a little old lady in a wheelchair came up to me and asked if I was Jewish. My first instinct, looking the way I look, was this wasn't going to go well. I told her I was, in fact, Jewish. She said she figured I was by looking at my tattoo. She then went on to tell me she was a part of the synagogue and said they needed more people like me in the synagogue. I was really taken aback by that, because I expected it to go one way, and it went a completely different way. Local Jews really do like it. Business leaders from Dan Lederman to Josh Lebowich think it's great and think I represent our culture and society well."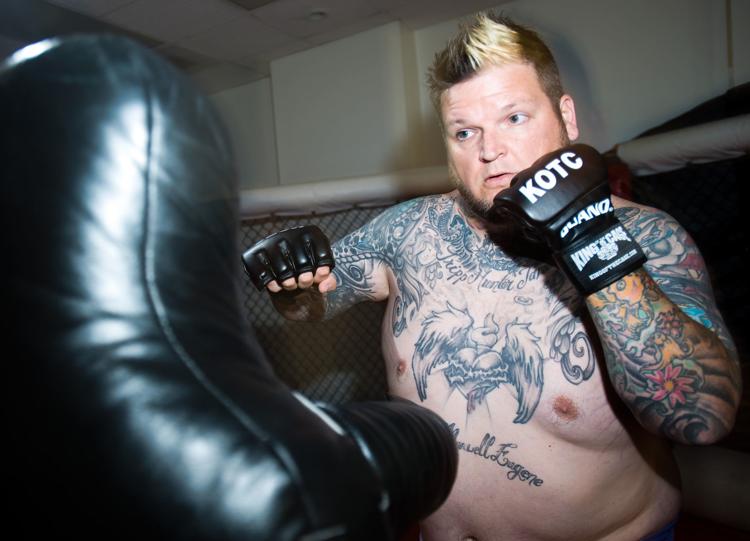 Weekender: Do you have any career-defining moments?
Galinsky: "I turned pro because I didn't want to do this for free. I went from the only amateur who was doing sponsorships, T-shirts and marketing, to moving pro. I lost my first pro-fight, and it was the worst feeling. That first professional loss that made me go 0-1 was a bad feeling, so that was a defining moment. On the positive side was my first professional win. The joy, the exhilaration, the feeling of finishing a fight and doing it the way I did – I choked a guy unconscious against the cage – in the lights, on TV,  it's one of those things. It's why old guys like me get into the ring; it's a drug, you get addicted to it."
Weekender: Describe one of your best wins.
Galinsky: "My first pro win was probably my favorite. That guy and I had gone against each other as amateurs. During this fight he had either kicked or kneed me in the groin. It was one of those things…if that has never happened to you, don't let it. You lose all of your energy...it sucks the life out of you. I had a moment right after that in the fight where I thought I wasn't quite ready to go, but they gave me five minutes and then I went for it. I tightened up my hands, walked out and started hitting him. He put his head down, and as I reached underneath his neck, he scissored my forearm into his throat. I pushed him into the wall and folded his neck up a little bit. After his chin was against his chest, it was the beginning of the end…he lasted a few more seconds before the fight was over."
Weekender: What are your strengths in the ring?
Galinsky: "I'm very calm. I've been the guy who gets amped up and feels like he needs to go out in the cage and kill somebody, but that's not what it's about for me now. I don't want to go out and hurt anybody. I want to win. I want to have my arm raised. It's like the most violent game of chess. The best (skill) is to focus on the task ahead and not lose myself to the anger. Some people have to be mad to fight. I don't have to be mad, I just want to win."
Weekender: How does knowing your opponent change your strategy?
Galinsky: "It's huge. The internet has really changed fighting. When I first started, you couldn't find videos on opponents. Now, if someone is fighting me, they can get UFC Fight Pass and see almost every single fight in my career and see my tendencies and what I do in certain situations. If you know someone's tendencies, you can game-plan for them. It's like knowing how the dice will land before you throw it."
Weekender: What are some of your long-term goals in the game?
Galinsky: "I'm 41 years old and probably don't have a lot of fights left. I'd like to put on some good fights for my friends and family. I'll probably finish out in the next year and retire, hang up the gloves. After that, I'd like to help other fighters find success financially, find success in marketing and in fighting."