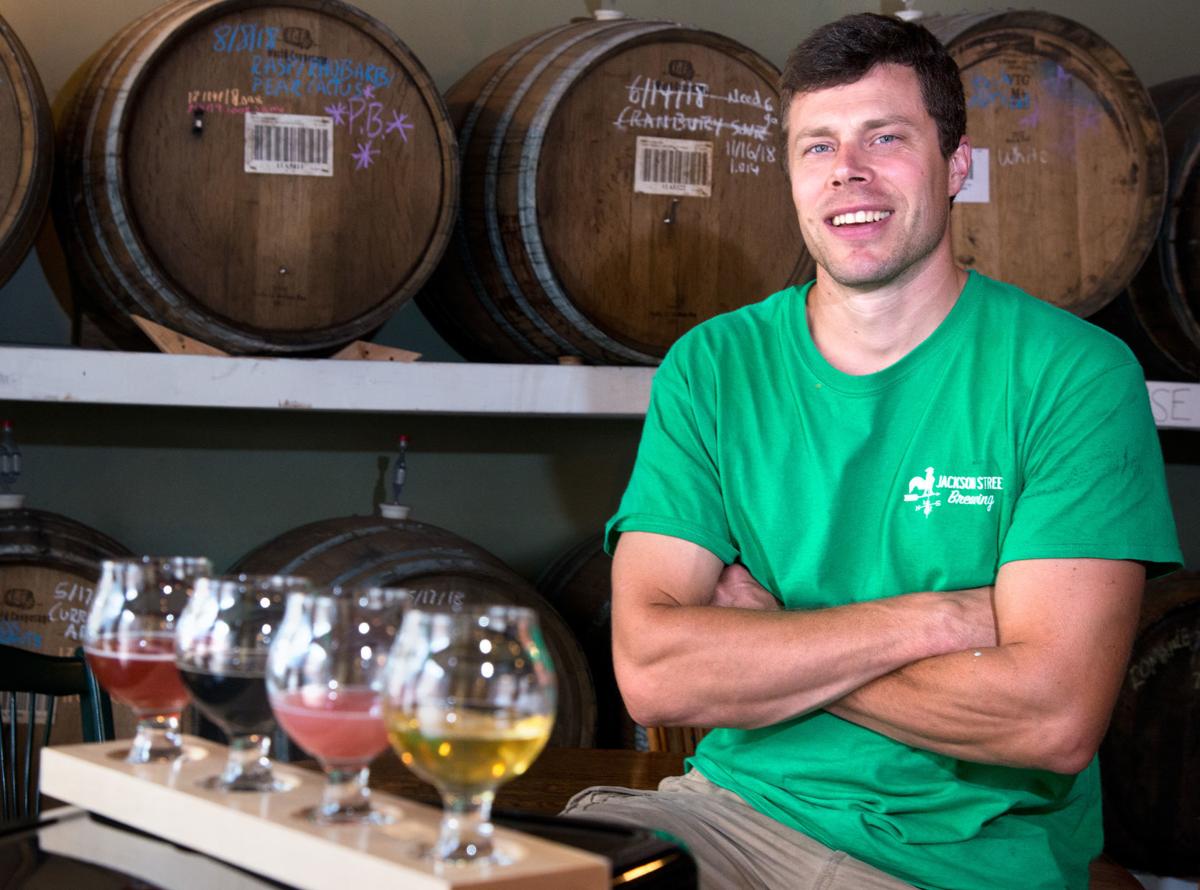 Don't worry about Dave Winslow's sweaty brow or his slightly dirty shorts. Jackson Street Brewing's resident brewmaster was simply having a busy afternoon, dealing with some bothersome beer bottles.
"People think making craft beer is a dream gig," he said, inside his 607 Fifth St. tasting room. "Don't get me wrong. It's great but you end up doing a lot of grunt work by yourself." 
Seems like Winslow could use a beer. Thankfully, he was in the right place for something sudsy.
"There's never a bad time for beer," the former middle school science teacher and KTIV meteorologist said, pouring a flight of beers. 
Indeed, Winslow's Jackson Street Brewing recently marked a milestone.
"We first opened our doors four years ago," he said. "We're now into our fifth year."
However, Winslow is never one to rest on his laurels. He's always conjuring up ideas for new brews.
"I enjoy having a beer selection that's constantly changing," he explained. "I don't like drinking the same beer over and over again. Neither do my customers."
CONSTANTLY CHANGING SELECTION OF OFFBEAT BEERS
Ordinarily a fan of a hoppy India Pale Ale (IPA) or a nice dark stout, Winslow is acquiring a taste for sour beers. 
That included his own SCS Blackberry Rhubarb, which is made with kettle sour as well as a blackberry puree and rhubarb that he grows himself. 
"It makes you pucker but it is very easy to drink," Winslow explained. "Perfect for summertime."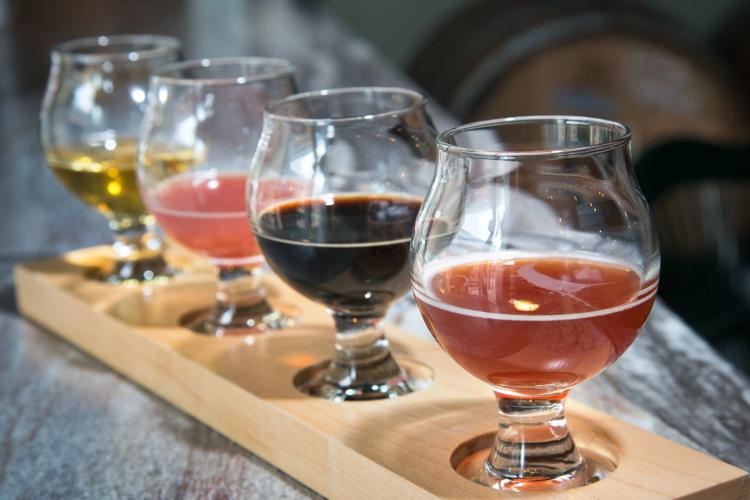 What else is good for hot weather drinking? Believe it or not, he recommended a beer that combines the flavors of Mexican chocolates and chilies.
An imperial stout with chocolates, chilies, cinnamon and vanilla, the Weather Vane Stout is both sweet and spicy.
"Brewers are always looking for flavors that fit together," Winslow said. "Sweet and spicy or light and citrus-y. You're looking for interesting combinations."
Well, how 'bout beer that tastes like a flower? Local beer fan Liliana Madrid was the inspiration for Frambuesa Y La Flor, which is a fruity Saison that is aged on pureed raspberries and purple hibiscus flowers sourced from a South Sioux City grocery store. 
"I'm not ordinarily a Saison fan but this beer is really tasty," Winslow said.
You have free articles remaining.
Surprisingly, one of his favorite beers is one that can be described as a better version of a mass market beer. 
Named after Park Avenue Tattoos, his downtown next door neighbor, Winslow's Park Avenue Pilsner is light, effervescent and unpretentious.
"I think the Park Avenue Pilsner is the type of beer that brewers will drink late at night when something too heavy won't hit the spot," he said.
Perhaps it isn't too surprising but there are a bunch of guys just like Winslow.
CRAFT BEER MAKES SENSE (AND CENTS)
Don't believe us? Check out these numbers, courtesy of the Brewers Association for Small & independent Craft Brewers.
In 2018, craft beer sales were a $26.7 billion industry. While overall beer sales were down one percent last year, craft beer sales were up four percent. 
If you thought there seemed to be a whole lot of craft breweries opening up, you're right. There were 7,346 breweries that were operating in 2018. This number included 4,521 microbreweries; 2,594 brewpubs and 231 regional craft breweries.
Over the past year or two, Brioux City Brewery and Marto Brewing Company have opened in Sioux City. Le Mars, Iowa's Wise I Brewing is slated to opened in the Plymouth County seat as early as next month.
Winslow doesn't mind the competition. He actually thrives on it.
"Everybody works harder and tries harder when there's competition," he said. "It keeps you on your toes."
That's especially true since Winslow needs to satisfy the tastes of the beer aficionado as well as the newly converted craft beer fan.
Plus Winslow is trying to capture the 20something market with beers that contain cocoa nibs, vanilla and a host of sweet and aromatic add-ons.
"We call those our pastry stouts and they're sort of like beer smoothies," he said. "Personally, I'm not a fan but customers seem to like them a lot."
Which just goes to show there is an infinite number of beers and an infinite number of beer fans.
That's what keeps Winslow going day after day, year after year.
"People ask me if it seems like it's been four years since I opened Jackson Street Brewery," he said. "To be honest, sometimes it seems even longer thatn four years."   
But that doesn't mean Winslow has lost his passion for experimentation or desire to play with flavors.
"I've had some good ideas plus I've made a few mistakes," he said with a smile. "But I'm always learning. There will always be something new when it comes to beer."