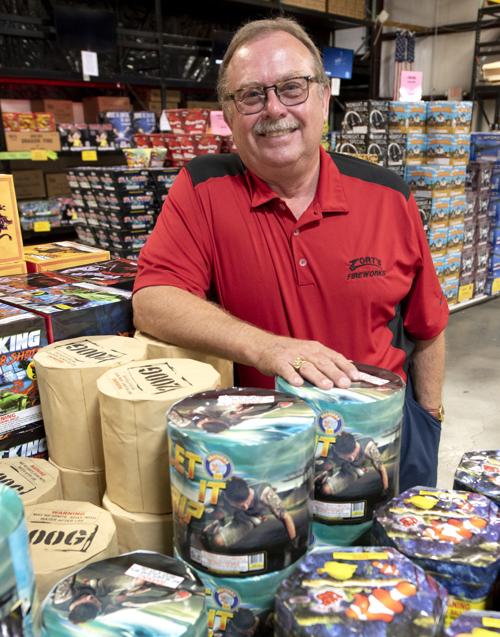 NORTH SIOUX CITY -- Pride and unity will light up the sky this weekend.
SUX Pride and Zort's Fireworks of Sioux City will host a fireworks show at the CNOS Fieldhouse June 27 at 300 Centennial Drive. The event will have Food Trucks at 7 p.m. and fireworks at 10 p.m.
"It should be a 30-minute fireworks demonstration and show," John Barber, owner of Zort's fireworks, said.
Barber said that he and SUX Pride's Joe McCulley joined forces because they were both thinking about doing something for the community.
Barber said that over the last 15 years he's been doing demonstrations but opened them up to the public last year. He said that the public liked them and they were very successful.
"It'll be a fun and exciting event for families," Barber said.
McCulley said he is grateful to Barber for being the driving force for this event, since Barber took care of everything from the fireworks and permits to the insurance. McCulley arranged for the food trucks.
McCulley said it's sad for people to see some of the big summer events get canceled or postponed, including the Pride's summer festival which usually takes place in June.
"We just wanted to do some good have some fun to raise the spirits of the community," McCulley said.
McCulley said that the fireworks event is free.
Among the food trucks expected: Daga's on Wheels, Big Papa's Grub on the Run and Dog Eat Dog.
McCulley said the trucks will be spread out, so people can distance themselves and take the food back to their cars or away from others. 
"I expect people to have a good time, to hopefully raise the spirits of the community," McCulley said.
McCulley said this is one of three things Pride is doing this summer. A festival will be held later this summer. Pride Wings have been painted outside Doxx Warehouse.
McCulley said the Pride Wings mural was painted at the end of May, and while it's not permanent, he is going to ask the artist Jessica Hammond to touch it up for the Pride Festival in August.
"It was just something we did to celebrate Pride as we know it but still keep our social distance," McCulley said.
McCulley said it's a place were people can take pictures and post them online. He said that he's seen everyone from kids to adults stop to take photos and celebrate diversity. 
"It's something we want to repeat next year and do a different design," McCulley said.
Be the first to know
Get local news delivered to your inbox!