Local organizations tasked with hosting Pride events in Siouxland are looking toward a more organized solution for the future: forming a nonprofit organization, Sioux City Pride.
Karen Mackey, Sioux City Human Rights Commission executive director and co-founder of the Siouxland Pride Alliance (SPA), is working to form the nonprofit along with several other volunteers from the community. They recently sent the paperwork to the Secretary of State's office to be processed and are waiting to establish a board.
This is a step in the right direction, Mackey said, as she sees the community as 20 or 30 years behind other communities for its lack of a singular organized nonprofit.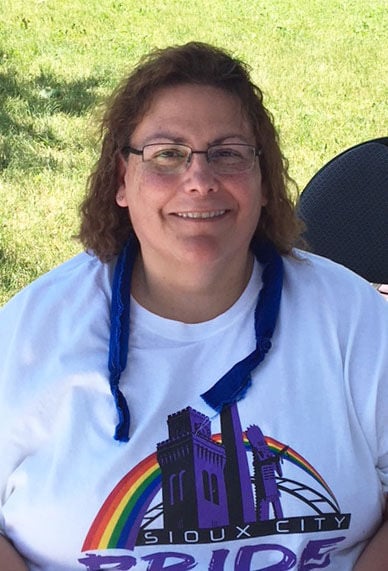 "The events in Sioux City have gotten to the point where it takes a long time to plan them, there's a lot that goes into it even if you just have one day of events and we had things going on for eight days," she said. "There needs to be a separate organization that just plans Pride in our community."
For 2018's Pride, there was no one nonprofit entity that organized -- and was financially, fiscally responsible for -- Pride in Sioux City. Two separate groups held pride events: SUX Pride partnered with Doxx and Firehouse to host Pride June 2, and SPA held several events throughout June.
In other communities, nonprofits filled with volunteer help usually spend the year finding donors, organizing events and setting up spaces.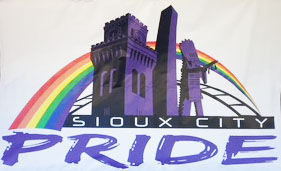 JJ Stone, a senior technical studies major at Western Iowa Technical Community College, has been to a few meetings for Spectrum, WIT's gender and sexuality alliance. He assists SPA with events like the picnic.
"I'm happy that Siouxland Pride Alliance is working on a nonprofit for Pride events in the future," he said. "It will be very beneficial."
Why Pride?
Mackey remembers stepping into the Stonewall Inn in New York City a few weeks before SPA events started for the month of June.
"That's where gay liberation started," said Mackey, Sioux City Human Rights Commission executive director and co-founder of Siouxland Pride Alliance (SPA). "People forget, though, how that began and who it was that really started that. Those were the outcasts even within our community."
The Stonewall Inn was a bar catering to the LGBTQ+ community at a time when not many other places would shelter those individuals.
Pride Month is celebrated in June each year to commemorate the 1969 Stonewall riots in Manhattan, when the community at Stonewall were fed-up with police raids, violence and outright discrimination and rioted against the police force.
Pride events are held annually worldwide in June to mark the riots, and to celebrate the LGBTQ+ community and garner acceptance.
SPA's Pride picnic was held June 9 and saw an attendance of 400. Mackey said it's important to have pride events welcoming to families.
"People were just so thankful that there was an LGBT event they could come to with their family that wasn't associated with a bar or alcohol, that was family-friendly, free and fun," she said.
Mackey noted it's important to have Pride events that aren't related to bars.
"When you go to Pride events in other communities, there's a lot a lot of things that aren't related to bars," she said. "I'm Native American, and alcoholism and drug abuse is a huge issue with people of color. It's also an issue with the LGBT community. The things that you have to deal with just to survive in our world right now can be very hard on people, and so you have a disproportionate number of people for example  in the LGBT community who have drug and alcohol problems.
"That's why it's a good thing to have events that aren't all focused on a bar," she continued. "When you look at larger communities and their pride events, some of the events are at bars, some of them aren't. You need to have a nice mix and we need to increase that mix."
Some events SPA hosted in town included a Pride Prom, where people could attend a prom unaffiliated with school held in a welcoming environment at the First Unitarian Church. Parents and children alike were in attendance, with a turnout of more than 125 people. Movie screenings, church and brunch were also highlights of SPA events.
"A lot of people now realize that they are related to someone who's LGBT, or if not related to someone, they know someone," she said. "Forty years ago, people did not realize that we really were their sons and daughters, their aunties and uncles, their coworkers."
Spreading the spectrum
Melanie Enloe, a junior counseling psychology major at Morningside College, is an incoming member of Gender Undone, Morningside's discussion-based awareness group on campus.
Enloe said students are generally understanding of their LGBTQ+ peers on campus, but there's always a few who remove themselves from that same sense of understanding, she said.
"Compared to other colleges, we're a pretty open campus," she said. "But, we don't have gender neutral bathrooms in any of the big buildings on campus."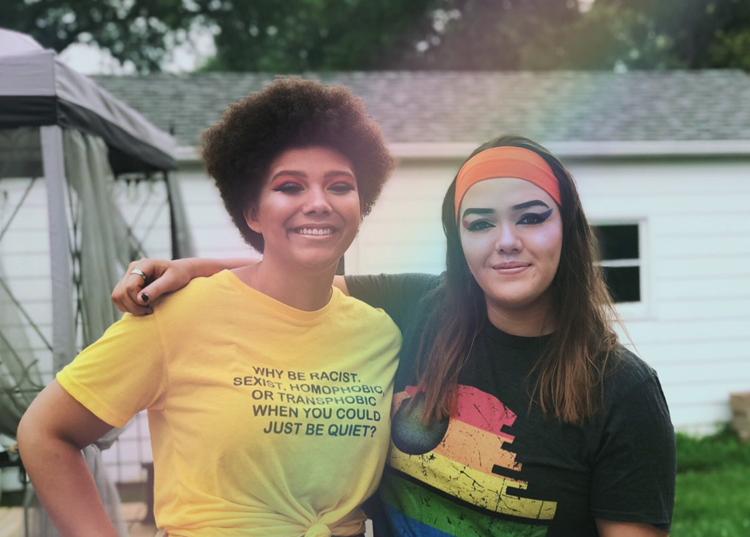 Kyra Hall, a senior psychology and political science double major and president of Gender Undone, said the group tries to raise awareness for feminist issues, minority groups and the LGBTQ+ community on campus by holding panels, bake sales and group discussions.
Last semester, they painted the prominent bench outside the Lewis Hall building on campus to raise awareness for Transgender Day of Visibility.
"A big issue is having gender-neutral (facilities) for students who may be genderfluid," she said. "It may be a great opportunity for them to feel welcome, because how they feel and how they identify does matter."
Enloe and Hall recently volunteered at Omaha Pride together with the group Heartland Pride Greater Omaha and Council Bluffs. Enloe said it was a very accepting space.
"People are so great at those festivals. There's no judgment at all," she said. "The queens are the best. Everybody's so nice. People (in the community) are not judgmental at all, they give you compliments."
The LGBTQ+ community, she said, "is making progress, for sure."