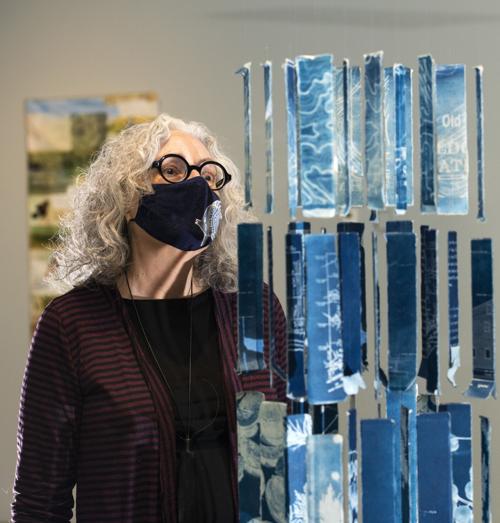 Famed essayist Henry David Thoreau found inspiration in a cabin he built along a tranquil Walden Pond while modernist painter Georgia O'Keefe chose to immortalize the harsh-but-beautiful landscape of New Mexico in her most famous pieces.
So, what sort of art can come from a visit to Sioux City's Stone State Park?
Carol Faber chose to emphasize the beauty of nature through graphic images first captured on a cellphone.
Faber, a former Sioux Cityan and a current Iowa State University School of Design graphic design associate professor, was one of the artists chosen for "20 Artists, 20 Parks," a traveling exhibit that is on display now through May 9, at the Sioux City Art Center, 225 Nebraska St.
The show, organized by the Iowa Arts Council, showcases artwork made by 20 Iowa artists in 20 different state parks.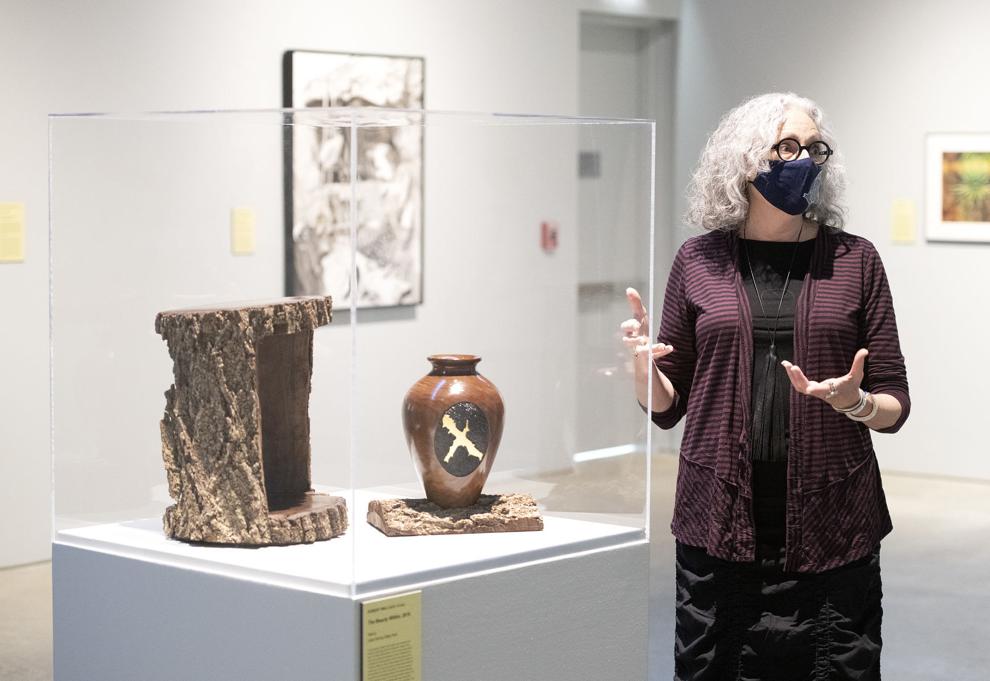 In case you didn't know, Iowa's first state park -- Delaware County's Backbone State Park -- was opened in 1920.
"This exhibit celebrates the centennial year of Iowa's parks," Sioux City Art Center Director Todd Behrens explained. "You know, what could be more perfect than 20 artists in 20 parks in the year 2020?"
Wait, what? It actually is 2021, isn't it? 
"COVID delayed the start of the show's statewide tour," Behrens allowed. "We're just happy to have '20 Artists, 20 Parks' after it appeared in Des Moines, Dubuque and Clarinda."
Hey, better late than never.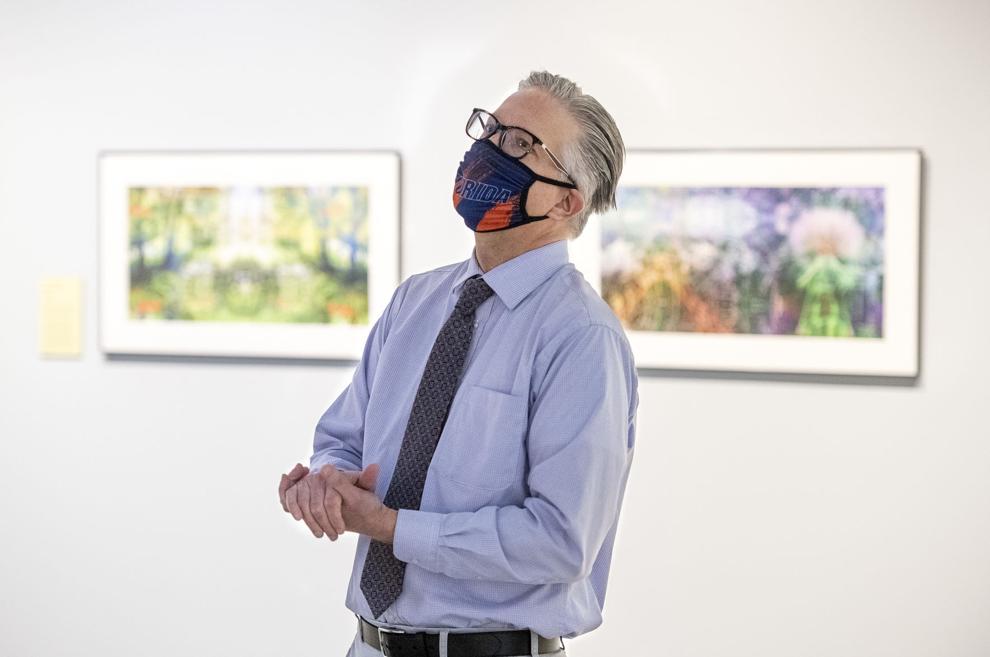 This is how Art Center curator Mary Anne Redding felt after seeing the work of the exhibit's artists, who were all either either students or faculty members from ISU's Colleges of Design, Agriculture and Life Sciences, and Liberal Arts and Sciences.
"The artists worked closely took notes, drew sketches and gathered ideas from the people who knew the state parks better than anyone else: Iowa DNR park rangers," she said. "The artists visited the parks themselves, learned all about the parks' ecosystem."
The result was an exhibit that features paintings, sculptures, textiles, photos, videos and other art forms designed to capture the sighs and sounds of the unique pockets of the Iowa landscape.
"What I like best about this show is that parks from every part of the state has some representation," Behrens said. "Whether the parks are in the east or the west, the north or the south, Iowa has many terrific parks."
That is a fact not lost on Redding.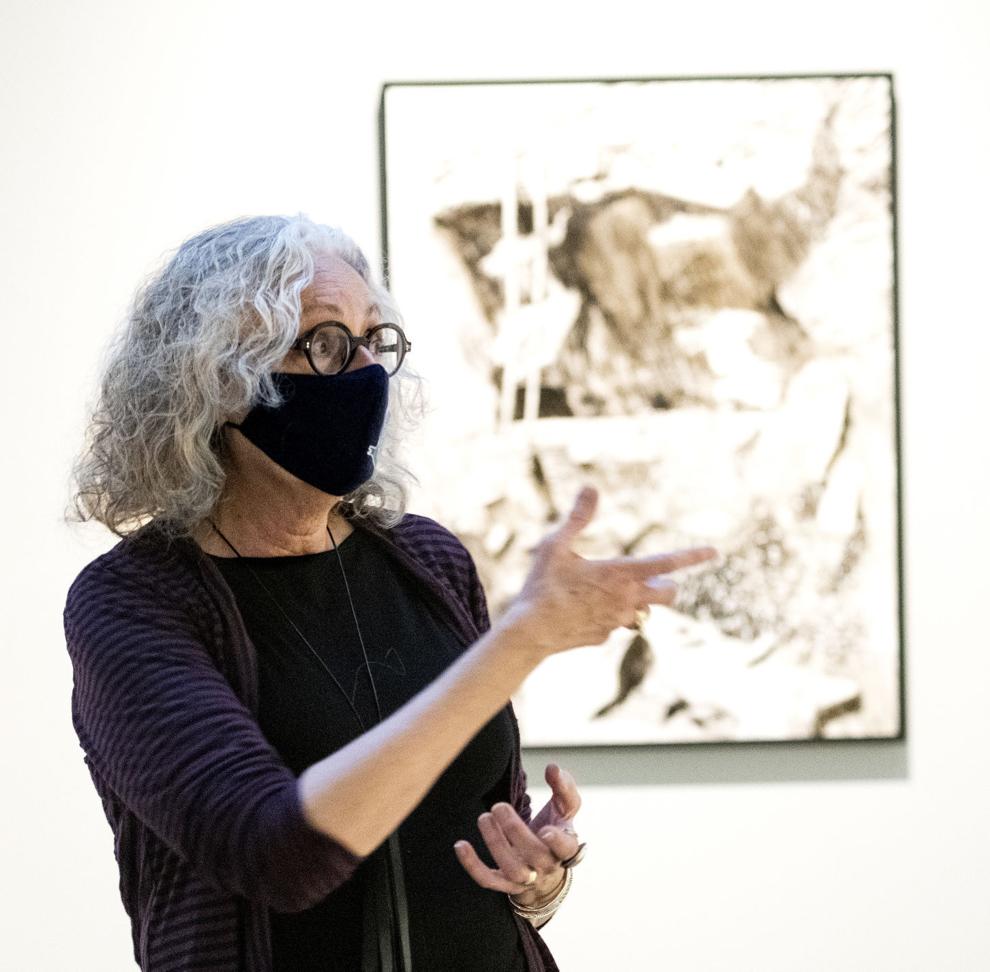 Growing up in Buffalo, New York, she was the longtime creative director of the Turchin Center for Visual Arts at Appalachian State University in Boone, North Carolina. 
Although she has only been the Sioux City Art Center's curator since July, Redding spent many summers in Siouxland, visiting her aunt, the late Mary Ann Lonergan, who taught art at Briar Cliff University for many years.
"There is something spiritual and life-affirming about being surrounded by nature," she said. "That's why so many artists seek nature for inspiration.
"A person doesn't need to be an artist to be inspired by what he sees in nature," Redding said. "A person can create a journal and write about what he sees."
Behrens said the Art Center is looking to create more collaborations with both Stone State Park as well as with the Dorothy Pecaut Nature Center.
"'Twenty Artists, 20 Parks' encourages Iowans who love the outdoors to  appreciate art, and art fans to get outdoors," he said, adding that beauty can also be found at county and city parks throughout Iowa as well as national parks throughout the United States.
It can have an impact on the way families planning for vacations.
"I certainly think the timing of the exhibit is ideal," Behrens said. "Why not visit a park this summer?"
Which is a nice idea to consider during a pandemic. You can certainly socially distant when you're in nature.
Even more than that, nature has a way of reinvigorating a person while allowing him to see the world in a whole new way.
According to Redding, it can be a very Zen experience.
"'Twenty Artists, 20 Parks' is allowing visitors to experience nature through the eyes and the imaginations of artists said. "Hopefully, that experience will allow visitors to experience the beauty of nature, first-hand."
It worked for Henry David Thoreau. It can work for us as well.