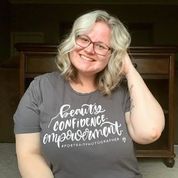 Photographer Sarah Gill said she wanted women to come together and embraced their bodies, so last year she started "Let Free Your Wild."
Gill said the two-hour women-only event will help women of all body types feel empowered. Let Free Your Wild will start at 6 p.m. on Saturday.
Gill said women need to RSVP on her Facebook page, www.facebook.com/letfreeyourwild, in order to attend. She said she will provide those who RSVP more information about the event and where it will be held.
Gill said women who come to the program will strip down to their underwear, meditate, and take photos that help them gain a different perspective of their bodies.
Gill said by having them strip down, they will remove the walls they built up around themselves and be able to embrace their bodies.
Gill said she wants women to not feel pressured about the way they should look.
"This event is for the woman who doesn't feel worthy enough in her body, who questions her worth based on how she looks and her size."
Gill said it's a community of like-minded women who are ready to accept their bodies and change their views. She said this event is for anyone who hasn't felt included.
Gill said she wants a place of encouragement and wanted women to celebrate both their and other bodies.
"There's power in numbers," Gill said.
Gill said it's amazing to see these women come together and relate to similar body types. To be seen and heard, she said everyone has a chance to talk about themselves and their body image journey.
"Sharing our stories allows other people to relate and know they're not alone," Gill said.
"We are more than just our looks," she added. "We are more than just our bodies."
Gill said women don't need to depend on their looks to be treated with respect and love.
"I believe it's important for women to see themselves from all angles," Gill said. 
Gill said she has done this body-positive event a couple of times, twice last year in July and August. She hopes to do it yearly and build upon it.
Gill said Saturday's event will be done in swimwear so that attendees can see how they don't have to look a certain way in summer.
To help attendees cool off, there will be sprinklers and little pools.
Gill hopes that she can do other body image workshops, that women can reflect about the things they were taught about their bodies and how it's effected them though writing in a journal and through art.  
Be the first to know
Get local news delivered to your inbox!