There are times when people seem too intimidated to approach her, Klaire Lockheart said a few days prior to her Sioux City Art Center exhibition.
The South Dakota-based artist chalked that up to the general public feeling a bit reticent when around portrait painters.
Another possible reason why folks are timid around Lockheart? Well, there is that life-sized self-portrait, depicting her as a stereotypical housewife, scrubbing dishes with rubber gloves while wearing an apron, conservative dress and ridiculous stiletto high heels.
"I think people are taken aback with the glower on my face," she said with a laugh. "It feels like I'm looking down on everybody, but I swear I'm actually a very nice person."
Plus Lockheart is making a subversive statement with all of the 12 oil paintings that constitute her "Feminine Attempts," an exhibition on display at the Art Center, 225 Nebraska St., now through Feb. 2.
Each painting depicts Lockheart or another model performing menial chores while dressed in outfits that would be incongruous in normal households.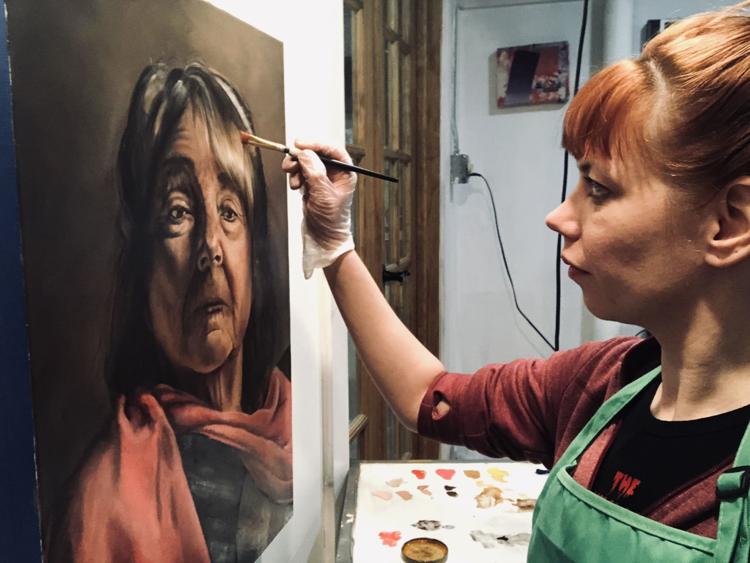 For instance, "Feminine Attempts" features models dusting tchotchkes in ball gowns and fishnet stockings, or sweeping the floor in a kitchen while wearing an outrageously frilly apron and fierce pair of fashion boots.
Suffice to say, none of Lockheart's ladies seem very happy to be donning such designer duds.
"Think of my models as being the reverse image of June Cleaver," explained Lockheart, alluding to the pearl-necklace-wearing mom from the 1950s TV sitcom "Leave it to Beaver." "This plays up the disconnect that existed between the media's interpretation of femininity and how women actually dressed at home.
"From a very early age, girls were inundated with rules on what it means to be feminine," she continued. "They were expected to follow these rules as they grew up to become women."
This was true even if such rules were wrong-headed or, at times, contradictory.
"Women were meant to be ladylike because of religious, familial or community standards," Lockheart said. "Yet pop culture required them to be desirable and sexy."
Which is why "Feminine Attempts" women tie outrageously retro aprons around their waist while wearing provocative footwear.
You have free articles remaining.
Growing up in a small Minnesota town, Lockheart discovered a thing or two about conflicting messages of chastity and sexiness.
Watching TV, she'd see commercials in which women in full makeup and beauty parlor hairdos pitched everything from cleaning products to modern appliances.
"In real life, women are wearing comfy pants while scrubbing toilets," Lockheart said.
Similarly, she seldom saw men depicted in any meaningful way.
"Women cleaned and cooked and took care of families," Lockheart said. "If you relied solely on what you saw in the media, men did not."
It was something Lockheart wrestled with while earning her bachelor's degree from South Dakota State University, and her master's degree from the University of South Dakota.
Now, as a USD fine arts enrollment counselor as well as a middle school teacher in Vermillion, South Dakota, Lockheart encourage students to use art as a way to make a statement and an avenue to stimulate conversation.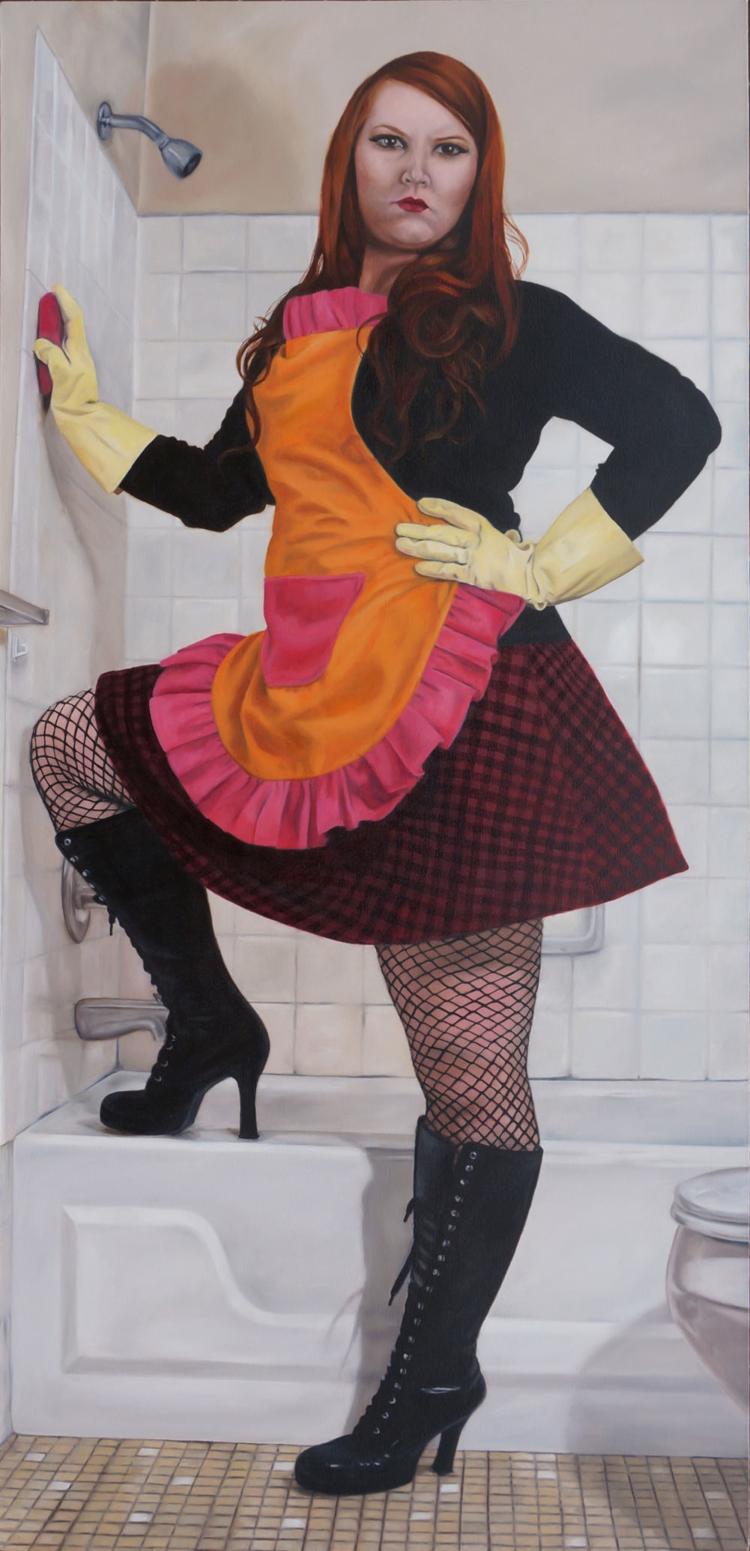 That's certainly true with "Feminine Attempts" as well as a series of "Domestic Sarcasm" dresses and aprons that use historic advertising to subvert blatant sexism.
"I call it my 'When Betty Crocker meets Bettie Page' collection," Lockheart explained with a chuckle. "I do a lot of research when it comes to my art. It's important to have a basis in history."
Lockheart also relies on the feedback she receives from the public. Indeed, one of her favorite "Feminine Attempts" came from one of her acquaintances.
"I wanted to use her as a model when she had her first baby but she said no," Lockheart said. "However, (the model) became more receptive after she realized she was the one who was always changing the baby's diapers."
The finished product shows a mother wearing a pink-and-purple apron over a blue party dress that is paired with jangly jewelry in a bathroom. In one hand, the model is carrying a baby. In the other, she is depositing a soiled diaper into a Diaper Genie.
"The husband saw the painting, noticed the expression on his wife's face and immediately figured out he needed to up his game at home," Lockheart said, before letting out a laugh. "He helped more with changing diapers before they had baby number two."
"Art can convey a message about gender roles," she said. "It can also guilt a guy into changing more diapers."