Eli Maju is a 21-year-old artist from Le Mars with a driving force of creative darkness.
Although Maju was born female, he identifies with the "he/they" pronouns.
He enjoys PC and old console gaming, anime and coming to Sioux City to hang out with friends. At home he tends to his family's dogs.
Weekender: When and how did you get into art?
Maju: "I've been creating art since I was in pre-school. I loved to draw. In grade school, when school was out, I would come home and craft all the time. One time I got home and my parents didn't know it…I was cooped up in a room downstairs just doing art. My parents had people looking for me outside because they didn't know I was in the house crafting. I finally went upstairs and everyone was freaked out."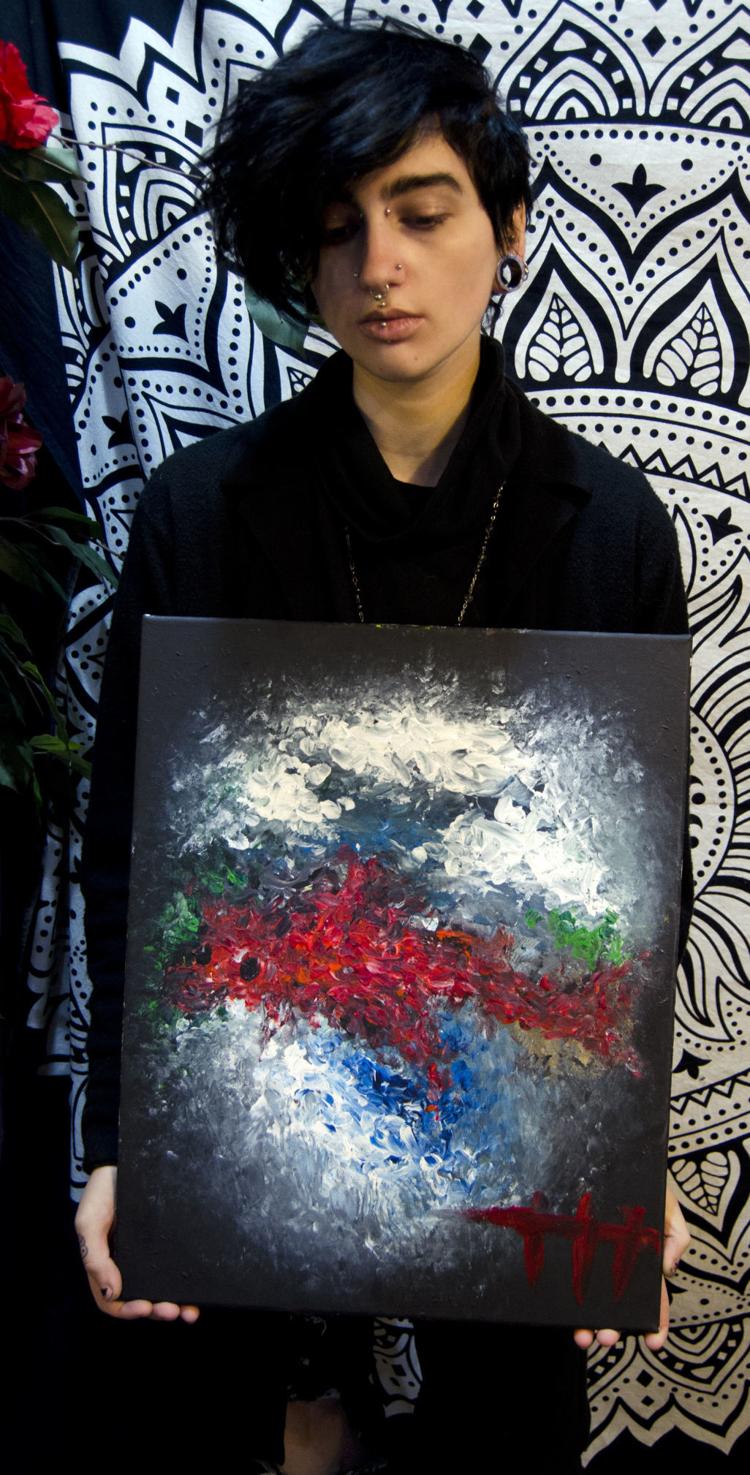 Weekender: Who are some of your artistic influences?
Maju: "I do like artists, but for my pieces I just do what I feel. I will say that Greg Danner has really helped me get back into painting. I really started getting back into it at 'Dragonmouth' (Danner's home/studio) because I had fallen out for a while after having to drop out of school."
Weekender: What inspires you to create art?
Maju: "Anything. It's a really good outlet for a lot of the darker things that go on in my head. I can see just about anything as art. I can look at anything and think about how it was created and has been worn and warped.
Weekender: What are your favorite mediums?
Maju: "Paint…canvas…I also like to work with pictures and magazines. I used to have a lot of collages, but they all got thrown away at the college. I like to sculpt; it just depends on what I can get my hands on. I also like to do line-work sketches. My drawings are more surrealistic and my paintings are surrealistic and abstract."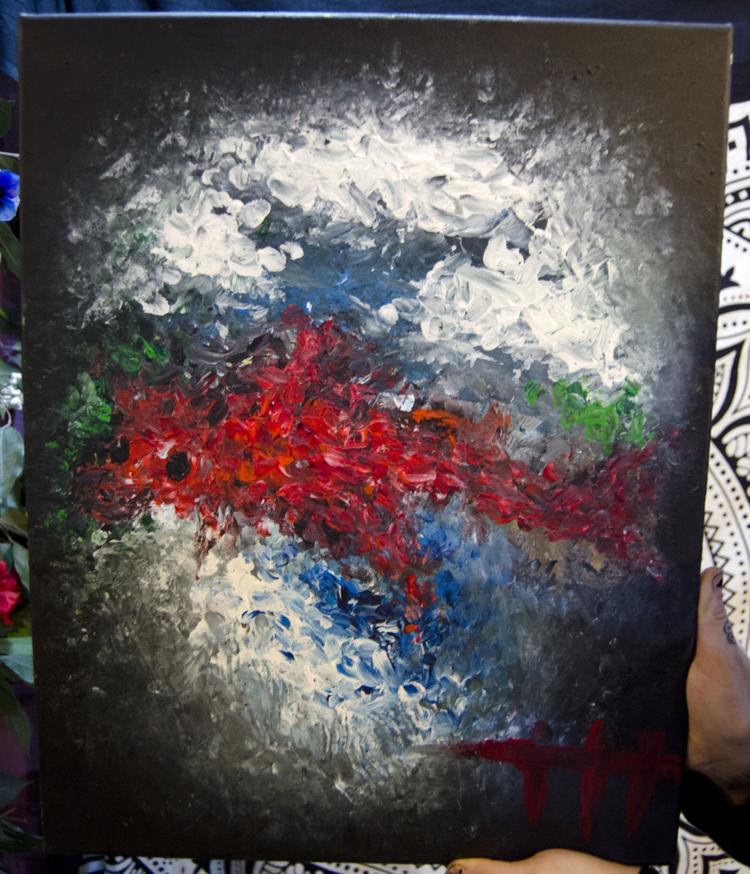 Weekender: Tell us about your creative process.
Maju: "I start with a concept and then I work with it, however it starts turning out. I then adapt to what's happening in the painting. During the process I'll be thinking of a phrase or word over and over in my head, and that's usually what I end up naming the pieces."
Weekender: Does your sexual identity affect the art you make?
Maju: "Not necessarily, but there is its own pain that comes with it that ties into everything else. It's not easy. I use 'he/they' pronouns. For a long time I really struggled with it; I was like, 'what am I?' 'He/they' is good enough for me…I don't need to put a label on myself, I'm just me. I'm so much happier now than I was when I was pretending to be someone else. Don't let anyone tell you how you can or can't express yourself."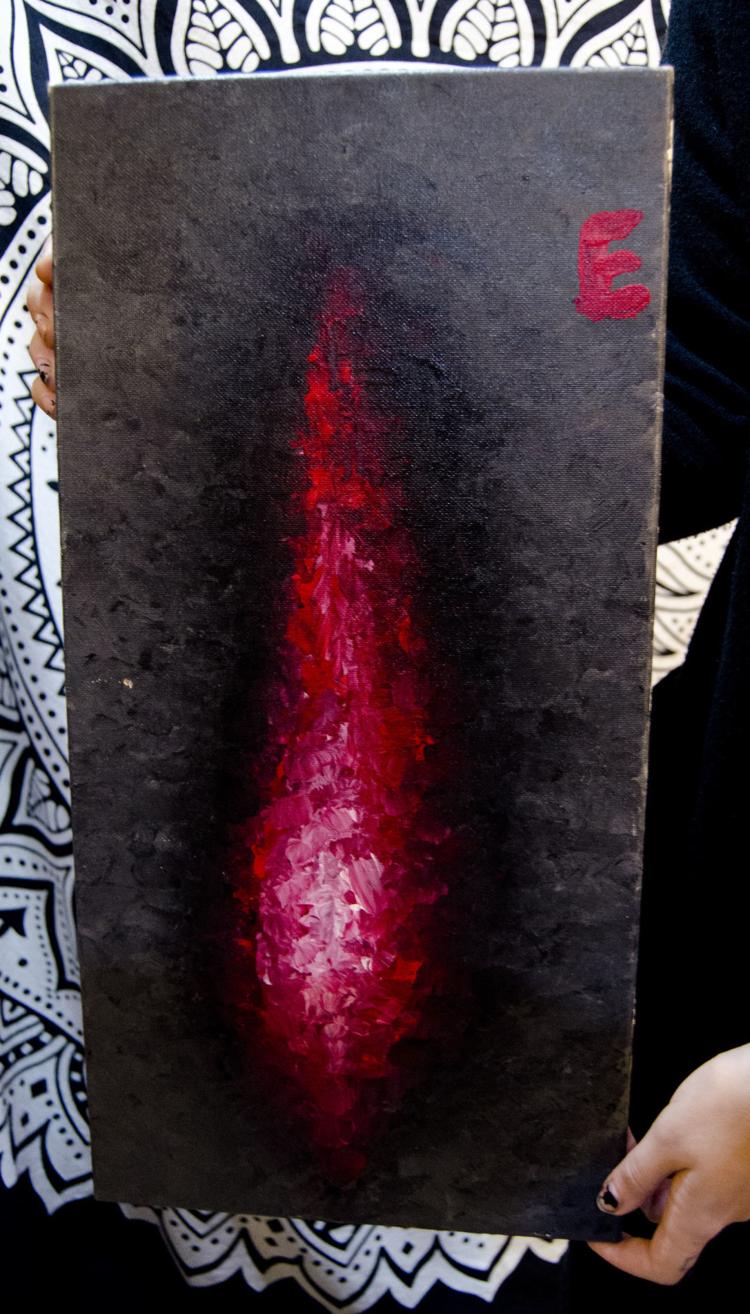 Weekender: How do emotions affect your creativity?
Maju: "I have Borderline Personality Disorder, so I feel things very intensely to the point where I don't know how to handle them. That's where things like my scars come from. It's a disorder that is built off of trauma. It's hard to express what I'm feeling and I can either explode or implode, and I tend to implode and take it out on myself because I don't want to hurt anyone else. I've been struggling with self-harm since I was 12 years old. I was bullied a lot…it was not good. Between my home life and being harassed at school is a key factor of why I have BPD now. I could never feel comfortable anywhere or express my feelings."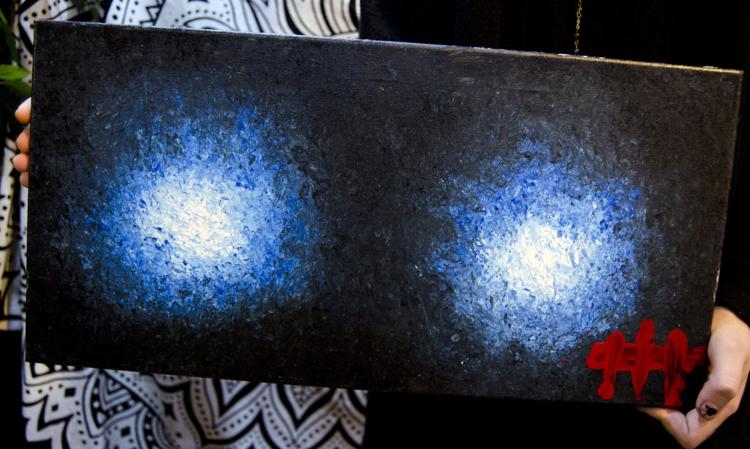 Weekender: Does art come naturally to you, or do you have to force it?
Maju: "I feel that if you have to force it, you shouldn't do it. You should do art because you feel it, you know? Because it's something you want to do…it's just something that happens."
Weekender: What kind of head-space do you have to be in to create art?
Maju: "All I really need is the will to create. Sometimes when I'm upset I don't like to do anything at all, and like I said, art shouldn't be forced."
Weekender: Why do you create art? What does it do for you?
Maju: "Art and self-expression are some things that have always been extremely important to me. Growing up I had to hide so much of who I was and what I liked. Now I don't want to hold back anymore. I want to create things. I also like to write."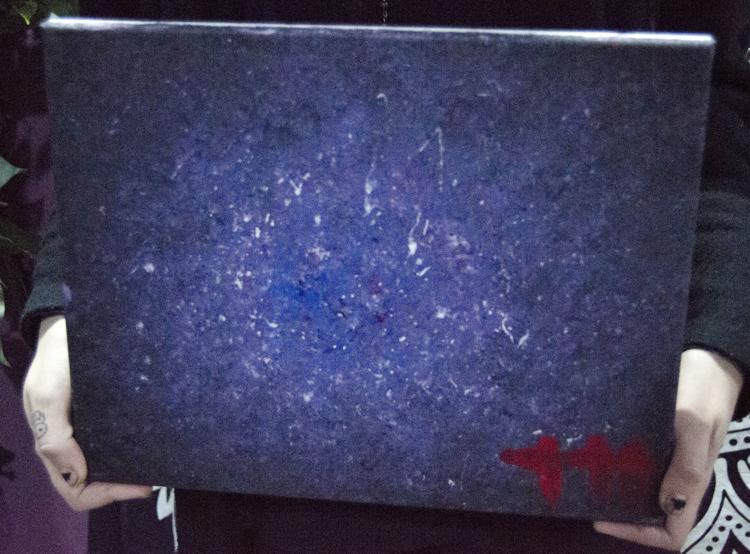 Weekender: What do you see in darkness that captivates you?
Maju: "Once you've really seen darkness, and if that's most of what you've seen, it becomes enticing. I once drew a picture in patient care of what I imagined my depression and darkness looked like. It was coming down from the top of my head…this black shape was coming down…it was almost sensual, but also wicked and painful, yet passionate. When you've only seen dark, it's hard to want to let go of it. Like I've said, I've never genuinely been happy before. Sometimes I'll be having a good time with my friends, but I feel bad because I feel good."
Weekender: What is your ultimate goal with art?
Maju: "Just to create things that I can be proud of that will also make people feel something. I like to turn something painful into something beautiful."