Opting not to record in a fancy studio, the members of Ultra Violet decided the cozy settings of their respected houses were well-suited environments to create the band's official debut album, "Ultra Violet Fever."
The back of the CD reveals that it was recorded at Azapaza House Studios, Kitchen Sink Recordings and Azapaza Family Ranch in Sioux City. For some bands, this might be cause for concern, but the sound quality is actually rather good. Surprisingly good.
In fact, the band benefits from recording inside the three houses, which the members believe have lent their warm tones and inviting vibes to the gypsy folk- and blues-inspired sound of Ultra Violet.
Angie Lambrecht, Shawn Blomberg, Adrian Kolbo and Randall Wood will unveil the completed work at its EpiCosmic Infinite Loop Tour Kick-Off Album Release Partay Friday (Feb. 2) inside The Marquee.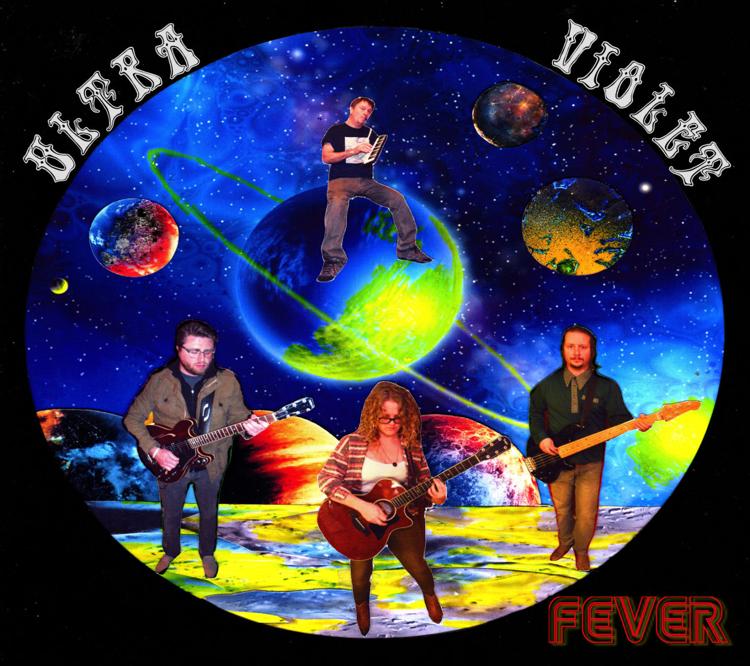 "It's been a really exciting journey and experience putting this album together and doing it all ourselves," said Lambrecht, who initially founded Ultra Violet a few years ago with one of her best friends, Velvet Adams. Previously, the two had played in the bands King Eddie and Red Room.
Originally starting out as a duo, Ultra Violet has since transformed into a four-piece not long after meeting Blomberg and Kolbo at a Vangarde Arts gig. "We decided from there that we would try to get together and just do some jamming and see what could happen," said Lambrecht.
After the initial jam session, Blomberg and Kolbo were then recruited to fill in, with Wood joining later on. "It's a really cool project because each of us have very different backgrounds and very different music influences that we each honed in on and studied," said Lambrecht.
And yet Ultra Violet is able to bring each member's influences to the table. Imbued with elements of jazz, blues, folk and indie rock, Lambrecht describes the band as a "great collaboration" and allows its musicians to be themselves.
After releasing "Ultra Violet Fever" in Sioux City, the band is set to travel on a 7,000-mile tour across the United States without the guidance of a manager or the stability of a record label. Ultra Violet prides itself in being a purely DIY band.
That work ethic provides a great deal of freedom, as evidenced by the band's recording methods. The difficulties lie in supporting themselves monetarily, though Lambrecht and Blomberg said the band does a good job of keeping itself afloat. However, that doesn't mean there aren't frustrations.
"You want to throw the towel in but… you don't really want to throw the towel in," said Lambrecht.
Although she had always sang, Lambrecht had never considered herself a singer for the longest time. "I feel like I've been able to find my voice over the last few years more so than I have up to that point," she said. "I got tired of being compared to other people. I'm Angela! I'm not Janis. I'm not Susan Tedeschi. I am Angela."
In addition to serving as the band's lead vocalist, Lambrecht is in charge of rhythm. That means both rhythm guitar and the occasional drum beat.
And yet, Ultra Violet has no drummer. Lambrecht, instead, uses a rig of drum pedals to create a beat. The pedals slam against tambourines, a hollow block, a snare drum and a makeshift bass drum that looks like a suitcase… well, rather, it is a suitcase. Lambrecht tested out the rig, hopping from pedal to pedal.
Tonk! Bum! Tink! Bum-bum-bum! Tonk! Bum-bum! Bum-tink!
"I have rhythm on lockdown," said Lambrecht.
It's a detail that sets Ultra Violet apart from other bands in the area; an added dynamic to Ultra Violet's already eclectic image. The rig itself exemplifies the band's creative and natural approach to making music. With many of the band members being multi-instrumentalists, the possibilities of experimentation are endless. No one's abilities are capped or hindered. If someone has something to say, they say it.
"Say it within the music, within the licks, within the solos, within the parts," said Lambrecht. "If you have something to say, say it, but don't clutter it up with extra flair and embellishments and nonsense."