Red Hot Chili Peppers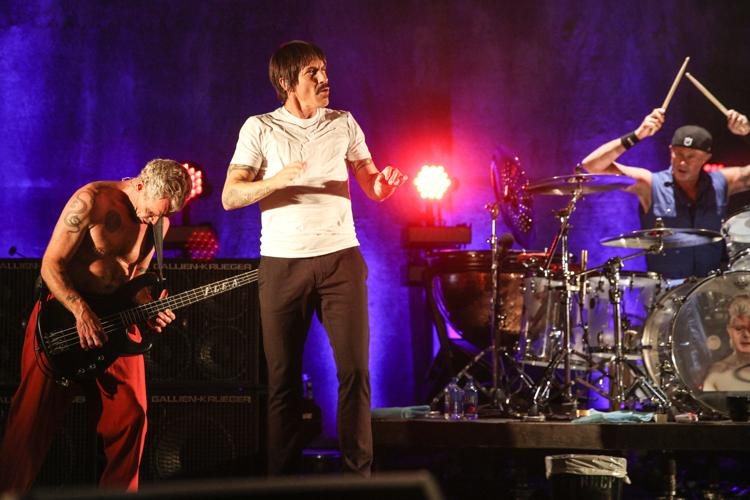 They are the integral Los Angeles, California funk-rock band that influenced my life profoundly through high school and my years on the West Coast. The Chili Peppers introduced me, in 2001, to modern rock music through their album, "Californication." Being a bass player in rock bands around that time, I tried to emulate Flea's erratic movements while playing live shows. The Peppers are part of the reason I decided to move to Los Angeles after graduating from North High School. I also sport their symbol on my right arm.
Rage Against the Machine
This was the first band to make me angry at the government and society while going to high school. They were the soundtrack to my nightly Chuck Norris Total-Gym 2000 workouts. My old high school band, Ignyte, played a kick-ass cover of "Killing in the Name." If you wanted to stick it to "the man," this was the band to bump in the car while rolling around town. Singer Zach de la Rocha inspired me to grow dreadlocks, which I ended up keeping for around seven years.
Radiohead
This was a band I didn't appreciate, sadly enough, until after I saw them at the Bonnaroo music festival in Manchester, Tennessee in 2006. Their songs range from melancholy to uplifting. "OK Computer" and "Kid A" are some of the most brilliant albums around, and if you have previously dismissed Radiohead, you should give them another chance. Chances are, the band will grow on you…that's the way it worked for me.
Sly and the Family Stone
After listening to the Red Hot Chili Peppers' sophomore album, "Freaky Styley," I noticed a track called "If You Want Me to Stay." This was a cover of Sly and the Family Stone's hit of the same name. I looked up Sly's greatest hits, and fell in love with their funk-pop music utilizing a band equipped with the standard guitar, bass, keyboards and drums as well as a full horn section.
Soundgarden
Oh, how I wish I had been into the grunge music scene when I was younger. I never gave it a chance, and thought I hated it. Within the last ten years, I fully immersed myself into this style of music and love it. Soundgarden, with hits like "Black Hole Sun," "Outshined" and "Rusty Cage," has become my favorite band of the genre coming out of Seattle. No one can match the immortal, four-octave voice of Chris Cornell, whose grave I have visited twice since his untimely death. I can count myself lucky I was able to see him during his solo acoustic tour when he came to the Sioux City Orpheum in July of 2016.
Audioslave
The super-group consisting of the vocals of Chris Cornell of Soundgarden and the instrumentalists of Rage Against the Machine… What more can I say about this outstanding group? If you haven't listened to them, do yourself a favor and get their self-titled album.
Cypress Hill
This is who I'm currently listening to in my car…and no, I'm not driving as I write this, you silly goose. These guys are my favorite rap/hip-hop group. Hailing from Los Angeles, these funky bilingual rappers have tons of hits including some of my favorites, "Insane in the Brain" and "Latin Lingo."
Primus
I was first introduced to this band as a kid while playing "Tony Hawk's Pro Skater." Being a bass player, I've always been in awe of Les Claypool and his ability to play staggering bass-lines while "singing." His weird, whiny voice makes for a truly unique sound… Just ask Wynona and her big brown beaver.
The Beatles
I understand everybody has their own musical taste, but I never understand when people say they hate The Beatles. They are a band I grew up listening to, and my love for them keeps on growing. Following the evolution of the band, from album to album, you can see just how versatile the Fab-Four were. My favorite albums from these guys are, "Abby Road" and "Sgt. Pepper's Lonely Hearts Club Band."
The Blues Brothers
No, this is not a joke, even though that is the way the band started. I LOVE the Blues Brothers. "A Briefcase Full of Blues," their live album, has always been in my life. Getting their start in early 1978 on "Saturday Night Live," John Belushi and Dan Aykroyd lead the band (full of blues and soul legends) to glory and fame. My favorite song of theirs is a cover of The Chips' song, "Rubber Biscuit."