Allie Townsend would like you to know that county music isn't all about the gal whose guy has done her wrong or the guy whose best friend is hitching a ride to doggie heaven.
"If you think all country music is sad music, then you haven't heard good country music," the veteran bar manager and unabashed Luke Combs fan said decisively.
Townsend sounded pretty confident in her opinions. Then again, she has been seeing a steady stream of country music lovers congregating at Beer Can Alley, an 1109 Fourth St., which is currently open for limited hours on the weekend before opening full-time March 20.
"We're the type of country bar in which people will be singing along to (Kenny Rogers') 'The Gambler,'" she said. "It doesn't matter if it is old school country or new school music, we're all fans here."
COUNTRY COMES TO FOURTH STREET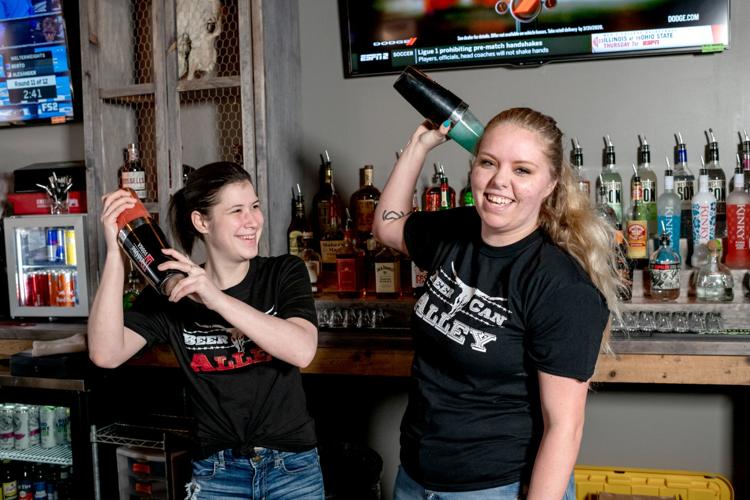 According to businessman Jesus Sanchez, Beer Can Alley will help fill a niche that was needed on Sioux City's Historic Fourth Street.
Sanchez had already tested the landscape by opening Rox & Rails, the now-closed country bar which was located next door to his popular 1008 Key Club.  
Bringing Beer Can Alley, a family owned country nightclub with locations in Omaha and Des Moines, to Sioux City was a slam dunk for Sanchez.
A PLACE TO BOOT-SCOOT TO YOUR HEART'S CONTENT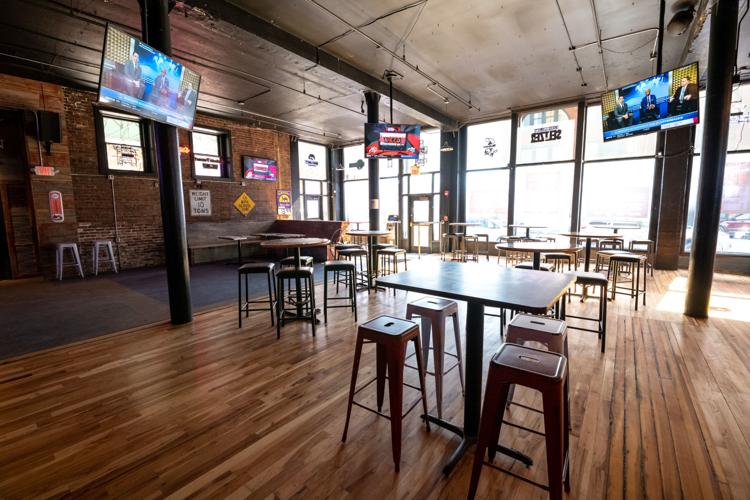 "Beer Can Alley is already an established name with concert promoters in the Midwest," he said. "That means we'll be able to bring in first-class talent on a regular basis."
Which is good news for Kaylyn Angerman, who noted that Beer Can Alley's dance floor is a perfect place for a bit of boot-scooting.
"We've literally had customers of all ages and all walks of life," the Hank Williams Jr. fan noted. "That's a good sign."
A SMALL TOWN BAR IN A CITY SETTING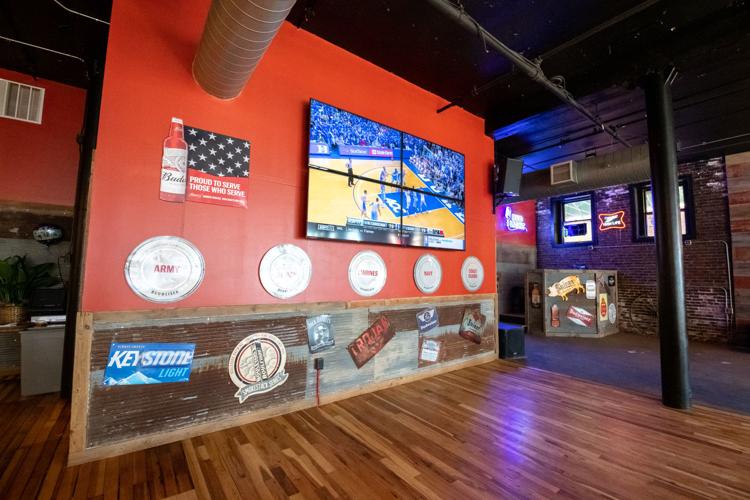 Like Townsend, Angerman has more than a decade in the bar biz.
"I've worked with Jesus at the Key Club and knew what a good boss he is," Angerman said. "I jumped at the chance to help manage Beer Can Alley."
Similarly, Townsend has spent her career at various places along Fourth Street as well as at the Hard Rock Hotel & Casino.
Yet Beer Can Alley most reminded Townsend of the bars back in her hometown of Pierson, Iowa.
"That's exactly the vibe we're going for," she said. "A small town bar where everybody know your name."
A STEER SKULL IS NOT ONE SIZE FITS ALL
Sanchez agrees, pointing out Beer Can Alley's rustic decor, which included  vintage signs and an American Flag made from reclaimed wood for barns.
"We're in rural America and that's reflected in our choice of decoration," he said.
Well, maybe yes. But maybe no. After all, steer skulls are not one size fit all.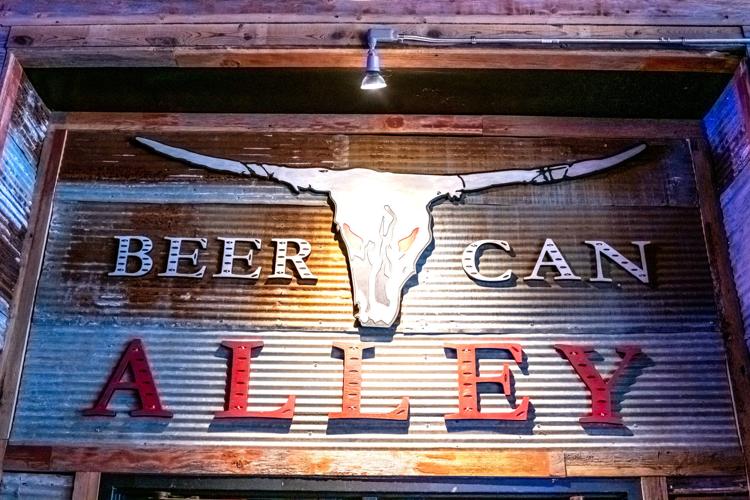 "We were supposed to have three steer horns as decorations on top of our bar, however only one fit," Townsend said, with a shrug. "The other two had to go back."
This is why a trial run and a soft opening is so important. You've got to work out the kinds.
COLORFUL COCKTAILS AND A WHOLE LOTTA BEER!
Alas, this isn't necessary for Townsend, who is a pro behind the bar.
On a quiet Wednesday afternoon, she mixed rum, pineapple juice and Blue Curacao together in a shaker. She then emptied the colorful contents into four glasses.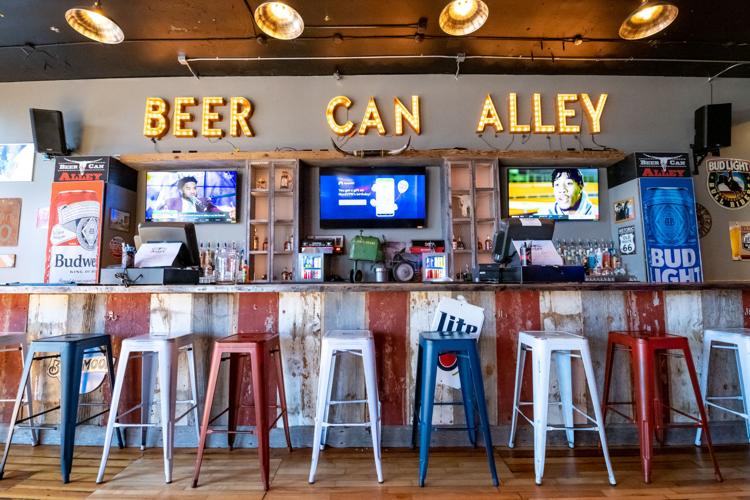 Hey, a Blue Hawaiian in a country bar!?! What's the deal with that!?!
Closer inspection revealed that not only is Townsend's cocktail blue but so is her fingernail polish.
"My nail polish is more of a teal to be honest," she said, correcting us. "But yeah, my favorite color happens to be blue."
While the beer lineup is not set in stone, Angerman said Beer Can Alley will have brew-skis that will appeal to craft beer aficionados as well as suds lover who are more traditional.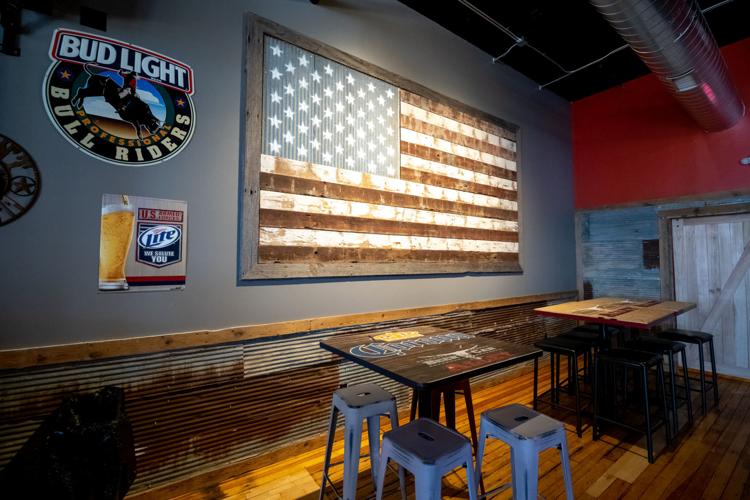 "You have to appeal to everyone," she said. "That's what it take to have a successful bar."
QUALITY EATS FROM A GOURMET CHEF
Having a busy neighbor doesn't hurt, Sanchez said.
"For the time being, Beer Can Alley will feature a small food menu made by (Rebo's founder and chef) Brian Rees," he said. 
This makes sense since Rebo's -- a longtime Fourth Street eatery -- is located next door, at 1107 Fourth St. Plus the two businesses share restrooms.
According to Townsend, that works perfectly whenever Rebo's has overflow business.
"Instead of waiting for their table at Rebo's, they can wait at Beer Can Alley," she explained. "Even better, they can order a drink."
Since the bar opened its doors a few weeks ago, Townsend and Angerman have experienced support from former co-horts as well as from their competition.
"That's the fun part about working on Fourth Street," Angerman said. "Everybody knows and likes everybody. Plus everybody wants you to be successful."
Hey, that's the small town hospitality at work, right?
"The best part about Beer Can Alley is that we get to be friendly like a small town bar but big enough to get terrific musical acts," Townsend said. "We have the best of both worlds."  
Be the first to know
Get local news delivered to your inbox!