Talk about multiculturalism: It's been our experience that the best way to revive yourself after a night of drinking margaritas is to spend the next morning chomping on a Vietnamese sandwich that is made with French bread.
Yup, we're talking banh mi, which is simply the Vietnamese word for bread. However, the banh mi sandwich always uses a crusty roll that is usually split lengthwise. This roll is actually a baguette, which is a staple food in Vietnamese cuisine.
OK, we know what you're thinking. How did fancy-schmancy French bread makes its way into the kitchens of Saigon?
The baguette was introduced to Vietnam in the middle of the 19th century, when Vietnam was a part of French Indochina. Because of this Parisian influence, Vietnamese cuisine followed European customs of eating bread for mealtime unlike other regions in Asia.
Small shops began popping up in urban centers, selling sandwiches that were moistened by such un-Vietnamese ingredients as mayo or liver pates. 
It wasn't until the mid-1950s that street vendors started selling a more distinct sandwich that came stuffed with a variety of meats and a garden full of pickled veggies.
That, my friends, is how the modern banh mi was born.
Since the Fall of Saigon in 1975, Vietnamese immigrants have brought the equivalent of a "Southeast Asian Po' Boy" or a "Hanoi Hoagie" to America and around the world.
Located at 401 West Seventh St., the popular Four Seasons is perhaps best known for its outstanding pho -- a delicious Vietnamese soup with rice noodles -- or its La Galbi -- thinly cut barbecue short ribs.
But the eatery has a huge selection of easy-to-eat banh mi utilizing a whole host of ingredients.
Want a sandwich that contains flavorful lemongrass chicken or the incredible messy Chinese barbecue? Well, Four Seasons has a banh mi just for you!
Since our team of Weekender taste testers were a bit worse for wear, we had a few different banh mi in mind.
THE INCREDIBLE, EDIBLE EGG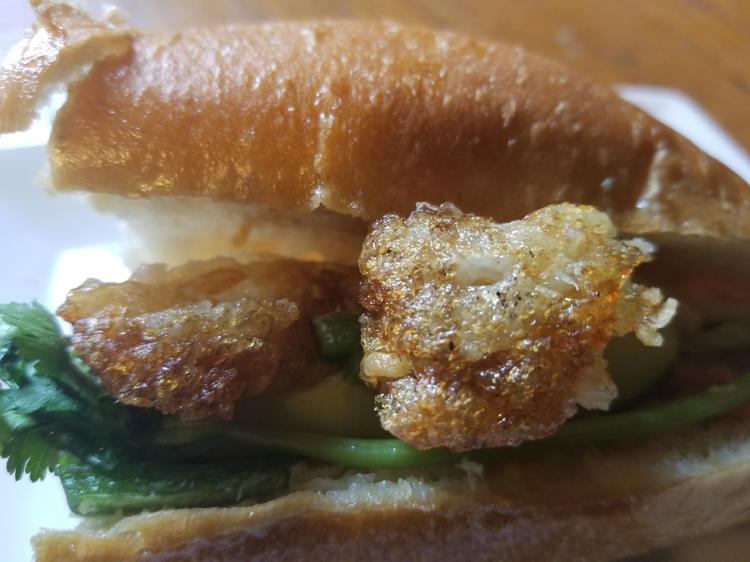 WHAT IS IT: A fried egg banh mi
WHAT'S IN IT: Perfectly cooked egg, a bounty of veggies and an easy-to-master baguette for hungover journalists.
HOW'S IT TASTE: There's nothing frou-frou about a fried egg. You don't have to worry about any messy yolk or shell fragments. Stick it in your gullet, chew, swallow, get on with your life. That's why we liked Four Seasons' fried egg banh mi. It's simple, direct and just good to eat. 
SPECTACULAR SANDWICH OR BAH HUMBUG BANH MI:  We'd say this goes into the spectacular category.
THIS LITTLE PIGGY WENT WEE-WEE-WEE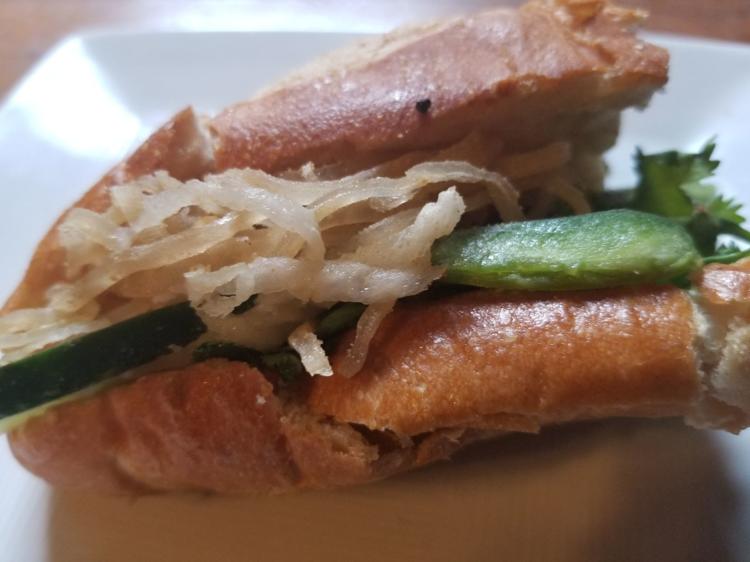 WHAT IS IT: Shredded pork banh mi
WHAT'S IN IT: Pieces of pork, rice noodles, cilantro, carrots and an assortment of greens
HOW'S IT TASTE: Truth be told, this is the first time we chose the shredded pork banh mi over its more brazen brother, the Chinese Barbecue banh mi. Alas, flavor-wise, it paled in comparison. While the barbecue meat was saucy, the shredded pork in our sandwich lacked personality.
SPECTACULAR SANDWICH OR BAH HUMBUG BANH MI: Not a bust, but not a home run either!
WHAT IS IT: Stir Fry Beef Banh Mi
WHAT'S IN IT: Delightful pieces of soy-marinated stir fry steak and a colorful assortment of veggies.
HOW'S IT TASTE: OK, we're back in business. Everything that the shredded pork banh mi lacked in taste, the stir fry beef had it in abundance. Whether you're hungover or just want a big and beefy sandwich, this is the banh mi for you!