General manager Tonya Nelson wants everyone who comes into Bar Louie, 701 Gordon Drive, to have a unique, one-of-a-kind experience.
Well, that's actually a tall order for an Addison, Texas-based chain gastropub which has more than 130 locations nationwide, isn't it?
"Actually, the nice thing about Bar Louie is that each location is allowed to have its own character," Nelson, a restaurant veteran who previously managed Olive Garden and M's on 4th, explained.  "For instance, Sioux City's Bar Louie won't be a carbon copy of a Bar Louie on the East or West Coast."
"They call it 'freedom within a framework,'" she added. "We call it giving Bar Louie a Sioux City spin."
This includes keeping locally brewed craft beers on tap as well as inviting local entertainers to perform in the eatery located inside of a Holiday Inn hotel.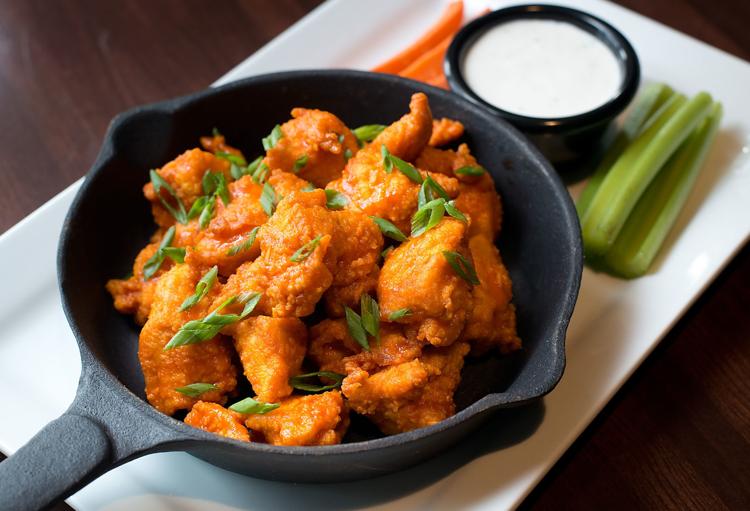 While Bar Louie's vibe might be uniquely Sioux City, its motto will mirror the national chain's.
"Our slogan is 'Eat, drink and be happy,'" Nelson said, inside a dining room, which boasts a multitude of TVs and a comfortable, urban aesthetic. "You'll always find a fun atmosphere here."
That sense of fun extends to Bar Louie's menu.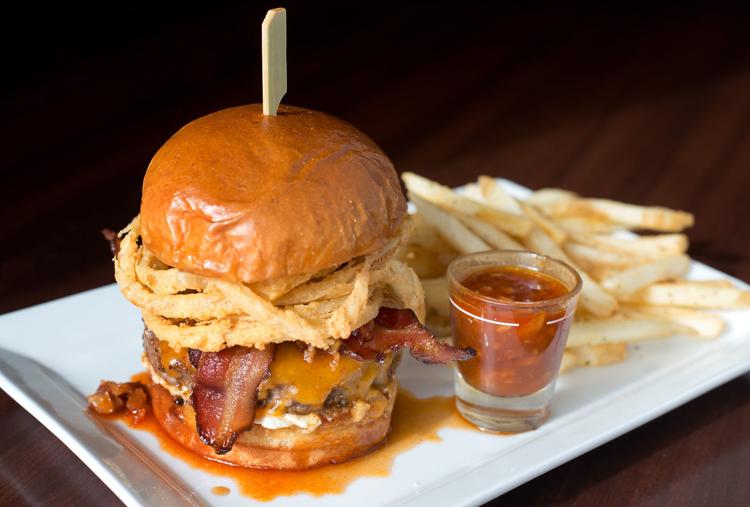 Have you ever been carded for ordering a hamburger? Well, the restaurant's Spiked Bulleit Bourbon Burger (an all-beef burger flavored with a Kentucky bourbon whiskey and topped with cheddar, cream cheese, Applewood smoked bacon and crispy onion strings, is meant for diners, age 21 and older.
"We do not cook all of the alcohol out," Nelson said. "It is really tasty."
However, the bourbon burger isn't the only unusual burger on Bar Louie's menu.
The Fried Louie Burger (served with Applewood smoked bacon, cheddar cheese and a sunny-side-up egg) comes highly recommended and so does the Impossible Burger.
What makes the Impossible Burger ... um, impossible? Well, the patty may look and taste like beef. In reality, it is 100 percent vegetarian.
Nelson is a big believer in visual presentations. This might be why she enjoys Bar Louie's Bruschetta Pomodoro appetizer, which consists of Parmesan crostini, tomato, basil and garlic served inside of a cocktail glass as well as the chicken wings that is served inside of a cast-iron skillet.
"People eat with their eyes as well as with their stomach," she noted.
The same holds true for Bar Louie's colorful cocktails.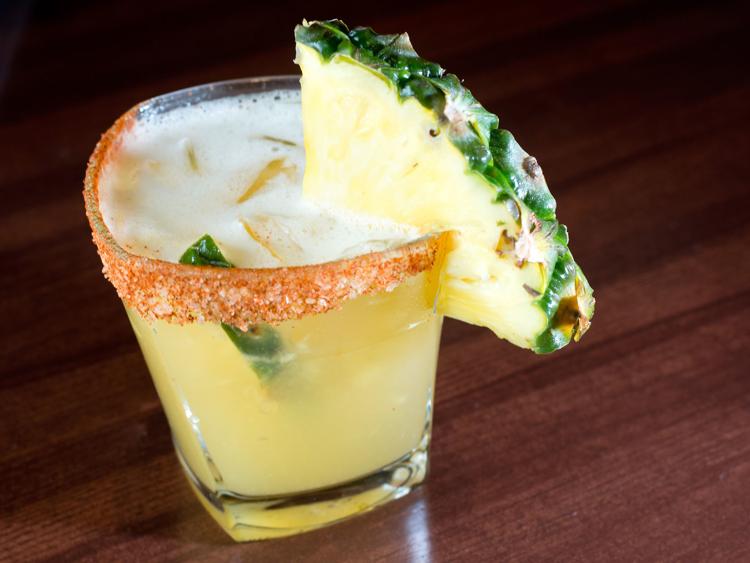 A fan of zesty drinks, Nelson recommended the Spicy Pineapple Margarita, which is made with Altos Reposado Tequila, Anchos Reyes Liqueur, lime, agave nectar and cut pieces of pineapple.
"It is a cocktail that catches your attention," she said.
Since opening on Halloween, Nelson reports that customer reaction has been positive.
"Even before we opened, people would come in to see how Charlie's (the former restaurant at the location) was changing," she said. "I think they will be surprised at all of the changes we've made."
And make no mistake about it. Bar Louis is far different than your typical sports bar.
"We're a gastropub that makes made-from-scratch food as well as top notch cocktails, martinis and sangria."
Plus Nelson said "Eat, Drink and Be Happy" is more than a catchy slogan.
"Whether you're coming in for lunch, dinner or a night out with friends, you'll always find a fun atmosphere here," she said.